Cover story: Total Civil's Hyundai HX235LCR
---
Total Civil's Hyundai HX235LCR is the first of Hyundai's new series crawler excavators to join this trusted Auckland contracting firm's fleet
Total Civil's Hyundai HX235LCR is the first of Hyundai's new series crawler excavators to join this trusted Auckland contracting firm's fleet. It's also one of five HX models already on offer to the Kiwi construction industry, as Porter Equipment hits the ground running with the latest advances from the rugged and reliable heavy machinery manufacturer.
The last time I found myself alongside one of Total Civil's machines, the surroundings couldn't have been more different.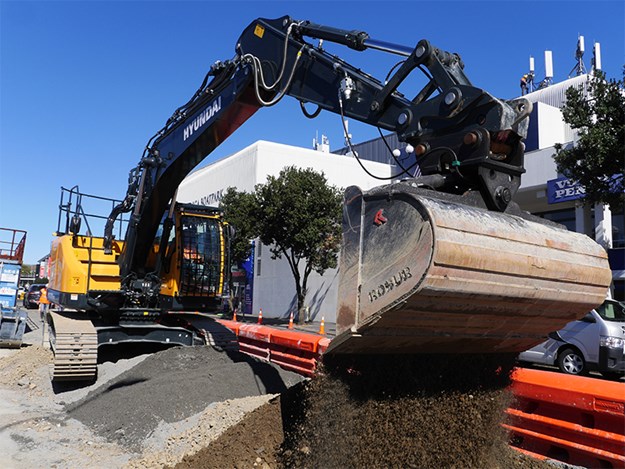 But both the contrasting locations between then and now, as well as the nature of each job site rather handily describe in visual shorthand the diversity of project work that Stephen and Tracey Thom's Auckland-based firm has been tackling since 2015.
Back in issue 320 of Deals On Wheels, we travelled to the ever-expanding margins of Warkworth to check out Total Civil's then-new BOMAG BW202 AD articulated tandem roller in action on the Puhoi Motorway project. An open greenfield work site, freshly laid metal, and rolling hills were the order of the day on that occasion.
On my second visit, however, short of being tasked with ripping up tarmac in Auckland's Queen Street, this particular Total Civil work site is about as 'central city' as it gets.
Working on the Wynyard Quarter Gravity Sewer Replacement Project, the clock is ticking for Total Civil in Beaumont Street. Nearby, Wynyard Quarter is a hot property precinct in the central city, with several new apartment and commercial buildings on the rise ahead of the forthcoming 36th America's Cup regatta, the various (land-based) venues for which dot the area's perimeter and will only get busier as, all going to plan, the Auld Mug's preceding qualifier races commence in mid-December.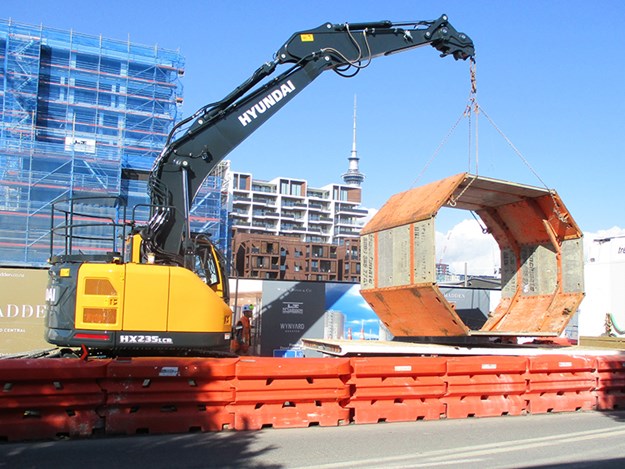 Being central Auckland though (and despite the limitations of lockdown), there remains everyday business activity everywhere, both within the worksite and right up against the cordon fencing on busy Beaumont and surrounding streets.
"It's a complex site and space is at a premium everywhere you look," says Total Civil senior site supervisor, Andy Lawrence.
"We have to take a very strategic approach to the dig here, although we have been here for awhile now working on the project's various stages, so we've managed to attune our working methods to suit the compromises you need to make on a tight site like this. It's pretty busy, but it's not entirely out of the ordinary for a job in the CBD."
Something that's slightly out of the ordinary, however, is the Hyundai crawler excavator currently sitting further down the road behind a barricade of orange barrier fencing waiting for the starter's gun to sound on its next task.
Total Civil has a fleet of Hyundai excavators ranging from 1.7 to 30 tonnes, including a 15-metre Long Reach Excavator, so the heavy machinery manufacturer's presence here isn't unusual. It's the model designation that gives the game away though: this is Total Civil's brand-new Hyundai HX235LCR, the first example of the latest generation crawler excavator from the Korean machinery giant to join the company's fleet.
Improved efficiency
As befits a generational overhaul, the Hyundai HX series machines—supplied and supported throughout New Zealand by Porter Equipment—bring with them a multitude of advanced and enhanced features.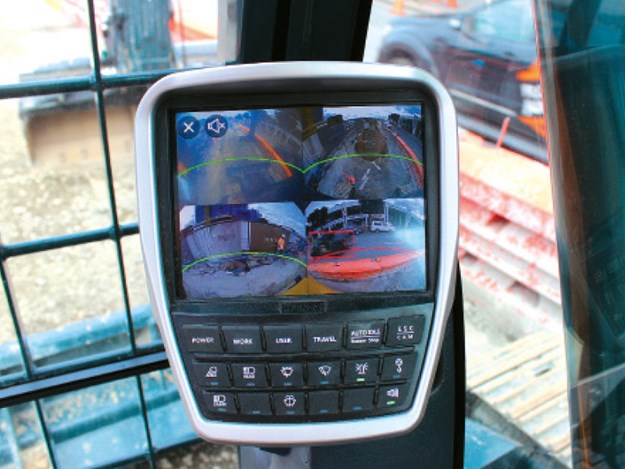 Among these is the new Variable Power Control system. This can contribute towards up to eight percent improved efficiency on daily digging and loading tasks through its three-stage Power, Standard, and Economy mode settings, which prioritise performance depending upon whether optimal speed or efficiency is desired.
Also new for the Hyundai HX series is the adoption of Hyundai's new EPIC system. Standing for Electric Pump Independent Control, EPIC can reduce pump flow rate and power depending on variable conditions through individual pump control. It also serves to minimise energy loss through the machine's main control valve.
Other new features on the 24-tonner include a better cooling system paired with an enlarged air inlet, reinforced pin, bush and polymer shim, and the use of higher-grade hydraulic hoses.
"Throughout the entire machine, the build quality and attention-to-detail has just stepped up again; you can pretty easily see how they've pushed the quality up throughout the machine," says Andy.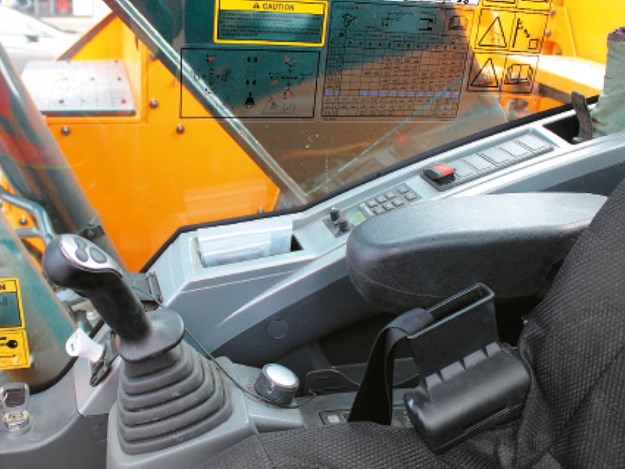 Inside the operator cab, further tangible changes have taken place. And for Andy, the AAVM (Advanced Around View Monitoring) camera system is an instant hit, especially within the tight parameters of this worksite.
Hyundai exclusive
Debuting on the Hyundai HX series, AAVM is a state-of-the-art camera system that gives the operator a secure field of vision right around the machine. Through cameras essentially covering the four sides of the machine's superstructure, the operator can visually check for obstacles forward, behind, and to the right and left of the excavator at any time.
Even better, AAVM also delivers a virtual bird's-eye view of the Hyundai HX235LCR in its environment, showing real-time 3D interaction with potential obstacles within its operating field. Thanks to IMOD (Intelligent Moving Object Detection), the system also informs the operator when objects are detected within a specified range of operation through an audible alert.
"Everything is at close quarters here, so it has been an ideal proving ground for the technology," continues Andy.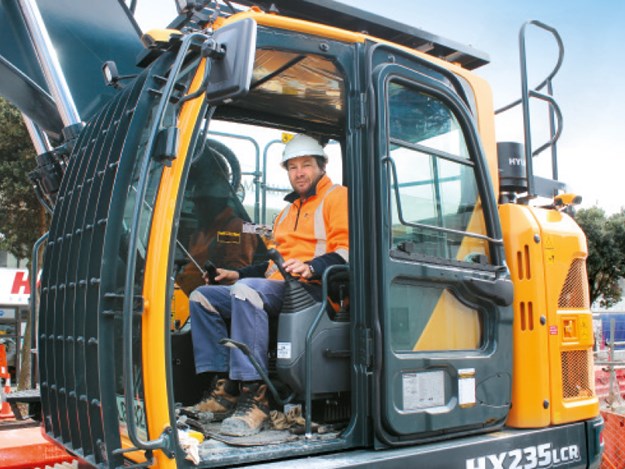 "It has certainly delivered too: the IMOD will detect cars going past on the other side of the cordon. The health and safety benefits are huge, and they'll continue to be so even when the machine has moved on to other projects.
"It's very good technology and, because the onus is on us to conduct our operations in a safe manner, having technological tools like this at our disposal has become essential."
All this advanced visual technology is delivered through Hyundai's upgraded eight-inch display system, which mimics that of a large tablet-style smartphone and features the level of impressive clarity you'd expect from a premium passenger vehicle's camera systems.
Total Civil will be adding another Hyundai HX machine to its fleet before too long, bringing with it the same upgraded feature suite as the Hyundai HX235LCR about to commence work down in Beaumont Street.
Bang for your buck
For company owner, Stephen Thom, the advances the new machines bring with them are proof positive of the decision to stick with a trusted brand, backed by an equally trusted distributor.
"I think Hyundai equipment represents excellent value for money. And with the Porter Equipment back-up, having those machines on our fleet is a no-brainer for me," says Stephen.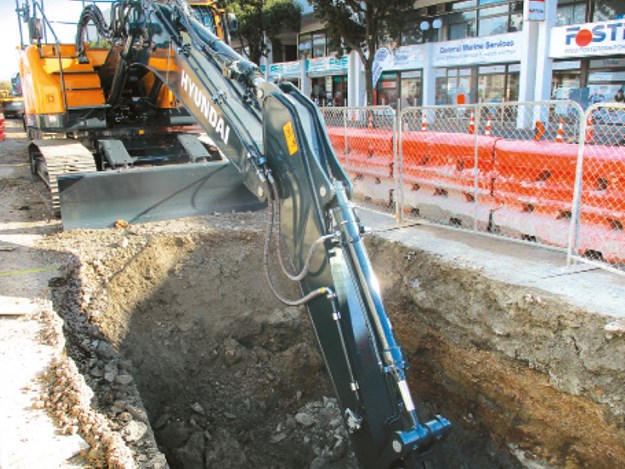 "Thanks to Porters, you can basically get anything from the range; the availability of different machinery is particularly good. Porters have people there that really know their stuff and they provide good advice, which is extremely valuable when you're researching what you need on the fleet and what the latest machines offer."
While the technology in the grey and yellow hardware out on-site might evolve over time, it's equally reassuring to know that Porter Equipment's rock-solid back-up remains tailor-made in other ways. And that's regardless of whether you're working in the backblocks or the big city.
Find new and used heavy machinery equipment for sale NZ
Keep up to date in the industry by signing up to Deals on Wheels' free newsletter or liking us on Facebook.