Product feature: Attach2's new generation quick couplers
---
Attach2 announced its new generation coupler range in NZ, fulfilling its ambition to bring a singular coupler platform to the market
Since the inception of the patented A2Lock quick coupler base in 2014 and the acquisition of the Sure-Grip base in mid-2019, Attach2's goal was to have just one coupler platform available to the market that provides simplicity, productivity, and safety.
Launching the Attach2 Sure-Grip and Heli-Tilt in Australia in July 2019, the re-thought couplers went through an iterative design process that focused on improving the hitches key mechanisms, such as safety latches, motor serviceability, and steel properties.
Having served more than 12 months in its new generation form in Australia, Attach2 is offering the Sure-Grip, Heli-Tilt, and Ram-Tilt couplers as their exclusive coupler system.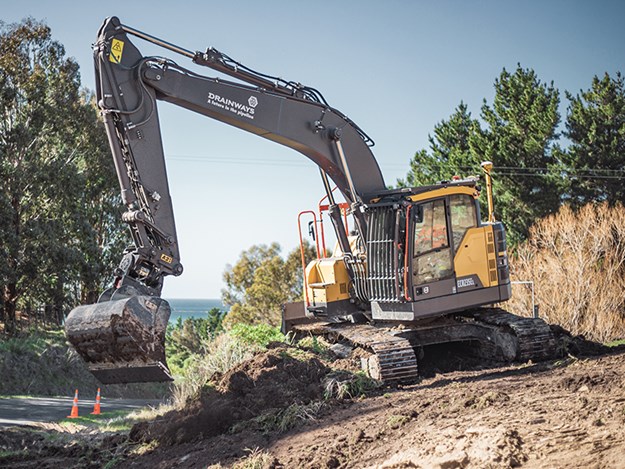 Improvements in motion
Attach2 says it focused on upgrading the Sure-Grip coupler system's safety, productivity, and product life.
Starting with the locking mechanism, the front latch has a larger beefed-up profile, pin connection geometry, and cast from Bisalloy reinforced wear-resistant steel. The new latch improves pin retainment should a major error be made in rear pin locking, if the attachment pin had worn down excessively and is designed to resist large rotational forces above previous model tolerances.
The manufacturer adds that steel properties are boosted with the utilisation of Bisalloy materials. Compared to regular G350, the new generation couplers can boast a 370% better tensile strength, yield strength and hardness, extending the useful lifetime of the hitch chassis and its endurance in both abrasive and concussive environments.
The Australian-built helical motor produces an increased torque punch while maintaining a low-profile design making the Heli-Tilt, by objective comparison, the strongest in the market for breakout force. The new motor is likewise easier to service, reseal and access, making maintenance and repairs much more friendly, Attach2 says.
Talking about the new generation design, Isaac Hart, Attach2 Australia GM and head of engineering, says, "A key focus for us was refinement. We've got a lot of expertise in the team, decades of practical and hands-on experience with building, servicing, and using hitches, including the multiple iterations of JB, A2Lock, and Sure-Grip. We wanted more productivity, safety, and fewer servicing requirements where we could, but we kept everything as accessible as possible. We've proven it as a polished coupler system, achieving excellent digging power, reliability, and safety for our customers and the best platform to date."
A focus on users
Since the start of 2020, Attach2 has doubled down on its focus on customers and users.
Introducing a new three-year warranty policy, Attach2 sought to show customers how much confidence they had in their products, that, they would back it with a warranty policy that exceeds the market norm.
"Our passion for customers has never waned, but we wanted to think more like our customers. What do they want from us? So, we bolstered our warranty policy and length, we added transparency, we publicly publish pricing on our website, and as many specs as we can fit," says Attach2's CEO Gem Hart.
"And it is something they can expect more from us, as we see it, there will never be a shortage of companies to buy from, but there will always be a shortage of good businesses to partner with."
For more information, contact 0800 100 683 or nzsales@attach2.com or visit attach2.com/nz.
Find new and used machinery for sale in NZ
Keep up to date in the industry by signing up to Deals on Wheels' free newsletter or liking us on Facebook.