Cover story: Hyundai wheel loaders
---
GrainCorp has found a solid solution for its needs in Hyundai's HL760-9XTD and HL757-9XTD wheel loaders
When you think about it, feed stores conjure up a perfect logistical puzzle. By their very nature, they are often compact locations, offering up tight corners to negotiate but require large machinery to work in them to lift and load heavy product.
Achieving the balance of a powerful machine that sits within a relatively small footprint and remains nimble enough to negotiate the limited space between bins and arriving trucks isn't always straightforward.
Add to this the need for a comprehensive suite of safety technology and accurate load measuring software—at a price that isn't detrimental to the bottom line—and the list of likely contenders gets shorter still.
Operator preference
GrainCorp Feeds invested in a brand-new Hyundai HL760-9XTD wheel loader for its Waharoa store, located just outside Matamata. The machine was supplied by Hyundai heavy equipment distributor, Porter Equipment.
Waharoa operations manager, Miles Rashley, says that the purchase process revolved around specific criteria, but at the end of the day, his team who would be operating the machine needed to be satisfied with its performance.
"By 2018, the business here at Waharoa had grown, so we decided that we needed to up-size our wheel loader accordingly to continue to operate efficiently," says Miles. "There are obvious challenges with purchasing a bigger machine that's operating within the same physical space as the previous smaller unit, so we were very methodical about selecting a new loader.
We trialled several machines from several different suppliers, but the Hyundai hit all of the criteria we set for it." Miles says that while each machine was put through its paces, it was his operators—notably primary operator, Daniel Roach—who essentially had the final say, as it would be they who utilise the machine every day.
And with the site operating for a minimum of 12 hours per day, there would be plenty of time for Daniel and his colleagues behind the wheel. "We wanted to be able to shift material quickly, both inside the store and around the yard, and we needed the longer arm set-up that the XTD specification provides us with in order to lift product into high-sided truck and trailer units," continues Miles.
"With trucks arriving for loading continually throughout the day, and with the store being a busy environment, the machine has to be both nimble and powerful to fulfil these duties.
It also has to do the tasks we need it to consistently, because there isn't a lot of downtime for it in this application. "The Hyundai HL760-9XTD has worked well for us in all these regards; it's a very good machine."
Space saver
In his operation's manager role, Miles also looks after the GrainCorp Feeds New Plymouth site in Taranaki. Around six months after the Hyundai HL760-9XTD was delivered to Waharoa, the New Plymouth facility also needed a new wheel loader. The decision was taken to opt for a 15-tonne Hyundai HL757-9XTD to fulfil loading duties there.
"The store set-up in New Plymouth is different to that at Waharoa, so once again any machine we purchased needed to be fit for purpose to suit the environment," says Miles.
"We still required the extra reach Hyundai's XTD specification gives us, but we opted for the 15-tonner versus the 18.5-tonner that we have at Waharoa." The machine at Waharoa arrived on-site with plenty of safety equipment, such as reversing cameras and sensors.
Another plus-point for the Hyundai wheel loaders is that they both offer up good visibility from their cabs and boast excellent multi-vent air conditioning and recirculation; necessary for working within the stores.
Overall, Miles says the GrainCorp team was impressed with the feature-rich accessory and technology set onboard the Hyundai HL760-9XTD. One thing he was quick to specify over and above standard fitment, though, was a double reversible fan.
"One of the products we handle day-to-day is palm kernel, which can be very dusty. In order to ensure the machine is working as best as it can at normal operating temperatures, the ability to blow out debris from the system is crucial."
The Hyundai HL760-9XTD's cooling system also undergoes extensive factory tests for thermal shocks and vibrations to assure its ongoing durability. The wheel loader's top mounted non-louvred air condenser and variable displacement air conditioning compressor are designed for maximum cooling capacity and energy savings.
Enhanced operator comfort
Speaking of savings, several features in Hyundai's 'dash 9' wheel loader series are designed to save on fuel and wear and tear, as well as help reduce operator fatigue. Both the Hyundai HL760-9XTD and the Hyundai HL757-9XTD feature a three-mode engine power system, which gives the operator the choice of selecting heavy-duty, normal, and economy modes, depending on the task at hand.
The fully automatic gearbox is also configurable, providing different transmission shift patterns based on what activity the machine is undertaking, while three clutch cut-off modes give the operator added control depending upon whether short-cycle fast loading is required, general yard work is the order of the day, or even if the machine is loading on a slope.
Miles ensured both Hyundai machines were fitted out with Loadsense weigh systems, ensuring the operator can capitalise on the quick cycle times of the nimble machines with complete accuracy.
He says that, in both locations the company runs equipment supplied by Porter Equipment, he has found the back-up service provided by the distributor to be very thorough, with routine servicing completed around GrainCorp's schedule.
"It's that kind of attention to detail and depth of offering that has made dealing with Porter Equipment really good," he says. Providing a nimble service with plenty of horsepower behind it clearly goes hand in hand with providing heavy-duty machinery boasting the exact same qualities.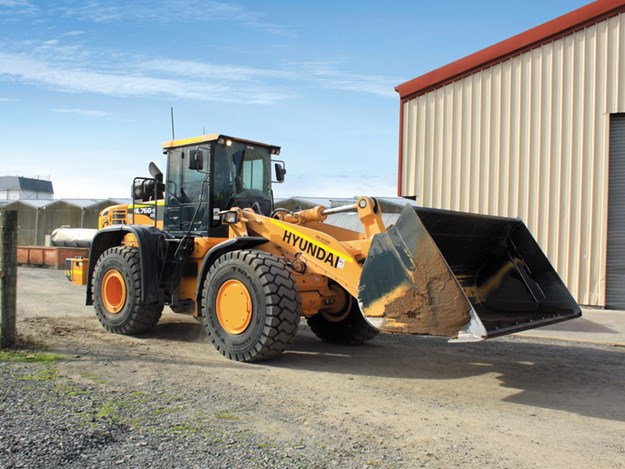 Find heavy machinery for sale in NZ
Keep up to date in the industry by signing up to Deals on Wheels' free newsletter or liking us on Facebook.