Product feature: Hidromek and Ace Rentals
---
The Deals on Wheels editor headed over to Northland-based Ace Rentals to take a look at the two Hidromek excavators they have added to their fleet
Whoever said coastal land is in short supply certainly hasn't turned up in our neck-of-the-woods near Kerikeri, where Ace Rentals boss Clem Simpkin has led us to view the first of his foray away from the more well-known Asian-made excavators.
After trekking some kilometres along dusty roads, we're standing atop a large block of land that is in the process of being developed into a substantial horticultural enterprise. Weighing in at a tad over 23-tonnes, the Turkish-made HMK220LC we are looking at is one of two Hidromek excavators that have recently entered the 70-strong asset list of the Northland-based rental company's fleet.
The second Hidromek machine is the HMK145LCSR, which weighs in at 16.8 tonnes and features a short radius tail, along with a full width blade. Clem says the Hidromek brand first caught his attention in 2013 when he attended the bauma show in Germany.
"I reckon they look quite smart, and certainly stand out from other brands, especially with their red detailing," he says.
However, as Clem puts it, a good looking machine does not necessarily mean it will perform better than its competitors, and he is quick to point out that his decision to purchase not one, but two Hidromek excavators in quick succession was not for aesthetic reasons alone.
"Some people did ask me if I was crazy when I told them that I was looking at buying Hidromek machines," Clem says.
"I don't think they had really taken the time to have a good look at the features and build quality," he goes on to say.
As we look over the HMK220LC, which operator Willie Leef has kindly parked up, Clem gives us a quick tour of some of the features that swayed his purchasing decision to Hidromek.
"First off, the easiest things to spot are the nine bottom rollers. Most other machines of this size will only have eight, so straight away you know that the track chains will last longer," Clem says.
"Secondly, take a look at the panels," as he swings open one of the doors and thuds his knuckles against the steel.
"I haven't come across another excavator of this size yet that is using this grade of panel steel." Moving around the front, he points to the double auxiliary piping and auto-greasing system.
"For us, things like auto-greasing is important as hire customers are focussed on keeping the machine working as much as possible, so greasing falls way down their list of priorities," Clem says.
"We're also a big fan of having all the filters located at ground level, so our service people aren't climbing over and under machines. It adds to a safer working environment, especially when it's raining and the surfaces get slippery."
Slippery however is not really a problem due to the current dry weather conditions Northland is experiencing and the biggest issue could be dust. At the distance we are from civilisation, any problems are going to be encountered directly by the operator, although thanks to the wonders of air-conditioning Willie Leef is being well-protected.
While Willie is starting to clock up hours on the HMK220LC, he's quick to point out that he's still getting accustomed to the new ride. "I like it, though what I'm doing isn't really giving the excavator a heavy workout—it's has nice controls," he says.
Clem says all the Ace Rental excavators are fitted with tilting hitches and while he never really considered it when buying for his fleet in the past, fuel economy now also plays a part in his machine purchases.
"A while back I realised that excavators with tilt-hitches and good fuel economy are an important consideration for hirers, as it enables them to make as much money as possible in the shortest space of time," he says.
Another aspect is having machines that provide good operator comfort, as often the person using the machine will either be the one hiring it or have a direct influence on what type of excavator their boss hires, as Clem puts it.
"Cabin comfort is really important and Hidromek really does have features that a lot of other manufacturers don't seem to consider necessary," he says. "Like, these machines even have pull-down blinds and while the cost to fit them is probably only a few dollars, others [manufacturers] I feel don't seem to really consider the comfort of those who spend lengthy periods of time sitting behind the controls," says Clem.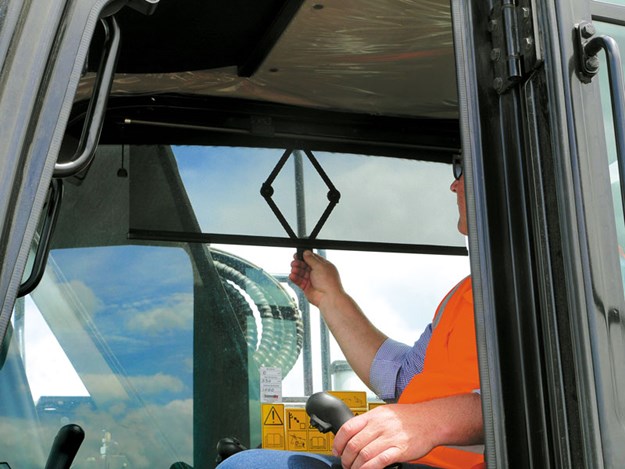 While it's early days yet for the Hidromek in the Ace Rental catalogue, Clem says the only real unknown at this stage is the resale value once a few thousand hours have been put on the clock.
"As I see it, this comes down to how well the distributor supports the product with parts, servicing and marketing," says Clem.
"I'm really happy with the level of support we've received so far and I'm told that full parts backup is available, which is reassuring to hear." So, the Far North has seen the first two Hidromek machines enter a rental fleet and are available for hire from either the Kerikeri or Dargaville branches.
"I did my research and you can't argue with the specs and build quality of the machines. I'm happy and the customers who have used them so far are very happy," says Clem. "So maybe I'm not so crazy after all."
For more information contact, magnumequipment.co.nz
Keep up to date in the industry by signing up to Deals on Wheels' free newsletter or liking us on Facebook.