Cover story: Kato mini excavators
---
There are many great things to like about the two Kato 1.7-tonne excavators now available through New Zealand distributor Youngman Richardson & Co. Ltd (YRCO)
Best things of all about the Kato HD19VXT.C are the incredibly comfortable cabin, expanding tracks, and a digging depth that's outstanding for an excavator of this size. Exceptional performance overall sets these two excavators apart.
But that's not all; not only do they come with a trailer option but there is also a three-bucket Tiltman Hitch package, which includes a dig bucket, a shallow spade bucket, and a clean bucket. If that wasn't enough, there's also a 4.95% finance offer from YRCO.
And to prove how serious they are, HD17VXE demonstrator units have been allocated to their specialist earthmoving representatives to let customers trial them in their own conditions.
When the going gets tough, these Katos get going
The HD19VXT mini excavator with conventional tail swing is just perfect for operating in rough and narrow spaces. The variable gauge undercarriage offers high operating stability and versatility, and at 980mm, the expanding tracks can fit through narrow entrances and can expand to a width of up to 1300mm.
Another big benefit of this machine is its powerful digging force—15.7kN (1600kgf) to be exact. This, along with the RAM at the front of the arm, gives the advantage of providing greater digging depth while at the same time delivering excellent reach and dumping height. It also has larger dip arms than other machines in its class.
Safety features include a slew motor with an automatic parking brake, a four-post canopy Roll Over Protection Structure (ROPS), which are standard across the two models as well as ROPS for the HD19VXT.C cabin option.
Both the HD19VXT and the Kato HD17VXE are incredibly spacious and have comfortable operating space that includes an easy-to-use joystick control with armrest, a state-of-the-art seat, fan in the HD19VXT.C cabin model, and heaps of legroom. The HD19VXT comes with either a cabin or canopy option.
Both machines have features and benefits that are similar but where the Kato HD17VXE mini excavator differentiates itself from the HD19VXT is that it has zero tail swing and a removable counterweight.
This means that along with HD19VXT, it provides excellent versatility when it comes to doing close skimming work. In particular, the offset boom gives the Kato HD17VXE the ability to get closer to a building or structure. Plumbers and Roading contractors are particularly impressed with this feature.
Builder Ian Dudding recently purchased a Kato HD19VXT.C cabin option for the landscaping side of his business on the recommendation of a contracting friend.
"I am very happy with the machine," says Ian. "It's proving to be very cost-effective. I no longer have to go looking for a digger to do the work; it's there, on hand, and ready to go."
The HD17VXE zero tail swing model equally has industry leading features, including digging depth, dump height, reach and break out force. Power and speed of excavation are also assured when working in confined spaces.
Tiltman hitches add value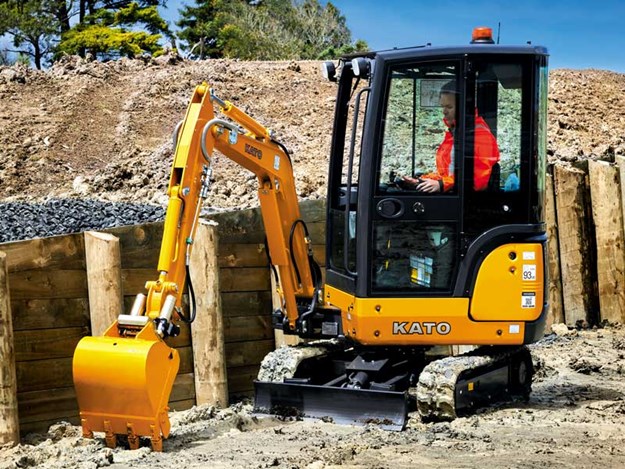 YRCO has added Tiltman tilting hitches as an option on two of its Kato mini excavators in New Zealand. Developed in Denmark, Tiltman Hitches are specifically tailored to fit one- to three-tonne mini compact excavators such as the Kato HD17VXE and HD19VXT. Tiltman prides itself on quality equipment. The lightweight minimal moving parts and compactness make this 32kg tilt head versatile and can increase the excavator's productivity.
The variety of attachment is extensive, including a range of bucket sizes, a reversible rake, and a root saw/ground cutting tool. All attachments are quick and easy to change with a simple snap-on and one-lever pull mechanism.
Contractors and landscapers who use compact excavators as a natural part of their working day will benefit greatly from the enhanced efficiency and time saved on each individual job.
Youngman Richardson launches new product initiative
YR Connect Asset Security & Service is a new cloud-based product recently introduced by YRCO to assist its customers with the servicing, maintenance, and security of its construction equipment assets, all from their mobile phones.
Sales director Phil Fairfield believes this is a big step forward for the company and will provide not only another level of service but also add to the company's reputation for outstanding customer support.
"There has been a lot of time and effort involved in developing YR Connect and I would like to thank all those who made a contribution to this project," says Phil. "This has been massive for us, and I am delighted to see that we have a product that will assist with the longevity of our client's equipment and will stand up to the highest scrutiny. Again, the beauty of this system is that all the information can be accessed from a customer's computer or mobile."
YR Connect Asset Security & Service uses cloud-based GPS tracking software to help locate in real-time asset locations, regardless of size whether it's a large excavator or small plate compactor and provide protection against the possibility of theft.
Essentially, this means the equipment is actively monitored and should the asset be stolen, it can be immobilised for quicker recovery. Another security benefit is the ability of YR Connect to provide automatic alert messages when a machine crosses over a preset virtual boundary line.
YR Connect also sends real-time scheduled and automated service reminders. Alerts are set to service milestones for each machine, many of which are required to meet warranty conditions. This, in turn, means that our qualified workshop or on-site service teams are aware of these needs and can provide the scheduled maintenance as required to minimise downtime.
At your service
YRCO has always been committed to customer support and has the workshop facilities and a professional team of mobile mechanics to match.
Purpose-built mobile service utility vehicles, based in Auckland, Wellington, and Christchurch have been specifically fitted out to handle planned and unplanned maintenance across all equipment. More efficient workplace layouts have been created to improve service times and the company's reputation for its fast turnaround of parts is second to none.
For more information about the new product range, contact YRCO Auckland on 09 443 2436, Wellington 04 212 2456, or for South Island enquiries, call 03 341 6923.  
Find more excavators for sale in NZ
Keep up to date in the industry by signing up to Deals on Wheels' free newsletter or liking us on Facebook.