Cover story: New-generation Caterpillar mini excavators
---
Christchurch-based Independent Line Services has chosen Cat's new next-generation mini excavators to fill a particular role within its busy service, installation, and construction fleet
Christchurch-headquartered electricity network service provider, Independent Line Services, recently added a couple of brand-new units from Cat's extensive excavator line-up to its machine fleet; the first Cat excavators the company has purchased, despite having been Gough customers for 20 years.
The tools for these particular Independent Line Services tasks, however, are part of Cat's next-generation mini excavator range: two 2015kg Cat 301.8s.
"We've always been impressed with the Gough service offering and we have been Palfinger customers for many years," says Matt Southon from Independent Line Services.
"We were looking for a couple of small excavators to add to our fleet for use in some of the more confined industrial sites we find ourselves installing services in. Goughs was holding a demo day at Mcleans Island; we went along for a free sausage roll and came home with two mini diggers!" he laughs.
Big performance in a compact design
Matt says the next-generation Cat 301.8 mini excavators sold themselves though, representing a step-change in small machine technology and offering the sort of comprehensive suite of features usually only seen in much larger machines.
"The level of sophistication these Cat machines give us is really impressive. You might not consider things such as powerful air conditioning or a tilt cab standard features in small diggers like these, but Cat has all those extras that make driving the machine more comfortable absolutely nailed.
"The programmable nature of the multi-stage Cat Monitor system also works really well for us. Most of the tasks our guys are completing with these machines see them working around critical services; to be able to ensure that we can slow down machine travel and swing speeds as a fail-safe measure is very important."
Matt says that Independent Line Services, which boasts a team of 65 staff, completes a multitude of overhead and underground design, installation, construction, and maintenance work on new and existing electrical network assets in a variety of environments throughout Canterbury.
Proof of concept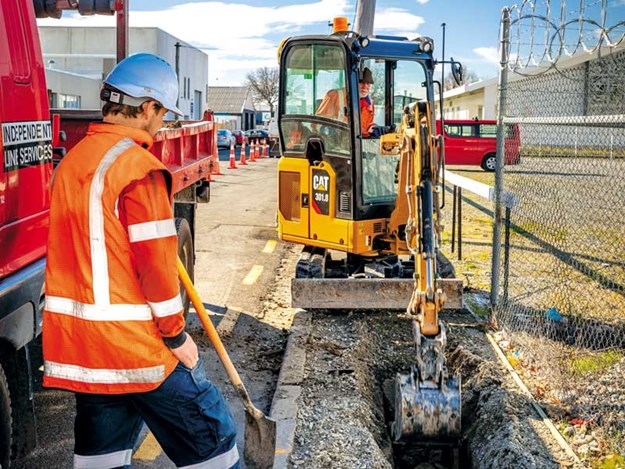 An 'Orion Approved' contractor, Independent Line Services is a service provider for major civil engineering consultancies, property developers and telecommunications contractors, meaning that for every rural installation and maintenance job, Matt's teams also find themselves working in urban industrial and residential zones, where a compact footprint is more beneficial than endless grunt.
In saying that though, above-ground machine performance was only part of the equation for the company when assessing what they needed from their excavators.
While the level of programmability and specification impressed Matt immediately, the twin Cat 301.8's still needed to prove themselves operationally below the surface, which is where James Lundy from Gough Cat stepped in.
"Matt needed his excavators to work between some very specific parameters. And while the Cat 301.8's looked like they should pass muster on paper, we wanted to make sure Matt's guys would be able to get the best out of them in practice," explains James.
"So, after the demo day, we set up a second demonstration for Independent Line Services, allowing them to utilise the machines in a way that replicated normal working conditions for their guys. It was a proof-of-concept step in the purchase decision that we were only too happy to help orchestrate.
"The last thing we want is for a valued client to get down the track a bit and realise they're not in the best machine for their business. Thankfully, because of Cat's next-generation dipper arm design, we were confident the Cat 301.8 would work for Matt."
Matt explains that, with most post holes needing to be dug to a depth of 2.5 metres, smaller excavators don't generally have the capacity to reach down to this depth without the bucket ram limiting access to the hole.
"Cat has redesigned the geometry of the boom and dipper arm to ensure there is no ram underneath mitigating proper access to the post hole, so all-of-a-sudden, you have a smaller machine that is easier to position, but that can also dig deeper.
"For us it was a bit of a no-brainer. They're not lacking in power for the size of them either, so they represent good all-rounder machines," he says.
All-day comfort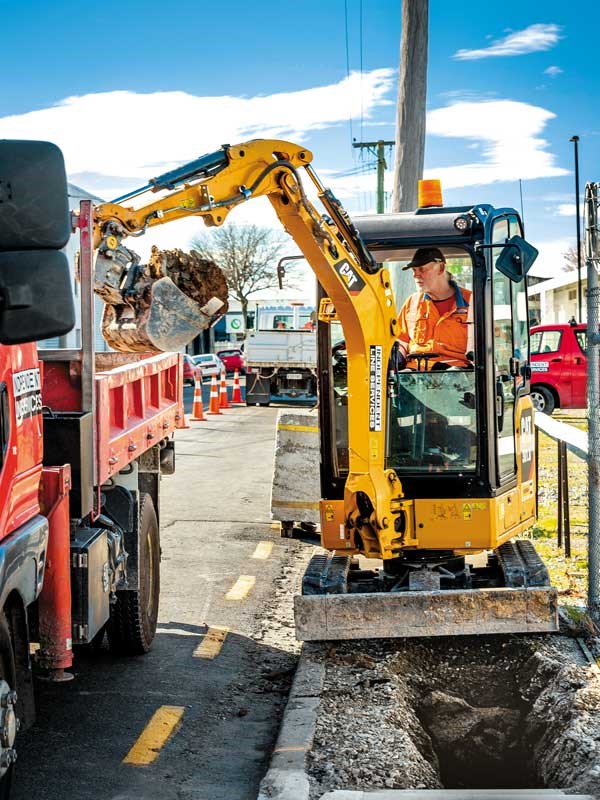 Other features of Cat's new next-generation mini excavators also include ergonomic seating and redesigned cab layouts, easy-to-use controls intuitive and bright LCD monitors, along with the ability to move around the job site using the Cat Stick Steer option, which allows the operator to toggle between traditional lever and pedal travel control or joystick-based control.
Matt says the convenience of operating small excavators also comes into its own where transporting between work sites is concerned; the Cat mini excavators can be towed on tandem trailers behind the company's two-axle line trucks, making for simple deployment in the field and faster turn-around times between tasks.
Aftersales support
The back-up support that Gough's provide the team is also excellent, says Matt. While he has had teams working as far away as Kiribati in a remote corner of the Pacific Islands, and even Antarctica in the past, Matt says that rural Canterbury is about as far afield as the company sends staff most workdays.
Even so, knowing they can call upon the trusted Cat distributor to help them out if the unplanned happens, regardless of where in the region they're working, is good for peace of mind.
"Even the price point was right on the money," Matt concludes. "To have been able to secure good usable, technologically-advanced machinery from a brand like Cat, that offers us plenty of efficiencies day-to-day, for a good price and backed up by a company we've had faith in for many years, has made the entire exercise a positive one from start to finish."
Find more excavators for sale in NZ
For more information on Cat Next Generation Mini Excavators, visit nextgeneration.nz/indent/ or phone 0800 93 39 39.
Win a Caterpillar excavator die-cast model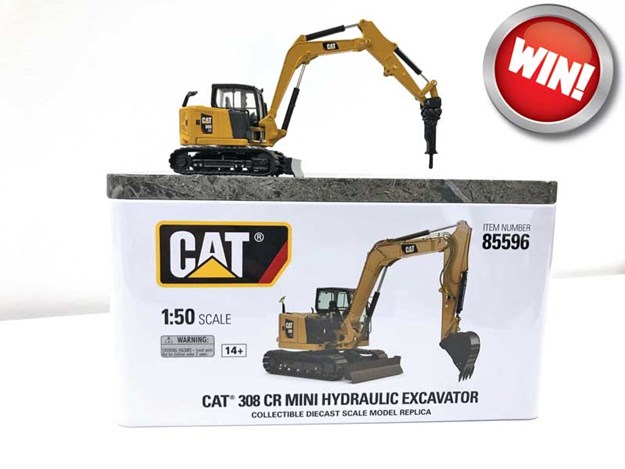 Running in conjunction with our Cat Mini Excavator cover story this month, we've got a genuine Caterpillar 308CR die-cast model to give away to a lucky winner.
To be in the draw to win read our cover story (p20, #316, on-sale date: 16 September 2019) and tell us the name of the Christchurch-based business that has chosen to purchase Cat's new Next Generation Mini Excavators?
The competition closes at 10am on 8 October 2019.
Keep up to date in the industry by signing up to Deals on Wheels' free newsletter or liking us on Facebook.