Product feature: Morooka 1000VDR
---
Auckland-based Magnum Equipment bolsters its partnership with Japanese outfit Morooka with the addition of a new piece of machinery to its catalogue
Magnum Equipment recently revealed the latest addition to its line-up of machinery and equipment, small plant gear, and large plant heavy machinery, with the new Morooka 1000VDR on its way to the West Auckland-based operator.
Liam Field, Magnum Equipment's founder and managing director, says the new Morooka 1000VDR complements Magnum's existing Morooka portfolio.
"The new machine is a more compact version of the VDR series, which offers 360-degree rotation, meaning you don't have to rip up the ground when tipping the load out."
Magnum Equipment formalised an agreement to distribute Morooka equipment in New Zealand in 2018. Established in 1968, the Japanese outfit is known as a pioneer of manufacturing reliable rubber crawler products with HST hydraulic systems.
According to Morooka, the hydrostatic transmission allows for economical use of the engine's full power. All steering manoeuvres can be executed with a pair of simple control levers. The HST system eliminates the need for clutch and gear controls, making the Morooka carrier highly manoeuvrable.
"And, with Morooka's world-famous rubber tracks, which are good for any type of ground, bad weather no longer means getting zero work done," Liam says. The rubber tracks found on the Morooka dumpers combine the characteristics of a tire equipped vehicle, such as speed and a smooth ride while providing the traction of a steel track.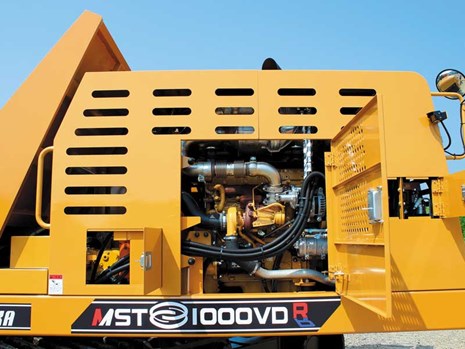 "Rubber tracks offer the best of all worlds," says Liam. "Low ground pressure, high-performance movement, and excellent traction."
Morooka products are used in a wide range of applications and are particularly suited to environmentally sensitive areas. The carriers are designed for a wide range of uses, including dump bodies, drill rigs, and access platforms.
The machinery will accommodate a variety of attachments such as water tanks, digger derricks, drill rigs, cement mixers, welders, lubrication rigs, fire-fighting equipment, speciality dump bodies, scissor lifts, seismic testing equipment, exploration tools, air compressors, and personnel carriers.
The equipment is exported to a number of countries all over the world through its worldwide distributor network. In New Zealand, that's Magnum Equipment.
Liam says the partnership with Morooka means a lot to him and the wider team at Magnum.
"We are two family-owned-and-operated companies, who share the same family values and understand the importance of a good working relationship.
"Establishing this partnership with Morooka Japan enabled us to expand our family to Japan, and vice versa for them."
Liam adds that a partnership with a company like Morooka ties in well with the Magnum's current ethos of carrying reliable, trusted brands that they are confident to recommend to the industry here in New Zealand.
"We only work with brands we trust, and Morooka has proven with their extensive background that they are a company we can stand proudly behind."
Liam says there has been a lot of interest in the VDR products from the New Zealand industry.
"The machines have managed to achieve a stellar reputation for how easy they are to use in all conditions, and how much time they save by not scrounging up the ground," he says.
The Morooka brand sits alongside Magnum Equipment's distribution of the Hidromek brand. Magnum secured the Hidromek partnership in 2017.
Liam says Magnum's infrastructure is ideally set up to handle the Morooka brand, and the company has been successfully promoting the benefits of both equipment brands to machinery buyers.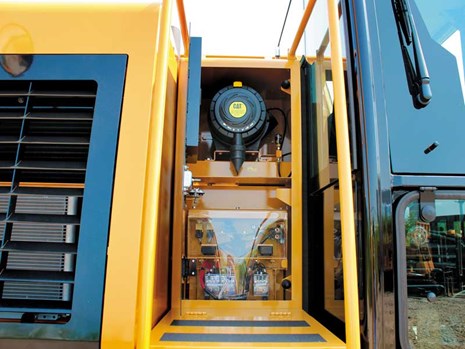 "We carry a full parts inventory and our in-house and mobile technical teams are trained to carry out all aspects of maintenance and servicing," he says.
He says they are stoked to add the Morooka 1000VDR to the Magnum catalogue. "We know this machine is state-of-the-art technology and will only further Morooka's already great reputation in New Zealand," he says. "We are excited to have this new addition to our fleet as it means more selection for the customer who needs it."
The team has just one Morooka 1000VDR currently in shipment to New Zealand, but Liam says they are expecting to have many more soon.
When ordered through Magnum Equipment, customers can expect your new Morooka in approximately 90 days.
Morooka VDR machines available through Magnum
MST300VDR
2.5-tonne maximum payload dump truck with 360-degree rotation, backing cameras, durable rubber tracks, HST Drive System, and an economical hydrostatic transmission.
MST1500VDR
Seven-tonne maximum payload dump truck with 360-degree rotation, backing cameras, durable rubber tracks, HST Drive System, and an economical hydrostatic transmission.
MST2200VDR
Eleven-tonne maximum payload dump truck with 360-degree rotation, backing cameras, durable rubber tracks, HST Drive System, and an economical hydrostatic transmission.
Find more articulated dump trucks for sale in NZ
Keep up to date in the industry by signing up to Deals on Wheels' free newsletter or liking us on Facebook.