Product feature: Komplet SpA crushers and screeners range
---
Komplet SpA, headquartered in Trecastelli on the Adriatic coast, near San Marino Italy, has recently released an upgraded range of crushing and screening equipment suitable for the small contractor market
Previously, the crushers were suited primarily for the recycling of concrete, bricks and blocks, which limited the opportunities for the range in the New Zealand and South Pacific markets.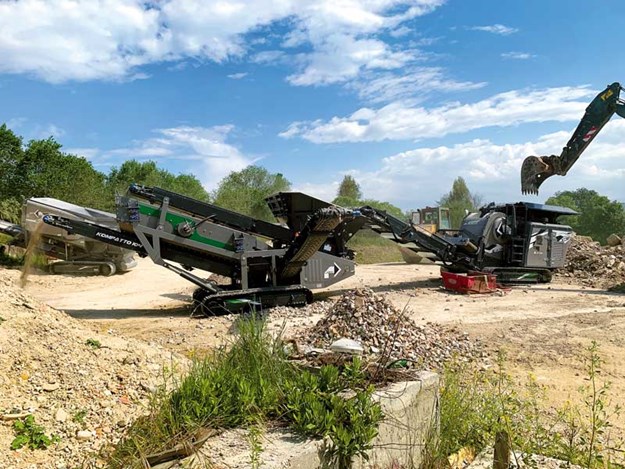 The introduction of the new models designed for use in all materials has enabled Sanland Equipment Ltd to step up their representation in the local market with the purchase of several machines for stock.
Currently, Sanland has an SC221 screener in stock and recently ordered the new K-104 screener and K-JC805 jaw crusher, which are due to arrive around Christmas.
The SC221 has a 2.1m x 1.1m double deck screen box, hydraulic-folding product conveyors for fines and mid-grade products and full remote control operation, all mounted on a rubber-tracked chassis weighing 3300kg. This makes the unit versatile and easily transported. Power is provided by a 21 kW three-cylinder Isuzu diesel via hydraulic drive.
The K-104 is the next size up in the range having a 3.0m x 1.2m double deck screen, hydraulic folding conveyors for all products, sizing grid over the feed hopper and full remote control operation. It's mounted on a steel tracked chassis with an all-up weight
of 6500 kg. The diesel-hydraulic power pack is powered by a 36kW four-cylinder Isuzu diesel.
The largest jaw crusher currently in the range is the K-JC805, which is being debuted at their dealer conference in early September. The 800mm x 500mm jaw crusher can be set down to a CSS of 20mm on soft rock and recycled material (<200Mpa) and 40mm on harder material.
The maximum CSS is 80mm. It's powered by a 105kW Deutz Tier 3B diesel engine. Production is rated at up to 200 MTPH. Standard specification includes hydraulic setting adjustment, reverse jaw operation, chamber level sensor, and centralised hydraulic compartment.
The plant is fully remote controlled and weighs in at approximately 18,000kg depending on the options fitted, which include overband magnet (with hydraulic raise and lower), side dirt belt, and dust-suppression spray bars. The unit currently on order is fitted with all options.
In addition to the K-JC805 on order, Komplet also makes two smaller jaws, the 61kW, 12,000kg K-JC 704 (700mm x 400mm), and the 21kW 3400kg Lem Trak 4825 (480mm x 250mm). Both units are specialist concrete re-cycling machines.
There are also other track-mounted machines in the screener range. The K-5030 is a 2.7m x 1.1m double-deck scalper unit with hydraulic folding conveyors for all products. Powered by a 36kW Isuzu diesel engine, it can accommodate up to 600mm feed and weighs 12,000kg.
The other unit is the DST-1020 2m long x 1m dia. trommel. It's fitted with hydraulic folding conveyors for the two products, powered by a 21.5kW diesel-electric generator set, all mounted on a rubber-tracked chassis. All up, the weight is approximately 3400kg and like all Komplet machines, is controlled by remote control. 
For more information on these units, contact Trevor Heaphy from Sanland Equipment Ltd on 09 2969488, 021 594233, or trevor@sanland.co.nz.
Find more screening and crushing equipment for sale in NZ
Keep up to date in the industry by signing up to Deals on Wheels' free newsletter or liking us on Facebook.