Cover Story: Volvo Co-Pilot machine control system
---
This year is set to be an exciting time for Volvo CE and TransDiesel with the launch of the Volvo Co-Pilot machine control system
Volvo CE says they identified an opportunity to adapt to shifting customer needs by offering 'smart connected machines' and expanding traditional business offerings into fleet and site management solutions.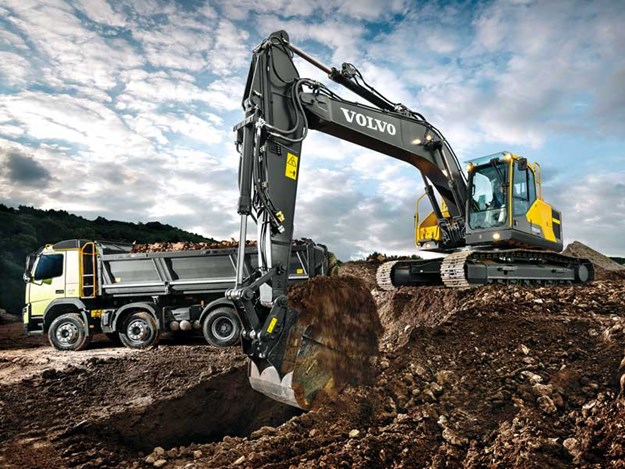 Levelling sites, digging trenches, grading slopes, and creating site profiles have never been easier, says Volvo CE, thanks to their Dig Assist machine control system for excavators.
And now Volvo's award-winning Volvo Co-Pilot with Dig Assist is touted by the company to make every operator the best they can possibly be with the latest location technology, sensors, and in-cab tablet that will help boost accuracy and efficiency on excavation sites.
The fully-integrated Volvo Co-Pilot Android-powered platform is seen by the European manufacturer as the future delivery platform for operator-focused services (on-board the machine) and has been available in their wheel loader range for a couple of years.
Volvo, however, is now set to launch this in their latest excavator range, the E Series. The Co-Pilot system is only available with the latest excavators, which feature a new electro-hydraulic control system, improved grading, and travel and lifting performance over current models, the company says.
The new models also feature a newly-designed operator cabin with an eight-inch monitor and keypad.
2D
The 2D technology promotes high levels of accuracy, faster completion, and less under/over excavation, where operators of any skill can become more productive, Volvo says.
Intended for site levelling or profiling slopes, 2D technology clearly shows operators via the in-cab tablet when depth targets are reached. There is no need for climbing out of the cab and doing manual checks, so site safety is also improved.
In-Field Design
In-Field Design uses advanced sensors and GNSS for centimetre-accurate digging, where the operator can define trenches or complicated shapes in 3D on the cab interface so that surveyors do not need to mark out the excavation site.
3D
Volvo's 3D system allows for design profiles to be imported from external sources (e.g. civil engineering design plans) for practical excavation work. The company says 3D is ideal for complex or larger infrastructure projects and will have the flexibility to partner with either Topcon or Trimble systems.
On-Board Weighing
Volvo's Dig Assist can include a load weighing system to give a precise reading of each bucket weight, they say. Operators can set targets by truck or hauler type to help achieve precision loading and optimising carrying capacity.
The system is designed to only counts bucket dumping in a pre-defined truck loading zone and allows for total tonnage moved to be recorded, either per shift or per day.
Active Control
The automated grading allows boom and bucket movements to be automatically adjusted to maintain an even grade.
With single-lever grading, the operator's left hand controls the arm speed while their right hand takes a break. Volvo's swing control prevents the slew of the machine from exceeding pre-set limits, to assist with trenching and truck loading activities.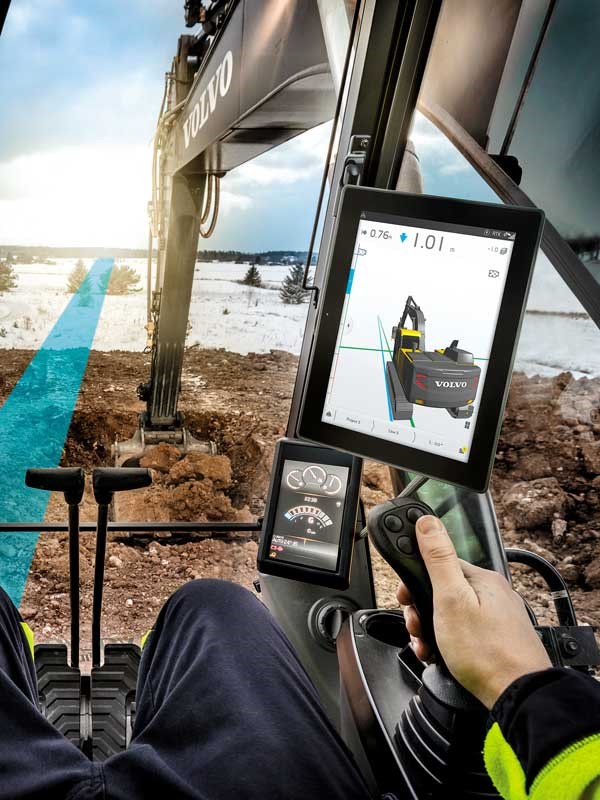 Automated tilt-bucket control
Digging trenches is made easy with their automated tilt bucket control says Volvo.
Depth limit prevents the bucket edge going beneath a pre-set depth, preventing contact with underground hazards, such as pipes and cables.
Height limit prevents the boom and bucket from going above a pre-set elevation, to avoid overhead obstacles such as power lines.
Swing fence prevents the machine from exceeding pre-set slewing limits, helping avoid contact with side obstacles.
Volvo CE New Zealand distributors Transdiesel says the E series excavators with the Volvo Co-pilot will be released in a gradual roll-out with the reduced swing units being available first.
What is Volvo Co-Pilot?
Volvo Co-Pilot is a cutting-edge touchscreen tablet that powers all Volvo Assist platforms, designed to more easily complete tasks in less time, says the company.
They say it's simple and intuitive where operators can set up projects in just a few seconds and safely monitor progress as the job gets underway.
With on-screen set height and depth alerts entered, on-screen alerts notify operators when those pre-set parameters have been met. A SIM card in the Android-operated tablet enables automatic, wireless software updates via a 3G network.
The first excavators are scheduled to arrive in the country late 2019. For more information, contact 0800 848 267 or visit transdiesel.com.
Keep up to date in the industry by signing up to Deals on Wheels' free newsletter or liking us on Facebook.