Profile: Hidromek
---
With more than 44,000 machines running in more than 100 countries, Hidromek is a globally known manufacturer of construction machinery
Hidromek, a globally known manufacturer of construction machinery, was founded in Ankara in 1978. Backhoe loaders, hydraulic excavators, wheel loaders, motor graders, and soil compactors are manufactured in its production facilities, four factories in Ankara, one in Izmir, and one in Thailand.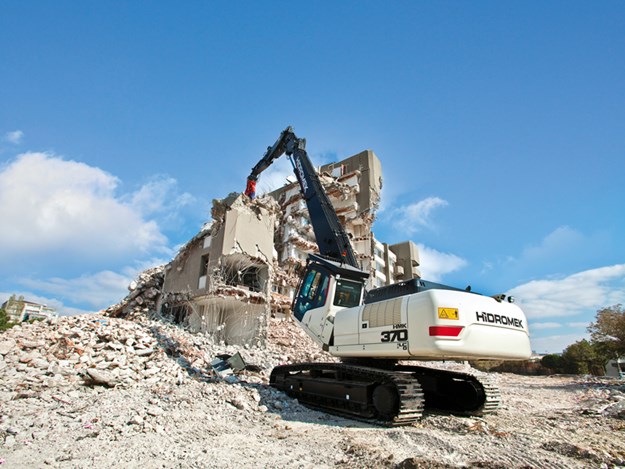 In 2017, part of its new production facility, located in an area of 1.2 million square metres, started functioning in Ankara. More than 44,000 Hidromek machines are running in more than 100 countries.
Hidromek works with authorised dealers globally and also provides sales and aftersales services through its centres such as Hidromek West, Hidromek Russian, Hidromek Japan, and Hidromek Thailand.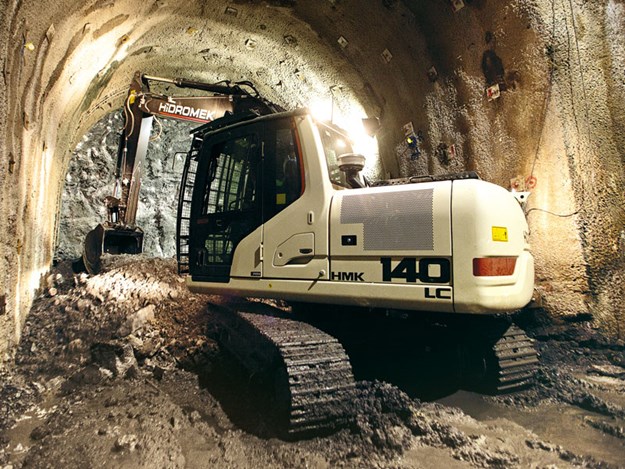 They are the first and only Turkish machinery manufacturer on the 'Yellow Table' list of media institution KHL Group, which provides information globally in respect of construction machinery and sets a reference for the entire industry.
The list contains the largest construction equipment manufacturers in the world, and Hidromek has been on this list for the past six years.
As per figures declared by IMDER (The Construction Equipment Distributors and Manufacturers Association of Turkey), Hidromek has been the market leader in Turkey for the past 10 years for backhoe loader sales, for the past seven years for excavator sales, and for the first time for motor grader sales.
Creating a difference in the design of construction machinery, Hidromek has crowned its accomplishment with many awards.
As of today, the brand has been granted 17 internationally prestigious design awards. With the aim of meeting all the needs of customers under one brand, Hidromek makes its investments to reinforce its product range with R&D and design works. 
The new products represent the last point reached by the brand's product design philosophy. H4 Series designed for easier operation Offering high performance, the new H4 Series excavators stand out with their operating speed.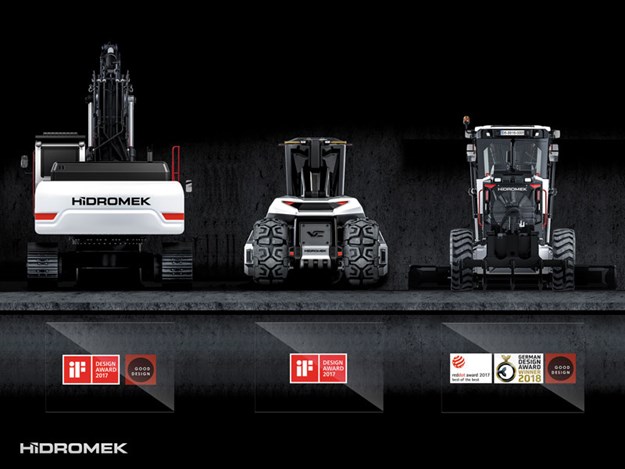 It's fitted with an electronic system, which monitors the condition of the machine and facilitates the integration of additional equipment.
The red handles and warning labels on the new series of machines are designed to increase the operator's safety to the highest level. Due to the LED headlamps on the H4 Series excavators, night vision capacity is significantly improved.
The new series also has an eight-inch display unit with an integrated radio and multilingual options, and a rear-view camera with enhanced image quality.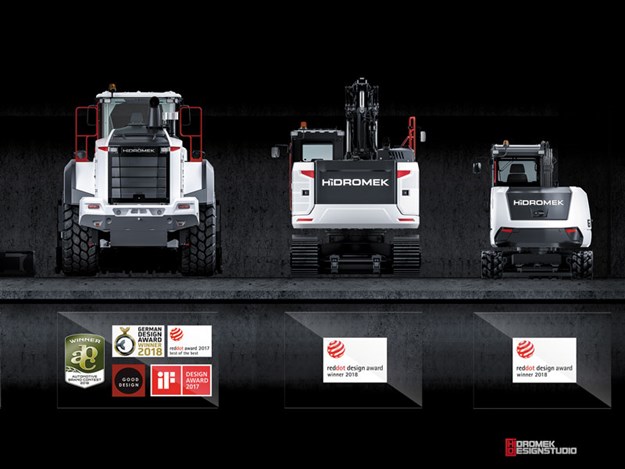 100% electric compact excavator HMK 70W: smart, economic, and environmentally friendly
Hidromek aims to specialise in electric vehicles category of the future and takes steps to create a new brand for this category.
On HMK 70W electric excavator, not only the engine but also the entire system is different from the standard machines. With its design, maintenance operating costs would be significantly reduced. The machine has an electric engine and a battery.
The hydraulic system is also designed accordingly. The 100% electric HMK 70W is eco-credential, quieter, and more efficient due to its electric engine.
High efficiency, low fuel consumption The HMK 635 WL wheel loader is attracting attention with its high engine power, performance, and heavy working conditions.
The product is more environmentally friendly and productive with Phase-5 Mercedes engine. The HMK 635 WL operates with high efficiency and low fuel consumption and has high breakout force, dump clearance, and traction.
With seat heating, reversing camera, touch screen, electrically controlled, and heated mirror, HMK 635 WL offers ease of use. It's more stable, owing to the engine located in the rear.
Besides, it also provides convenient serviceability due to its one-piece electric bonnet easily accessible from the ground level and the step located in the back of the machine.
Keep up to date in the industry by signing up to Deals on Wheels' free newsletter or liking us on Facebook.