Cover Story: Caterpillar 323 excavator
---
Cat machines are a fixture of Central Otago's Duncan Earthworks excavator fleet. But the new Cat 323 is the first of a whole new breed.
Michael Duncan from Wanaka-based Duncan Earthworls probably wouldn't admit to having favourite machines. But of his earthworks firm's nine Cat excavators, there is probably now one that will always be a first among equals.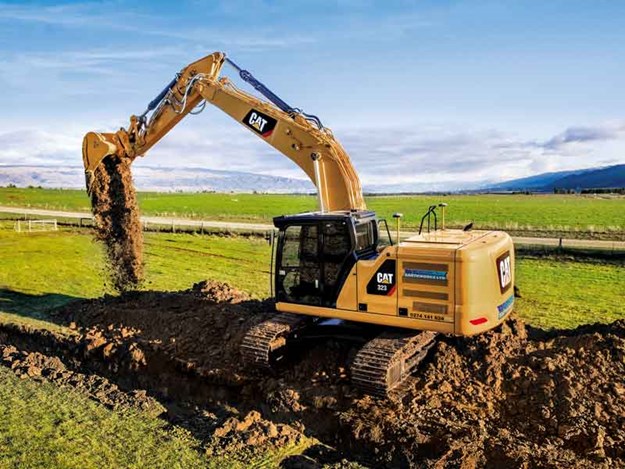 'First' is the keyword. You see, the newest machine on Michael's fleet also happens to be the first of its kind delivered in the South Island. Given that it's a Cat and Gough Cat reigns supreme on their home patch, Michael is clearly quicker than most.
"I knew it was what we needed the first time I checked it out. We actually bought it directly from a demo day Goughs held in Queenstown," Michael says.
"I understand it is the first new-generation Cat 323 to be delivered in the South Island. Of course, any new digger is new for about five minutes and then you just have to get on with the hard yards," he laughs.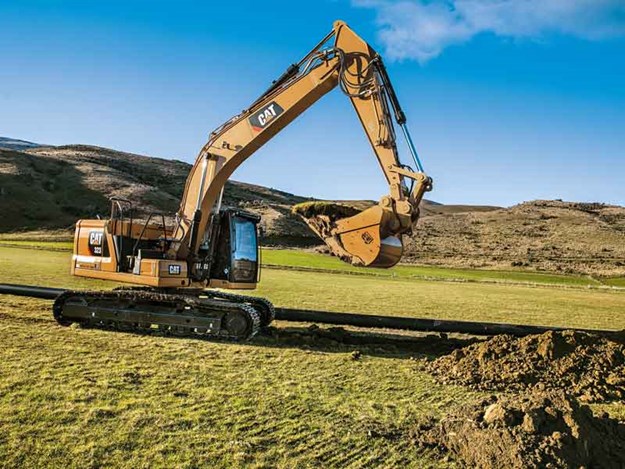 In Michael's case, the hard yards take him and his team far and wide across the south of the South. The new Cat 323 is a bulk earthworks machine and joined the company's busy machine fleet a couple of months ago. That fleet and its operators can be found working anywhere in Central and coastal Otago and as far away as Southland and even Stewart Island.
Recent projects have seen Michael and members of his 12-strong operation on-site at irrigation, dam-digging, and pipeline projects in Ranfurly, Middlemarch, and Outram. Duncan Earthworks is currently working on an irrigation scheme at Tarras between the rugged Lindis Valley and Bendigo Station.
Frontline machine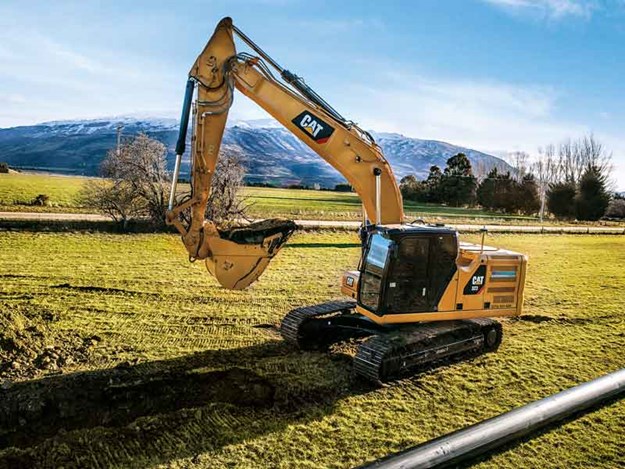 The new Cat 323 has already racked up plenty of operating hours. This has given Michael a chance to assess just how much more efficient the next-generation Cat excavator really is to operate in real-world terms.
"The new pump system Cat is using is clearly much more efficient," he says. "I would say we are getting an extra 15 hours running out of a tank of diesel. Those extra hours will definitely add up over the course of a job, and aside from the cost savings, we're also stopping work to refuel less."
The fuel savings Michael has already experienced are also in part thanks to Cat's Smart Mode system, which the next-generation Cat 323 debuts. Smart Mode automatically matches engine and hydraulic power to digging conditions, optimising fuel consumption and performance.
Engine speed is automatically lowered when there is no hydraulic demand, which, in turn, reduces fuel usage even more. Better fuel usage is also matched with less impact on other consumables and a longer service life on filters in the excavator.
The next-generation model features new cooling systems that employ multiple electric fans, as well as the independent monitoring of hydraulic oil, radiator, and air-to-air aftercooler temperatures to deliver the exact airflow required.
With a new hydraulic system built for responsiveness and efficiency, Michael's machine features a redesigned main control valve that eliminates the need for pilot lines. This reduces pressure losses and lowers fuel consumption. Fewer hydraulic lines on the excavator also result in up to 20% less oil required, lowering long-term operating costs.
Caterpillar believes that over the course of 12,000 hours operating time, the average Cat 323 excavator could use up to 820 litres less hydraulic oil.
Thanks to the machine's hydraulic return filter, which boasts a 3000-hour service life (a massive 50% increase over previous filters) and the elimination of the pilot hydraulic filter and hydraulic case drain filter, Michael's machine could also require 50 fewer filter changes over that same operating time.
Cat Grade systems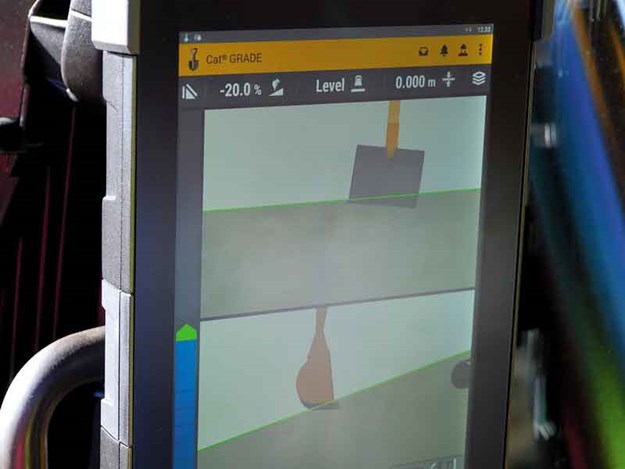 Another technological through line everyone is talking about is Cat's integrated 2D and 3D GPS Cat Grade systems. Michael is no exception, saying that the availability of this technology straight from the factory floor was a big positive.
"On irrigation projects, we're often dealing with complex cuts and formations, so to have the back-up of such an accurate system in the cab makes the job faster and easier," he says.
The Cat Grade system helps operators reach the desired grade quickly and accurately, offering guidance for depth, slope, and horizontal distance to grade. Cat's Grade Assist builds on this system further, automating boom, stick and bucket movements, so the operator stays on-grade effortlessly with single-lever digging.
Ongoing dealer support
Of course, having this technology on the job site is one thing. Having a distributor that offers comprehensive back-up and product support is another. Michael says that's the real reason why his digger fleet is uniform Cat yellow.
"You can't argue with the machines, of course. I have always enjoyed using Cat gear and the same goes for our operators. But Goughs is the real reason why the machines are there. The aftersales service is fantastic, and I reckon other brands just don't have the same knack for providing good support as those guys do."
Michael says Goughs has a branch in Cromwell as well as mobile units, which can be on-site in half an hour (depending on the machine location) should anything need addressing urgently.
"I also have to say that Gough Finance made the decision to purchase the new Cat 323 that much easier," he adds.
"Glen Cowan, our local representative, was excellent to work with in order to get the digger on the fleet and his help made the purchase decision that much more straightforward, over and above the obvious features the machine comes with.
"I'm obviously a fan of Cat, but any new addition needs to be researched and thought about. I have to say though that the advances on this new machine made it a no-brainer to add to our fleet."
Caterpillar 323 Specifications 
Operating weight
24,400kg
Engine
Cat C7.1 ACERT 
Emission 
Tier 4 Final 
Gross power

122kW (164hp) @ 1800rpm

Max reach at ground 
9870mm 
Max dig depth 
6730mm 
Max load height
6480mm 
Hydraulic oil max flow 
429L/min 
Max hydraulic oil pressure
 
35,000kPa 
Gough Cat has a nationwide Next Gen Cat Excavator demo programme underway at present. For more details, call 0800 BUY CAT or visit GoughCat.co.nz.
Keep up to date in the industry by signing up to Deals on Wheels' free newsletter or liking us on Facebook.