Product feature: Xcentric Ripper
---
The Xcentric Ripper is an excavator hydraulic attachment designed for the mass extraction of rock in mining and civil applications
Boss Attachments has developed a reputation for supplying world-class attachments to the construction, mining, and civil industries throughout Australia, New Zealand, and the Pacific Islands.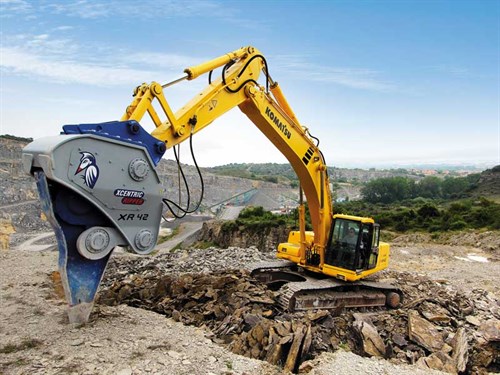 "We're really pleased to be able to add Xcentric Ripper to our product mix," Boss Attachments managing director Paul Herbison says. "Designed to increase production at lower operating costs and reduced noise levels, the all-new XR Mining series is a revolution for high volume rock excavation."
Xcentric International is said to be a worldwide leader in the manufacture of advanced hydraulic work tools for extraction and process of rock and concrete. After more than 10 years' of product development, Xcentric International has taken the Xcentric Ripper to a whole new dimension with the release of the all-new Xcentric Ripper Mining Series.
 

The Xcentric Ripper is an excavator hydraulic attachment designed for the mass extraction of rock in mining and civil applications. It has been developed with a patented system of 'Impact Technology by accumulation of energy', which, in most instances, makes the Xcentric Ripper up to five times more productive than hydraulic breakers, the company says.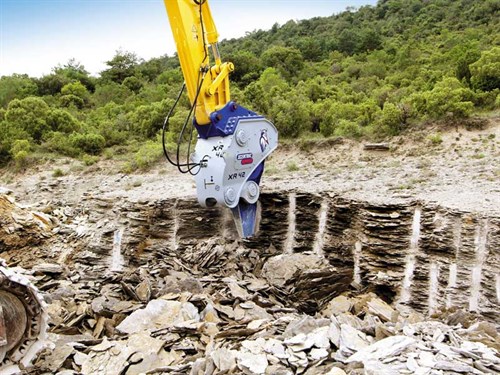 As the name suggests, the Xcentric Ripper Mining Series has been developed to satisfy the 24/7 demands of the mining sector where the highest production values are required and excavator operator comfort are of great importance.
The working technology is basically the same as in the standard version, however, the new mining series has been reinforced and has a remodelled working platform, which delivers a much higher energy impact force to the work tool with a lower frequency.
Xcentric Ripper Mining Series features
Five times higher production than conventional rock breakers
A safe and easy alternative to drill and blast options
New slim body design makes the XR Mining series perfect for trenching applications
Minimised noise levels
Low maintenance
No daily lubrication required
Minimum wear parts consumption
Long-life components and materials
Less fuel consumption per produced cubic metre per tonne
Less emission per produced cubic metre per tonne
Environmental protection (Bio Lubricants)
Marine/underwater operation
Can be used on standard excavators 
Increased operator comfort
Full range of models suitable for eight- to 150-tonne excavators
HARDOX® and Strenx construction ensures long-lasting durability in extreme conditions
The series is designed and manufactured in Spain by Xcentric International and the company says only the best materials are used for excellent quality. It's solid, durable, and characterised by the now recognisable clean lines designed to resist wear and high stresses in tough working conditions.
Extreme compactness and low centre of gravity improves balance and drastically reduces the strain on the excavator arm, eliminating impact vibrations.
"Xcentric Ripper is an excellent strategic fit among the brands that we handle and it will deliver major benefits for clients in the earthmoving and mining sectors," Paul says.
For more information, contact Paul Herbison on 027 290 8306 or visit bossattachments.co.nz.
Keep up to date in the industry by signing up to Deals on Wheels' free newsletter or liking us on Facebook.