Product Feature: Manitou MLT X741 telehandler
---
The Manitou MLT X741 telehandler stands out among other construction machinery at work at the new Three Parks Division being built in Wanaka
As if Wanaka doesn't have enough attractions, it now also has a Manitou MLT X741 telehandler that goes by the name of 'Black Jack'.
Recently purchased by Central Machine Hire through Manitou's New Zealand distributor AB Equipment, the company requested a condition of sale be that they wanted the machine painted black.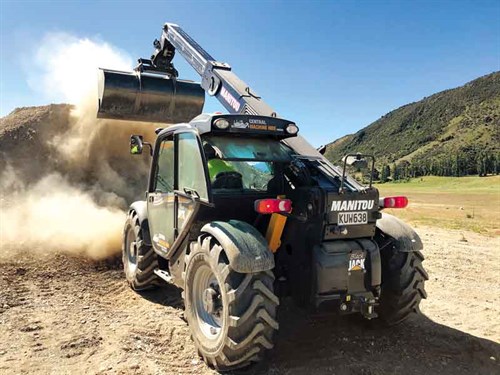 Request achieved, and with graphics added, the Manitou MLT X741 telehandler is a stand-out among other working construction equipment at the new Three Parks subdivision, being built by Wanaka development company, Willowridge.
Two years ago, Central Machine Hire identified the need to add a telehandler to its fleet. "It was acknowledged that telehandlers are pretty adaptable and this type of machine would certainly add tremendous value to our operations," says Central Machine Hire director, Allan Dippie.
"Our first experience of owning a competitor's telehandler did not go well, so we were forced to return it. Undeterred we did some more research. Following a recommendation from our contacts at Calder Stewart, we went and had a talk with AB Equipment.
"It's safe to say we were very impressed with the Manitou MLT X741 and were fortunate enough to find they had one in stock. Having a service centre close by in Cromwell also helped. Along the way the machine turned from red to black and got itself a nickname. And so, the 'Black Jack' legend was born."
Manitou MLT X741 telehandler features
Designed principally for agricultural applications, the Manitou MLT X741 is a great work horse. Quality tyres, four-wheel drive and three steering modes make getting around on all sorts of off-road terrain simple. An easy-to-use manual gearbox and Manitou's exclusive JSM boom control allows the operator to move the machine back and forth while undertaking multiple tasks.
"It's an easy, intuitive machine to operate and doesn't need a dedicated driver," says Allan. "In our case it will be used by multiple operators for a variety of tasks utilising different attachments. One moment it will be loading topsoil; the next it might be doing forklift work.
"Given that the turnaround is very time-sensitive, the seven metre reach comes in handy when loading and unloading trucks."
The cab is comfortable, spacious and is well-insulated to reduce engine noise, which is important for heavy duty use. The driving seat is adjustable in height and depth to accommodate all shapes and sizes and all related functions are grouped together for logical common-sense operation.
About Central Machine Hire
Central Machine Hire is a stand-alone business but is part of a collection of companies that make up the Nichols Group. Operating out of Wanaka, the company is well known for its civil and rural contracting work.
Its current projects include the multi-use Three Parks development, along with several residential subdivisions in and around Wanaka. This involves establishing a mix of commercial, retail, schools, sports facilities and residential housing and is expected to be rolled out over the next 20 years.
The Manitou MLT X741 is expected to play an essential part in these developments. Central Machine Hire has become very attached to the machine which has already attracted a lot of attention since arriving in Wanaka. According to Allan Dippie, now that they've got a Manitou it's hard to know what they would do without it.
Find out more about construction machinery on Deals on Wheels.
Keep up to date in the industry by signing up to Deals on Wheels' free newsletter or liking us on Facebook.