Product feature: Doosan DX235LCR
---
DOW talks to Exaro Contracting to understand why they see Doosan as a key component of their success
Auckland-based Exaro Contracting may have only been in business for three years but they already know which way they're going. Not only do they see a future in subdivisions and motorways but they also see Doosan as a key component of that success.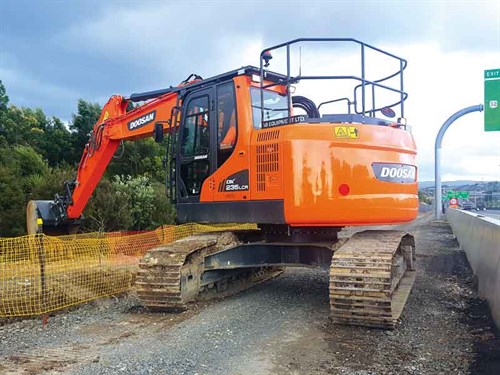 Exaro Contracting owner and director Nick Griffin has always had his eyes on a Doosan DX235LCR excavator, but before committing himself, he decided to talk to a number of people in the trade, including drain layers, to get their opinion. Although he received positive responses, his trip to the Doosan factory in Korea to see the machinery first-hand, courtesy of New Zealand distributor AB Equipment, is what sealed the deal.
"The trip only served to confirm that the advances Doosan was making in technology with their machines was, in fact, correct," Nick says.
"A lot of our jobs have involved roadwork, particularly the realignment of the Kirkbridge Road intersection near the airport and currently road widening work on the upper North-Western Motorway. We have also been involved in subdivisions at big sites such as the Millwater Estate in Silverdale.
"We had previously used a 14 tonner to do the sheet piling and drilling work but saw in the Doosan DX235LCR an opportunity to increase productivity. It also suited us that this model had zero tail-swing, as one of the aims of our company is to have all our fleet with this feature in the future."
Doosan DX235LCR features
According to Doosan, the zero tail-swing of the DX235LCR—unlike a standard counterweight 20-tonne machine that swings around—is much safer for this type of work. It reduces the potential for damage and minimises traffic disturbance. The DX235LCR can easily work on roadside and motorway jobs where, in some cases, space is limited.
According to AB Equipment, the DX235LCR long carriage track design offers exceptional performance in all operating conditions. The company says the lifting capacity of the Doosan DX235LCR is phenomenal, with the long carriage, larger boom lift rams, increased engine power and hydraulic flows, different geometry for the working envelope, all contributing to the DX235LCR having the capability to lift, carry, and place 8.2-tonne manhole covers.
AB Equipment adds that the cab design is also functional and it's easy to scroll through the menus on the instrument panels. Other benefits are its excellent visibility, the high-performance air-conditioning, and the extra storage. There is also a multi-function LCD monitor that displays machine information, including the adjustable auxiliary hydraulic flow management (which has dual foot pedal and joystick control) and air suspension seats that come as standard.
"The Doosan DX23LCR sits a little higher than other comparable machines that the operators seem to like," Nick says. "The visibility of the cameras has also been a plus for them, and they are particularly impressed with the reverse camera, which has very high resolution."
Other features on the Doosan DX235LCR excavator include a high-pressure common rail fuel injected engine, Electronic Power Optimising System (EPOS), and Smart Power Control (SPC), which improves machine efficiency while maintaining productivity through variable speed and pump torque control. The auto shut down associated with this helps save fuel when the machine isn't working.
"I know a couple of the mechanics at AB Equipment, so I can testify to how good their customer support programmes are. AB Equipment provides an excellent parts service, and its comforting to know that pretty much everything in a Doosan is made by Doosan even the hydraulic pumps and track motors," Nick says.
For further information, call 0800 303090 for the location of your nearest AB Equipment branch.
Keep up to date in the industry by signing up to Deals on Wheels' free newsletter or liking us on Facebook.