Porter Press Extra: Chris Swanson Contracting
---
This busy mid-Canterbury contractor utilises Porter Equipment machines and manpower behind the scenes in order to service the needs of a multitude of clients
There's a uniquely handy thing about working the flat lands of Mid-Canterbury. You can almost stand at the office door and see your machinery on the horizon wherever you look. Okay, perhaps it isn't quite as simple as that.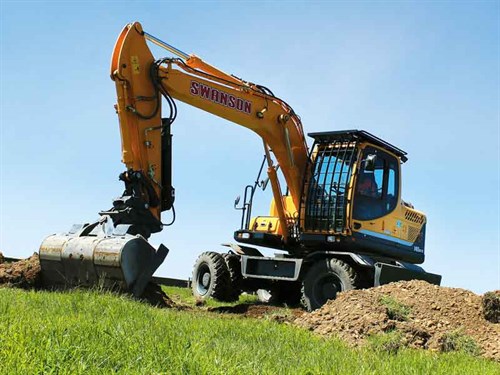 But for Chris Swanson, managing director of Chris Swanson Contracting, the view from his office door into the yard allows him to see a fair bit of yellow machinery so long as it isn't deployed out on the farms of the Dunsandel district.
Thankfully for Chris, most of it usually is. He's been in business for 13 years and started out as primarily a rural contractor. While that side of the operation continues apace, Chris says the excavation portion of Chris Swanson Contracting, which he has been engaging in for a decade now, has ramped up significantly in recent years.
"Having construction work is pretty significant for us, as rural contracting is seasonal, so shifting dirt on other projects means we're always busy year-round," Chris says.
The seasonal side of the business also means Chris' workforce fluctuates, but around seven staffers, driving a variety of machinery on a variety of tasks, are currently employed.
The Porter Group association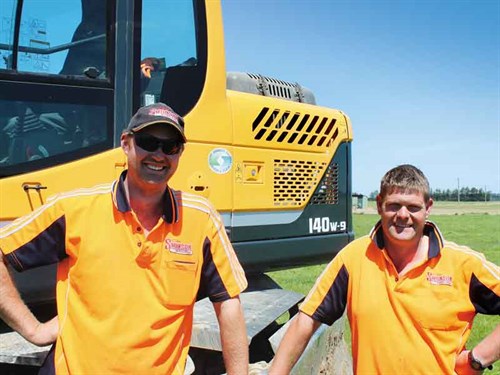 Another more consistent aspect of Chris' business is his association with Porter Group— a relationship he says goes right back to the beginnings of his company when he purchased his first 'Dash 7' model Hyundai.
"I don't think there is an aspect of the Porter Group operation we don't use these days. Porter Mechanical, Porter Haulage, Porter Hire, the actual Porter Equipment machine retail side of things… we interact with them all.
"Working with the Porter Mechanical team means you get stuff done quickly. In order to complete some tree work up in the Rakaia Gorge recently, for example, we needed to get our 21-tonne Hyundai excavator kitted out with more substantial ROPS armour. The guys at Porter Mechanical were great, not only at helping to arrange what we needed fabricated but also as a consultancy service.
"It's the extra advice that really made the difference on that occasion. Because we've worked with them for so long, it's advice I trusted in and put into action too. That's all down to their hub of expertise," he says.
Machine talk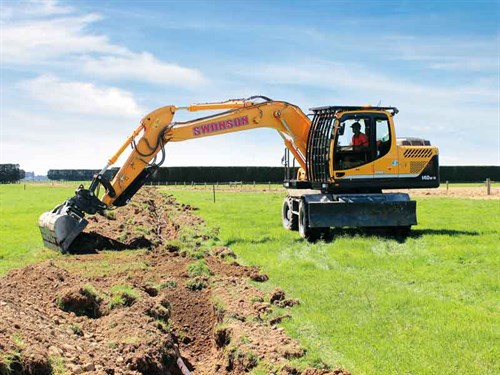 Chris runs a Hyundai R210LC-9 tracked excavator along with a pair of wheel excavators, both 14-tonne Hyundai R140W-9s. Back at the yard, he also has a Hyundai HL760-9 wheel loader for shifting material both at base and out in the field. In the past, the loader has also been integral to Chris' side-line in shingle crushing.
Interestingly, it's the wheel excavators, though, that have been something of a game-changer for the Canterbury born-and-bred contractor.
"The wheel diggers are really versatile, especially because we often have to cover a few miles between short tasks. They travel at around 40km/h on-road, so that's on par with tractors and other big equipment you see on Canterbury roads.
"You can tow your ute behind them, too, so you're never solely reliant on the machine itself to get you back to base. And they're just really manoeuvrable in the field. You don't tear the ground up like you might with a crawler excavator. We complete a lot of track building and trench work, so putting the big R210LC-9 in some of those environments isn't really an option."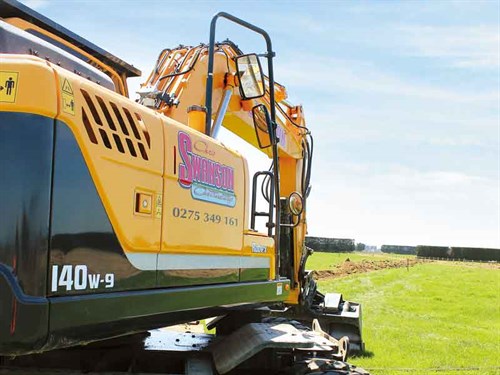 Chris says Porter Haulage come to the party whenever the crawler excavator needs to be moved, but having two other machines that can run on the road independently gives his operation flexibility, ensuring if a client needs a short, sharp task checked off, one of Chris' guys can get there a lot faster.
On the day of our visit, we checked out a typical job for Chris Swanson Contracting—an irrigation pipe install job about 10 minutes up the road from the company's yard. Here, recent newcomer to the team Dan Ensell revealed he's also a big fan of the Hyundai R140W-9.
"It's easy to drive and the whole job is a lot cleaner when you can drive over the ground without worrying about any damage, rather than risk ripping it up," he says. "I can move along the trench line a lot faster, too, so back-filling is faster."
With a working territory that, Chris says, essentially extends from the Rakaia Gorge inland out to the sea, his team is working in a variety of environments.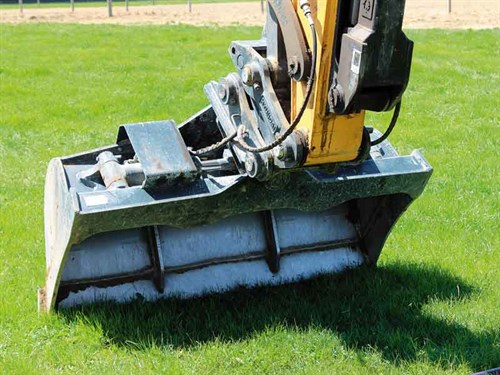 Big clients for the company include Purata Farms, for whom Chris' team complete all cultivation and seed drilling work. Building cow tracks and cleaning head races are other bread-and-butter tasks. It's easy to see how both the specialist rural and straightforward excavation sides of the business work so well together.
"Working in a rural community like we do, it's all about reputation and word of mouth," Chris says. "We're consistently busy, which is great. But the assistance we get from the Porter Group businesses in order to do what we do is a big part of our success."
Keep up to date in the industry by signing up to Deals on Wheels' free newsletter or liking us on Facebook.