Product feature: BKT forestry tyre
---
BKT, available from TRS Tyre and Wheel, has introduced a range of tyres for the forestry sector
The company says the range is designed to face diverse forestry applications under the toughest conditions on uneven or muddy terrains, where obstacles such as trunks or splinters are present that might damage the tyres.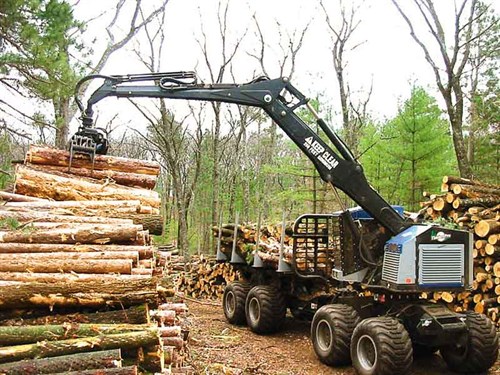 BKT kept factors such as strength, resistance, load capacity, stability, and grit in mind when they designed and launched their tyre range for the forestry sector.
TRS offers three of the distinct forestry product lines from BKT for the New Zealand market: Forestech, FS216, and F240. TRS says the common feature in the product lines is great resistance, which stands for an extended tyre life cycle, designed to be replaced less and reducing machine downtime.
TRS says the Forestech range is ideal for forwarders, with its strength and resistance even under the toughest operating conditions. Its sturdy bead and the reinforced shoulder area ensure high puncture resistance. It also has outstanding traction—a key requirement to operate on this kind of terrain. It's available on the market in three different sizes: 600/55–26.5, 710/45–26.5, and 750/55–26.5.
TRS says that the FS216's cut and tear resistance makes it the perfect tyre for skidders. Durability, a reinforced tread, and high puncture resistance are its strengths. Excellent traction, top self-cleaning properties, and high load capacity complete the picture of this tyre, which is available in eight different sizes, each of them either in steel-belted or aramid-belted versions: 18.4–26, 23.1–26; 28L–26, 18.4–30, 24.5–32, 30.5L–32, DH 35.5L–32 and 18.4–34.
The F240, the latest addition to BKT's forestry tyres, is designed for logging operations. TRS says some of its main features include excellent traction, outstanding self-cleaning properties, and manoeuvrability. Moreover, the special and superior tread compound ensures an extended product life cycle along with cut, wear and tear resistance. F 240 is available in two different versions: 18–15.5 and 400–15.5.
About BKT and TRS
BKT, a tyre manufacturing company based in India, has been growing rapidlyinternationally as one of the world leaders of off-highway tyres. 
The company has the widest product range with more than 2000 off-highway tyres. BKT releases around 150 new sizes annually with many of these being incorporated into the New Zealand market.
TRS is one of New Zealand's largest importers and distributors of agricultural and industrial tyres and wheel systems. They are the authorised distributor of BKT tyres in New Zealand. 
For more information, call TRS on 0800 336 334 or visit trstyreandwheel.co.nz.
Read more industry news on Deals on Wheels.
Keep up to date in the industry by signing up to Deals on Wheels' free newsletter or liking us on Facebook.