Product profile: Antraquip
---
Antraquip is a recognised international leader in the design and manufacture of hydraulic cutting attachments
From specialised work at what promises to be one of Auckland's tallest apartment buildings to assisting on the Kaikoura Rail Tunnel rebuild, the Antraquip brand is making its presence felt in New Zealand.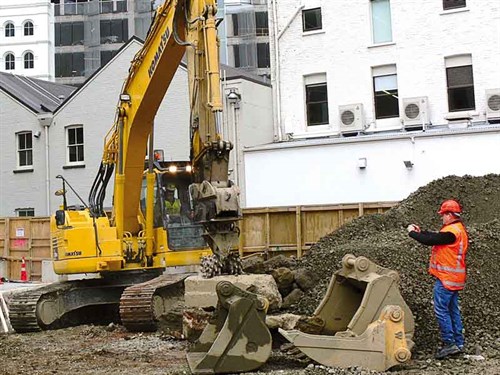 Boss Attachments is the exclusive Australasian dealer for the Antraquip range, and the brand is said to be a recognised international leader in the design and manufacture of hydraulic cutting attachments.
The company says the Antraquip range of attachments—US-built to work harder and last longer—can provide customer engineered solutions for any rock or concrete cutting project. They can also deliver viable economic and environmental alternatives to blasting or hammering.
Antraquip AQ-IS
"On completion, this very tall, multi-story building at 69-105 Custom Street will be one of Auckland's tallest apartment buildings," Boss Attachments managing director Paul Herbison says. "One of our Antraquip AQ- 1 hydraulic drum cutter heads is being used to mill back the in-situ basalt and facing rocks on the building site's boundary."
The AQ-1 is a compact transversional cutting head designed for small excavators and carriers. Common applications include small trench excavation as well as concrete cutting and profiling. Its manufacturer says the unit delivers an exceptional amount of power and performance when mounted on two- to eight-tonne excavators.
"Because it is operating well below the ground, we have it mounted on a 23-tonne Excavator," Paul says. "That gives us the extra reach we need, plus having that additional power at our disposal reduces any risk of damage to the milled surfaces."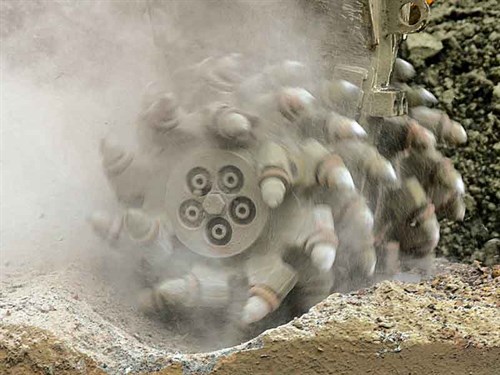 The rail link between Christchurch and Picton carries more than one million tonnes of freight annually, so the disruption caused by the Kaikoura earthquake has been a major challenge for the NCTIR Alliance responsible for the rebuild project.
At the damaged Kiakoura rail tunnel section of the line, an Antraquip AQ-IS hydraulic cutter is being used to mill back the lining of the tunnel wall.
"The AQ-IS is our smallest machine and weighs only 110kg," Paul says. "It is designed to operate on 1.5- to five-tonne excavators, but here, for improved end performance, it will be operating on an eight-tonne machine."
Despite its small size, the AQ-IS performs well above its weight when cutting soft to medium hard rock, asphalt, and concrete. This makes it an ideal tool for the specialised excavation being undertaken at the Kaikoura rail tunnel.
"Antraquip are absolute rock stars when it comes to cutting or tunnelling equipment and Boss Attachments is really proud to represent this brand in New Zealand, Australia and the South Pacific," Paul says.
For more information, contact Paul Herbison on 027 290 8306 or e-mail paul@bossattachments.co.nz.
Read more industry news on Deals on Wheels.
Keep up to date in the industry by signing up to Deals on Wheels' free newsletter or liking us on Facebook.