Business features: Drone surveys from Komatsu's SMARTCONSTRUCTION concept
---
Cambridge (New Zealand)-based contractor C&R Developments discuss the benefits received from a drone survey they won from Komatsu
Cambridge (New Zealand)-based contractor C&R Developments recently benefitted from a free drone survey—a service offered as part of Komatsu's SMARTCONSTRUCTION concept—won by surveyor Steve Ross during the Intelligent Machine Control launch in the Hunter Valley in November last year.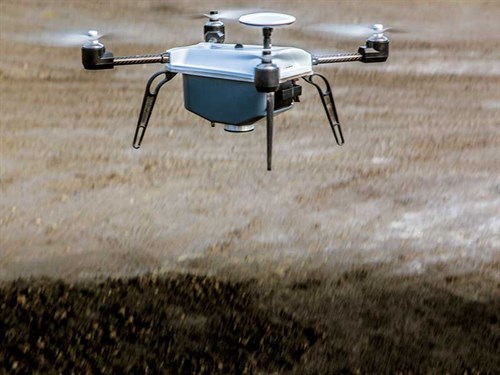 Komatsu NZ took a small team of customers across to the iMC launch in Australia where Steve won a closest-to-pin golf challenge, with the free drone survey as the prize. The survey was carried out at Winstone's Flatop Quarry at Silverdale, north of Auckland, where C&R is undertaking overburden removal and rock selection.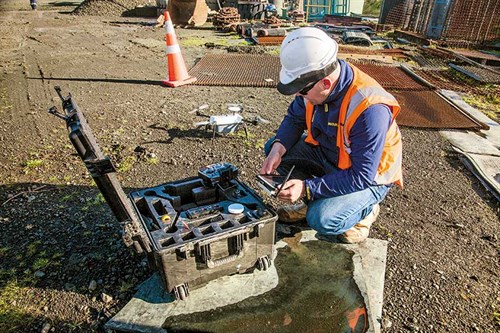 Scott Jamieson, Komatsu's SMARTCONSTRUCTION support centre manager, new equipment construction and utility, came out from Australia and carried out the survey in early August. According to Steve, the survey data provided will be used for volume calculations and future design work.
"The point cloud data we have received is obviously a lot more dense than our typical GPS rover survey, which makes it a lot more accurate.
"In addition, the field work was completed in around 15 minutes, compared to several hours using a rover, so there are obviously many advantages using Komatsu's drone technology," he says.
About C&R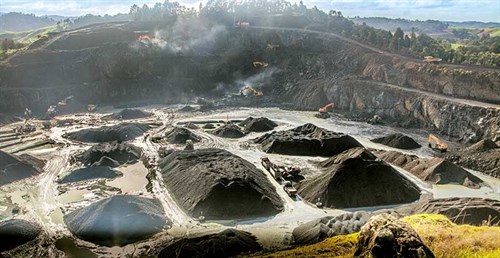 C&R has been working at Flatop for the past two years, carrying out overburden removal works and assisting with day-to-day quarry operations. The company is one of New Zealand's leading civil earthworks and bulk earthmoving contracting companies, established in 1998 and continuing as a family-owned business.
Its management team has more than 60 years' experience and expertise across all earthworks and plant management fields. C&R owns and operate a large selection of medium to heavy plant able to undertake the most demanding projects under the most stringent environmental standards. Plant can be hired to suit a range of applications, specifications, and timelines.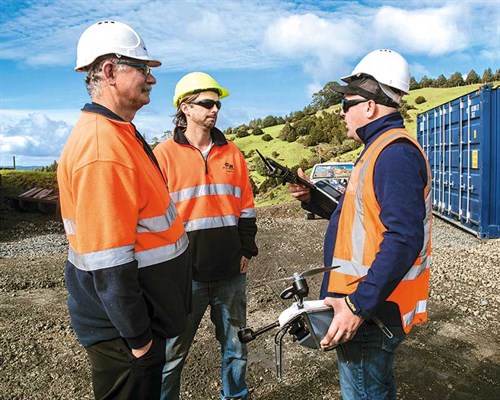 It currently has 94 Komatsu machines in its fleet, including 49 rigid dump trucks, 11 articulated dump trucks, and 23 excavators, along with various other types of equipment.
"I was very lucky to actually win the drone survey, as my golf game is usually rubbish!" Steve says.
"However, it was interesting to see this new technology in use. It makes traditional methods look highly obsolete in terms of safety and efficiency.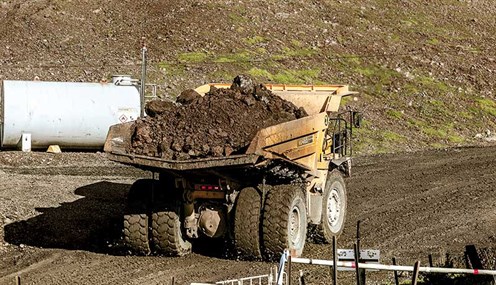 "I would also like to say a big thank you to Scott, Reimerd Mostert (Technology Solution Expert), Elle Schutte (Komatsu National Aftermarket Marketing Manager­—NZ), and Komatsu for going out of their way to come and do this for us. We really appreciate it," he says.
About Komatsu's SMARTCONSTRUCTION drone UAV service
SMARTCONSTRUCTION'S drone service offers full project and data collection integration not only with Komatsu (and other) machines but also across entire sites and projects.
Using state-of-the-art Skycatch high-precision drones (in which Komatsu Ltd has taken a significant investment), it can deliver a range of services at a fraction of the time and cost of conventional ground-based surveys.
They include:
Site survey cut/fill and stockpile volume calculations, allowing users to:
Measure quantities to confirm cut and fill estimates
Identify potential delays and verifying truckload estimates
Carry out continuous as-built surveys at the beginning, middle, and end of projects
Progress tracking and site logistics, allowing:
Billing verification and work-in-place tracking
Site logistics overlay and site constraint analysis 
Quicker and more accurate site planning
Online collaboration and communication, including:
Frequent map updates for improved safety and coordination with outside agencies 
File exports for data manipulation, reporting, and site meetings
"Industries that can benefit immediately from this service include civil construction, quarrying, and mining, and we have already added value to a number of clients across all three sectors," says Aaron Marsh, Komatsu Australia's national technology solution expert manager—construction, and head of Intelligent Machine Control at its Smart Centre.
"It's also designed to allow a high degree of integration to our KomConnect application and real-time as-built file management and reporting through our iMC technology."
Keep up to date in the industry by signing up to Deals on Wheels' free newsletter or liking us on Facebook.