Own the revolutionary Toroidal-Tilt Coupler
---
After winning the Best Innovative Product Award at the recent Diesel, Dirt and Turf Expo, the Toroidal-Tilt Coupler from Calibre has attracted the international engineering world's interest.
The patented actuator is the first tilting coupler with curved rams in history—a revolutionary design that will change the way hydraulic rams are perceived in the industry.
A limited release of the 14-tonne Toroidal-Tilt Coupler is now available for Calibre's New Zealand and Australian customers. Based on the strong feedback across all e-Commerce platforms, Calibre anticipates that the Toroidal-Tilt Coupler won't stay on the shelves for long.
The Toroidal Tilt Coupler comes inclusive of a number of technologically innovative features, including twin displacement cylinders, which are, in fact, 'curved', and Calibre's Smart-Valve technology, which protects the Toroidal-Tilt from high-pressure spikes as well as allowing precise control and improved holding force.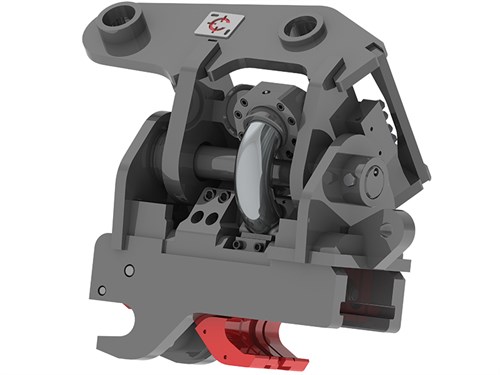 Available to customers with the latest Sure-Grip Coupler base, the toroidal actuator boasts constant torque output at any tilt angle and allows for precise operator control. The Toroidal-Tilt enables the tilting of attachments 50 degrees each way (100 degrees in total), adding versatility to attachments.
Of critical importance to operators, the Toroidal-Tilt offers a lower profile and a lighter weight design, which ensures lower fuel costs, increased productivity, and improved machine performance. Easy maintenance of the Toroidal-Tilt Coupler is ensured by enabling the servicing of the actuator even while on
the machine.
The award-winning Toroidal-Tilt Coupler enhances Calibre's goal to be a leading innovator in the international attachments market, particularly in relation to all tilting devices. The Toroidal-Tilt takes the tilting game to a new level.
For more details, contact Calibre on sales@calibre.equipment or visit calibre.equipment.
Keep up to date in the industry by signing up to Deals on Wheels' free newsletter or liking us on Facebook.