Quarry feature: Evoquip's Cobra 230 Impact Crusher
---
DOW gives you the low down on the special features from EvoQuip's recently released Cobra 230 Impact Crusher
Terex Evoquip offers a comprehensive and proven portfolio of products to address the needs of the compact crushing and screening markets.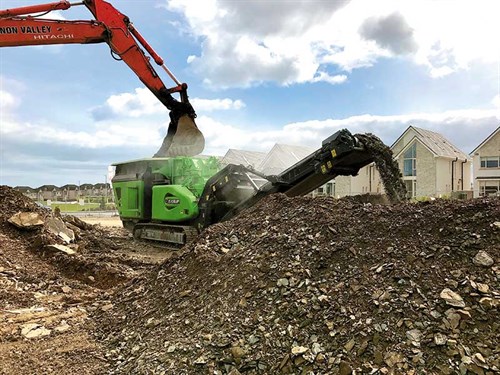 No matter what line of work you're in, whether it is quarrying, construction and demolition, asphalt recycling, or contract crushing and screening, the Evoquip product line-up will enhance your profitability
New EvoQuip product release
In addition to their range of jaw and impact crushers, EvoQuip has recently released the Cobra 230 Impact Crusher.
Matt Dickson, EvoQuip product line director, says, "The Cobra 230 Impact Crusher is a machine that provides class-leading productivity, unmatched versatility, and excellent fuel efficiency. The quick setup times, simple intuitive operation, and ease of transport makes this machine an ideal solution for all applications.
"The Cobra 230 has been on test with J&V Construction in Ireland. Gerd McCann, J&V Construction director, says, "The EvoQuip Cobra 230 has managed to surpass our expectations, handling a mix of difficult rock and heavy-duty recycled concrete with ease and turning it into products we have been able to reuse on our construction sites."
Ease of use
The rapid setup time and intuitive control system on the Cobra 230 enables the operator to crush the material just minutes after unloading the machine from the transporter.
The operator can also adjust the crusher setting easily without the need for any tools using the user-friendly hydraulic assist that is standard on the machine.
Optimal material flow
There are a number of key design features in the Cobra 230 that ensure an optimal material flow through the crushing process.
As material moves from the feeder through the impactor onto the product belt, each section becomes wider, ensuring an unrestricted flow.
The excellent under crusher clearance, the short distance from the crusher discharge to the magnet, and the ability to lower the product conveyor while running make the Cobra 230 an ideal machine in all applications.
Compact size
The compact footprint makes the Cobra 230 easy and cost-effective to transport and also makes it an ideal machine for working in urban areas.
"The quality and finish of the EvoQuip plant that has landed to date has been excellent,"
Andy Meikle, director of Mobile Screening & Crushing (NZ) Ltd, says. "Moreover, when these machines are put  into operation, they are exceeding our expectations and have really outpunched their size."
If you're looking for proven products with high productivity and efficiency for your quarry, farm, recycling, or construction site, contact Mobile Screening & Crushing NZ and find out more about Terex EvoQuip's expanding range of Crushing and Screening solutions.
For more details, call 0800 MSC LTD or visit mobilescreening.co.nz.
Keep up to date in the industry by signing up to Deals on Wheels' free newsletter or liking us on Facebook.