Product feature: The fuel-electric Genie Z-60/37 FE
---
Customers will commend the cost-effective Genie Z-60/37 FE for improving profitability and efficiency in general construction and industrial applications
Since its global launch in April 2016, businesses using the fuel-electric Genie® Z™- 60/37 FE articulating boom lift have been able to cut costs and their carbon footprint, while getting increased performance and versatility from their aerial work platforms.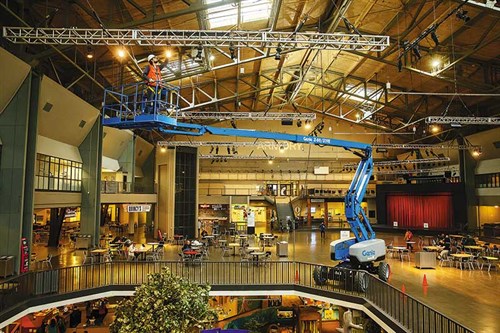 Suitable for indoor and outdoor use, the Genie Z-60/37 FE is driven by high-efficiency AC motors and combines advanced diesel power and four-wheel-drive performance with the energy efficiency and quieter operation of compact, low-weight electric-powered booms. It can travel 25% faster than other typical diesel-powered units.
Sales director for New Zealand distributor, Youngman Richardson & Co Ltd, Phil Fairfield, says, "The Genie Z-60/37 FE boom lift is a revolutionary approach to the mid-size Z-boom family and it adapts to our customers' increasing needs for high performance, high efficiency and low emissions."
When operating in full-electric mode, the Genie Z-60/37 FE boom lift offers a full day of emission-free performance on a single charge, and in hybrid mode, it runs for more than a week on a single tank of diesel.
In hybrid mode, an environment-friendly 24hp diesel-powered generator constantly monitors the charge of the 48V DC battery pack, keeping it topped up and then utomatically shutting off to minimise fuel consumption.
In extreme battery usage conditions or after heavy full-electric operation, the hybrid power system can provide a bulk charge in around four hours.
When an operator is climbing hills or taking on rugged terrain, the hybrid system can rovide power directly to the AC motors, combining the power of the diesel-driven generator nd the 48V DC battery pack.
"On long-term jobs, even when on-site power is not available, this machine is versatile enough to handle tasks ranging from work on rough and unprepared ground to indoor applications where it's important to keep noise and emissions to a minimum," Phil says.
The model is extremely cost-efficient and provides high rental returns for general construction and industrial applications, such as sports arenas, shopping malls, and convention centres.
It is just the kind of machine to be the first on the job site and the last off; exactly what rental customers are looking for to improve their profitability."
The Z-60/37 FE boom lift shares the robust quality and rough terrain performance that make the Genie Z-62/40 and S-60 boom lifts popular.
"Our Z-60/37 FE boom also offers the advantage of being sufficiently lightweight and compact to handle tasks in confined spaces."
The Z-60/37 FE boom lift is equipped with foam-filled, non-marking all-terrain tyres, adding to the machine's versatility for outdoor and indoor uses.
It offers 45% gradeability and ground clearance of 33cm as well as being able to travel 25% faster than other typical diesel-powered units.
Operators will also appreciate full-time active oscillating axles that increase wheel contact on irregular terrain and its fully sealed AC motors that operate even when submerged under 91cm of water.
Keep up to date in the industry by signing up to Deals on Wheels' free newsletter or liking us on Facebook.