Product feature: New Xcentric Crusher Bucket range
---
Deals on Wheels highlight the unique features of the new Xcentric Crusher Bucket range, recently released in New Zealand and Australian markets
Representing a new dimension in crusher bucket technology, the Spanish-manufactured Xcentric range provides a number of unique features and includes a patented isolating jaw movement.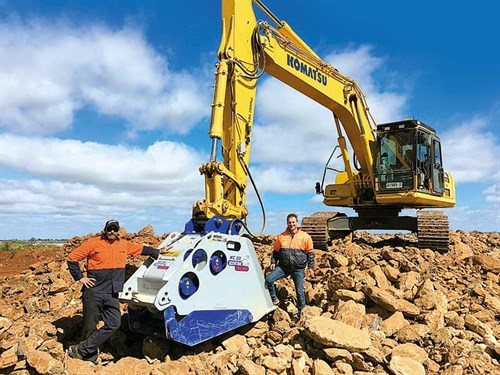 This ensures the material is crushed without a compacting effect, which Xcentric says, delivers at least 35% greater production than conventional crusher buckets.
"These crusher buckets have created massive interest since we introduced them in March and launch sales are well ahead of any other crusher bucket brands that we have handled in the past," Livio Pace of Boss Attachments, Australia, says.
"So much so that our entire first shipment destined for our Diesel, Dirt and Turf Expo site was sold and delivered before the show even started."
Best features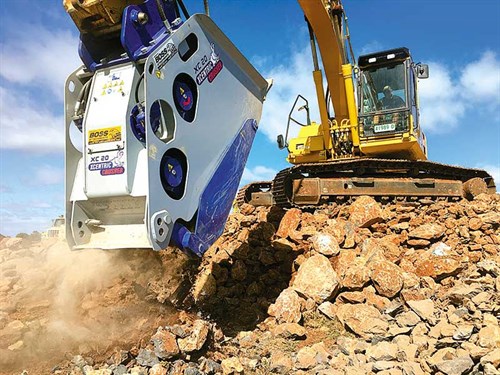 Designed stronger to operate better, faster, and longer, other unique features that set these crusher buckets apart include:
Fully adjustable jaws to give an output product of +20mm to + 170mm

Simple and fast adjustment system. Allows adjustment of output size in less than two minutes using two simple pins.

Cross Top Jaws, with the circular motion, allows crushing of wet material

Double Effect Hydraulic System allows operators to easily reverse the crushing movement in the event of a product jam

Process hard materials such as granite or porphyry at 100% of the jaw opening

200-hour greasing intervals

80% less consumables parts than conventional crusher buckets. No toggles, no springs, etc.

Anti-skid transmission offers higher production and fewer jams

High inertia power train, 40% less oil required to operate the crusher bucket, and better fuel economy

Hardox® construction ensures long-lasting durability in extreme conditions
"And the interest from our clients shows no signs of letting up," Livio says. "Two more full containers are on their way down under as we speak and the crusher buckets are going out the door as fast as we can get them in."
Without exception, feedback from clients, such as David Aarts, have been universally positive with some describing the crusher buckets as "real game changers" and applauding other benefits, such as "significant reductions in service requirements" and "massive gains in productivity".
With the Australian launch phase well under, Boss Attachments has now focused on the range to this side of the New Zealand side of the Tasman.    
Boss Attachments NZ managing director, Paul Herbison, who has recently returned from the successful Diesel, Dirt and Turf Expo, says, "Our Spanish suppliers are overwhelmed by the initial market penetration that we have achieved and are committed to delivering whatever support we need in product and aftersales service."
Keep up to date in the industry by signing up to Deals on Wheels' free newsletter or liking us on Facebook.