Cover story: Case 721F loader
---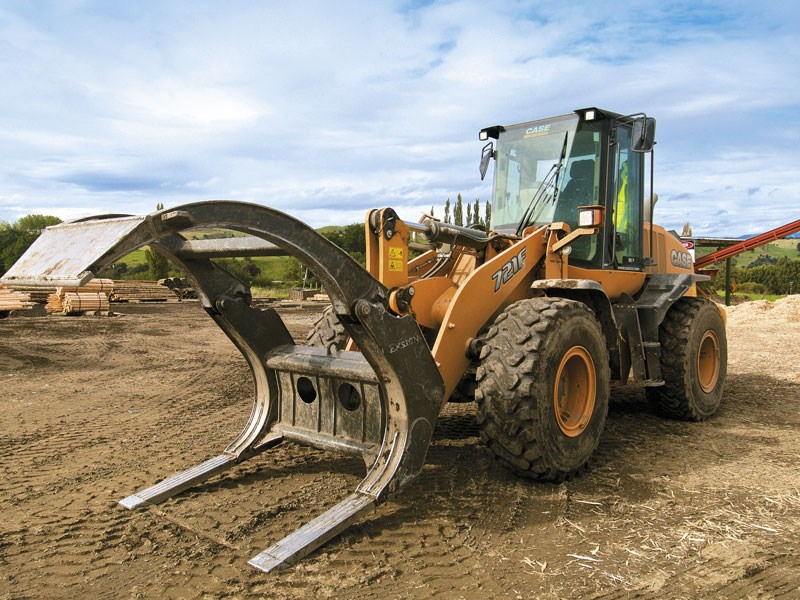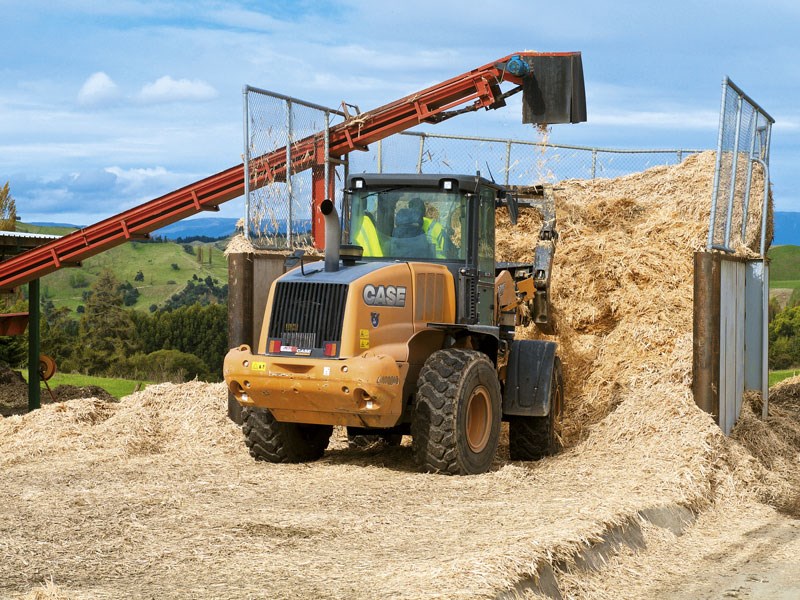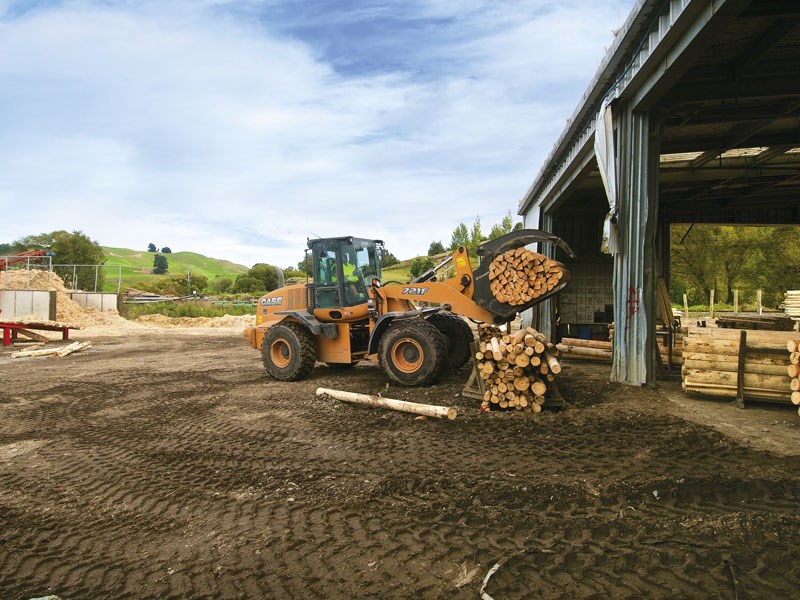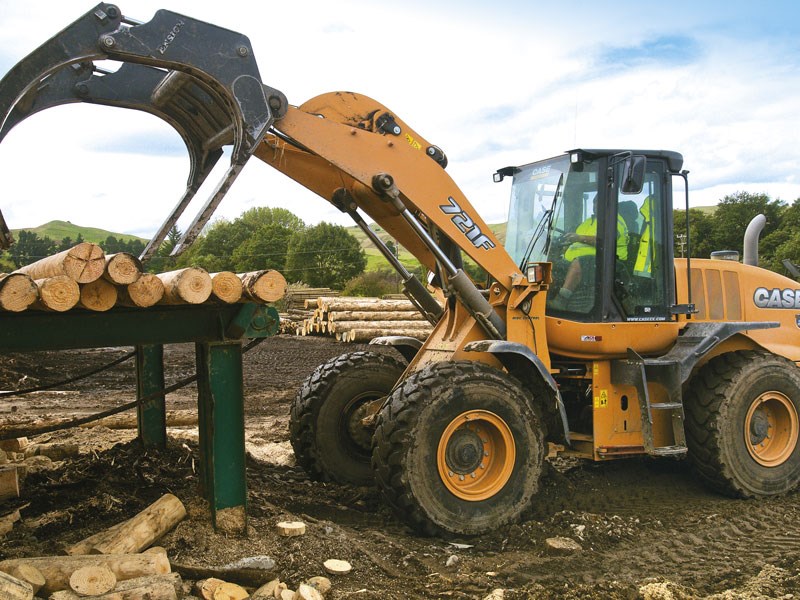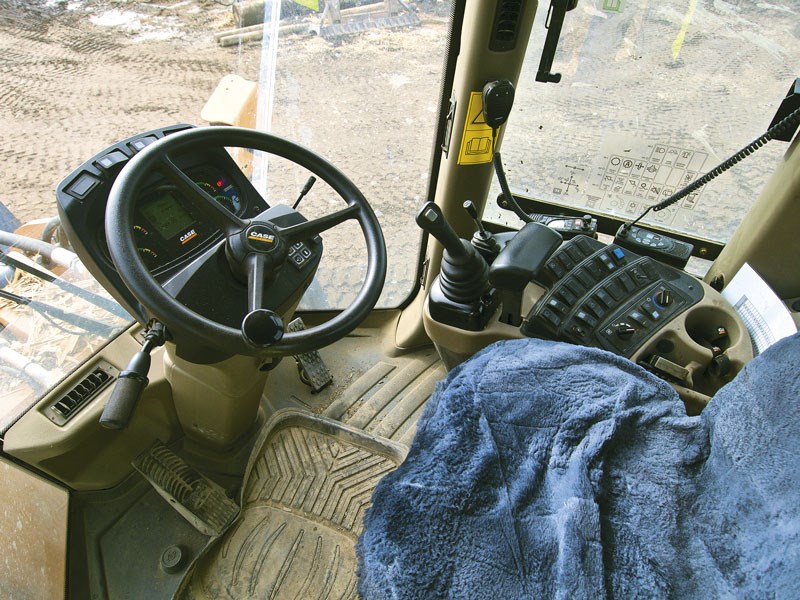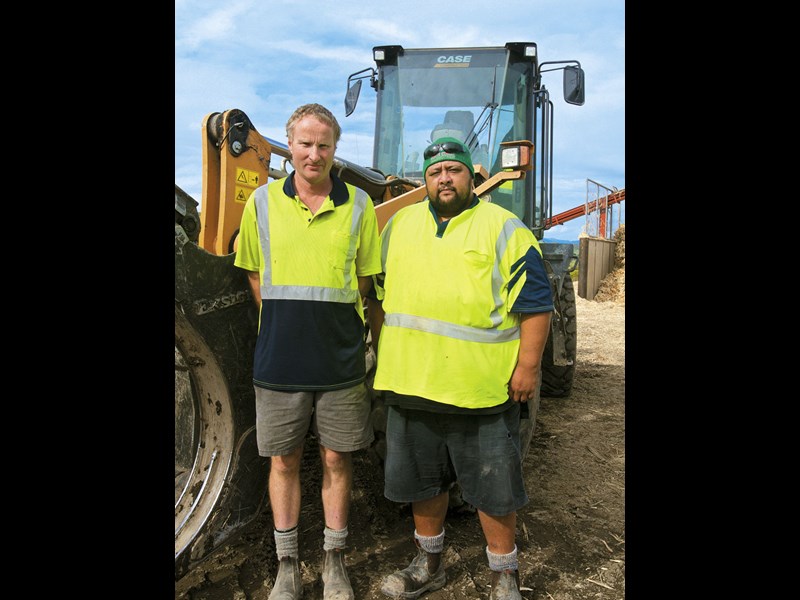 Mark Benson (left) and Vaughan Pickering

The Ed headed to Taihape to find out more about the Case 721F purchase by Hautapu Pine Products
Hautapu Pine Products Ltd was established in the 1960s by Mark Benson's father, Trevor, who got things under way when he began milling fence battens for the local farming community. It didn't take long for word to get out and the business expanded its customer base, settling on a product line that today consists of fence posts, house piles, and poles.
Situated alongside the main trunk railway line on State Highway One just north of Taihape, the busy four-hectare site is a hive of activity at any given time as logs continually arrive for processing. The finished products then find their way to end users in many parts of the country.
"Currently, our biggest issue is sourcing raw material," Mark says. This surprises me a little, as I was expecting him to say something about having difficulty finding staff to keep the company's 40-strong Hautapu Pine workforce at its full complement, indicating the employee situation may be a bit more stable for some employers in this region.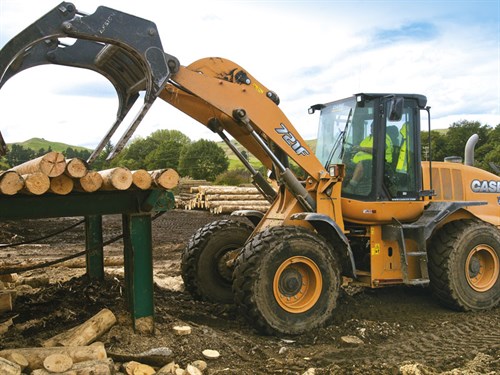 "We are bringing logs in from our own forest and Kaingaroa," he says.
To keep control across all aspects of the process, as well as having their own timber stand, Hautapu Pine also has three felling crews and related companies that own five logging trucks and two retail outlets.
"We also distribute through businesses such as Farmlands," Mark says.
So, as one can see, the business appears to have a firm grip on everything related to efficiently getting the logs into the yard, through to processing, steaming, and treating the products. However, as Mark describes, there were a couple of particular areas they were struggling with up until a few months ago. Well, that was until a Case 721F loader stepped up and made itself known.
At any one time, there are up to four wheel loaders moving products around the yard or loading and unloading trucks.
"One difficulty we started coming across was a machine to safely lift the empty
five-axle logging trailers, which are common nowadays," Mark says.
"The existing brand was a bit light in the back end and the latest model we had struggled to lift the trailers even more than the older one," he says.
Another problem encountered with the existing brand was the loader frame cracking due to the undulating ground in the yard.
To achieve what they wanted with the current brand, Mark says they would have had to purchase a model one size larger.
Along with additional purchase cost comes an over-spec'd machine to keep
and maintain, not to mention adding more physical machine presence to an already busy yard.
"A suggestion was made to take a look at Case, so that's what we did," Mark says.
"I paid particular attention to the hydraulic ram size and the overall build quality, especially the thickness of the steel frame, and whether the machine of the same size as our others would handle those trailers."
The issue of lifting empty five-axle trailers appears to have sorted itself, thanks to the weight distribution of the Case 721F. This model and all others in the Case wheel loader range between 10- and 20-tonne operating weight feature a mid-machine mounted cooling system positioned behind the cab. Along with that area being one of the least dust-affected places on the machine, it also allows the engine and transmission to be positioned further to the rear, improving weight distribution, and in turn assists the counterweight in keeping the back end firmly planted on the ground.
"The power of the machine is great, and with the machine sitting stable, we don't
have an issue lifting those trailers anymore," Mark says.
With the machine just on four months old, the frame cracking problem on the undulating ground is still unknown and it's probably a given that all key points will be monitored closely.
"I'm really happy with how things are going. It was a huge step for us to move from where we had been, especially when a brand loyalty has been built up over so many years," Mark says.
"However, when we looked at what this 721F could do and its price point compared to what we would have had to spend by purchasing a larger model of our existing brand, it was a no-brainer."
Summarising things afterwards, I mentally congratulated Hautapu Pine on having the gumption to move away from a brand they have successfully worked with for many years.
It is often a big step to do such a thing, especially where inter-business relationships are involved.
However, when sourcing fit-for-purpose equipment specifically suited for a particular task that is both safe and economically viable, it can be good to cast a buying eye further afield to see what is on offer.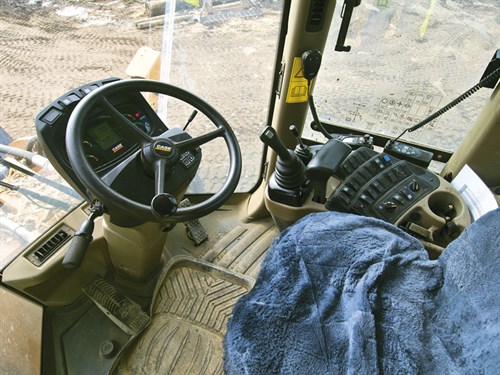 Case 721F features
autapu Pine Product's Vaughan Pickering has been operating the Case 721F since it arrived a little more than four months ago.
"To tell you the truth, I wasn't happy about moving across to the Case [machine].
"But once I got it out into the yard and started pushing up the pile of wood peelings it didn't want to stop," Mark says.
Vaughan may just be one of Case wheel loader's biggest converts and runs through a list of the features he likes.
"The electric hood makes checking things easy."
Case has cleverly grouped daily checkpoints all within easy reach, which enables fast and safe access.
"Also, it doesn't want to stand up on its toes when I lift those
five-axle trailers."
He describes the machine as stable and power as superior to the last machine he was on.
"Yeah, it's the first time I've operated a Case loader and I reckon it's a lot better than the last machine I was on," he says.
Operator comfort is also a big consideration, especially when working in Hautapu Pine's busy yard.
"I actually do feel pretty good at the end of a long day.
"The comfort is tops, and with good speakers right up behind my head, Spotify comes through nice and clear," he says.
For complete specifications of the Case 721F, check out the article in our latest issue (#285).
To watch the video, click here.
Keep up to date in the industry by signing up to Deals on Wheels' free newsletter or liking us on Facebook.