New Hammar sideloader to be unveiled in NZ
---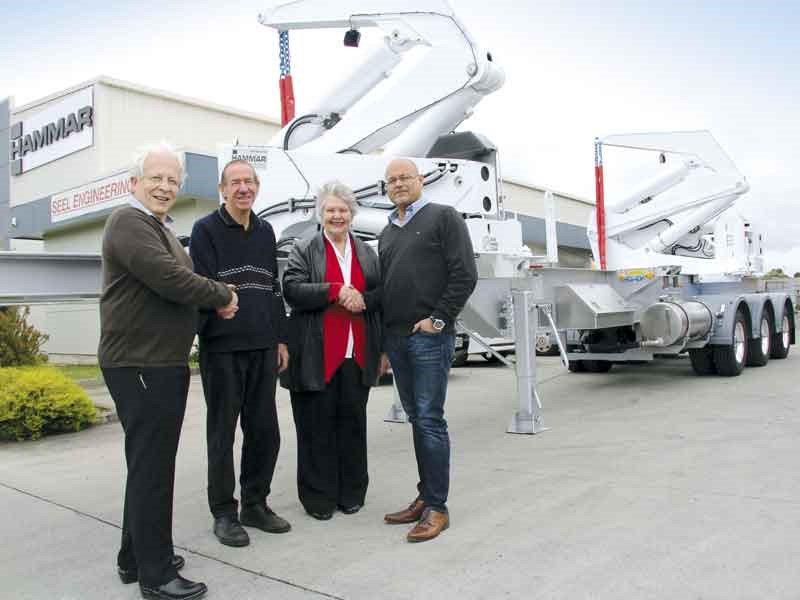 Sweden's Hammar Group purchased the business of its New Zealand partner in 2015

The all-new sideloader will be unveiled at THE Expo in March 2017
Sideloader manufacturer Hammar are hoping to get worldwide attention at their stand at The Expo in Hamilton when they remove the wraps from their new sideloader model.
Said to be the first of a completely new type of sideloader custom-built trailer, details have been kept confidential, but Hammar New Zealand boss, Fred Sandberg, has provided some early information.
"We've been looking at a particular development of the very successful 'step-over' technology on our 155 model with a view to saving tare weight but without reducing the 36-tonne lifting capacity, or strength and durability that the Hammar is so well known for," Fred says.
"All our customers love the combination of the Swedish quality and New Zealand workmanship with Hammar sideloaders because they perform in all conditions over
a much longer timeframe than typical competitors. The ability to carry significantly more weight without reducing the quality and performance will be the icing on the
cake for them.
"I think everyone will be surprised at the tare weight of our new Hammar model when we lift the covers in March. Yet it will still be a strongly-built Hammar sideloader." Fred says the new model will be just one of the many interesting exhibits on the stand at THE Expo.
He aims to display a complete line-up of sideloader models to highlight the comprehensive range and versatility of the company in New Zealand market—all produced locally from imported Swedish and locally-made New Zealand components, except for the Swedish-made 140. He says demand for the sideloaders has increased significantly over the past year, with the company extending the operations in its Takanini workshop recently to increase production capacity.
"We are looking at investing in even more production capacity to help satisfy customer demand," Fred adds.
"And for those who are desperate to own a Hammar, we can provide loan trailers with reasonable notice."
Keep up to date in the industry by signing up to Deals on Wheels' free newsletter or liking us on Facebook.