Comment: Road Safety is everyone's responsibility
---
NZ trucking industry must talk about the issues involved and take ownership and responsibility for road safety
In 2020, 320 people tragically lost their lives on our roads. Over the last 10 years, the statistics look even more grim, with more than 3200 people having lost their lives on New Zealand roads and an estimated 23,000 people having suffered serious life-changing injuries. Every single death on our roads is a tragedy and have a profound effect on families and communities around New Zealand.
In 2019, road crashes involving trucks resulted in 67 people dying, 208 people seriously injured, and 693 people suffering minor injuries. That's not to say that the truck was the primary cause of all these crashes. As an industry, we must talk about the issues involved and take ownership and responsibility for road safety, particularly as many of these road deaths and injuries are preventable. Part of this ownership is developing a culture of safety at each and every trucking business, from the top down, including owners, directors, managers, dispatchers, drivers, and customers.  
In crashes involving a truck and another road user, most of the deaths are not the truck occupants but rather the other road users involved. This reflects the fact that in a collision between a heavy vehicle and a light vehicle or vulnerable road user, there's a much higher probability of death or serious injury than in a collision involving only light vehicles.
The statistics prove that other road users know little about how to share the road safely with big trucks. As trucks have become bigger, heavier, and have had newer technology fitted, no one has actively communicated this to other road users.
The New Zealand Trucking Association takes road safety seriously. In 2017, the association launched the Safety MAN Road Safety Truck initiative to raise awareness among communities, schools, and the trucking industry about how to be safe around trucks on the road. This has been made possible with the support of many generous industry sponsors, including Penske, who provide the MAN tractor unit, and Toll, who provide the safety trailer. Without this generous industry support, this initiative would not be possible.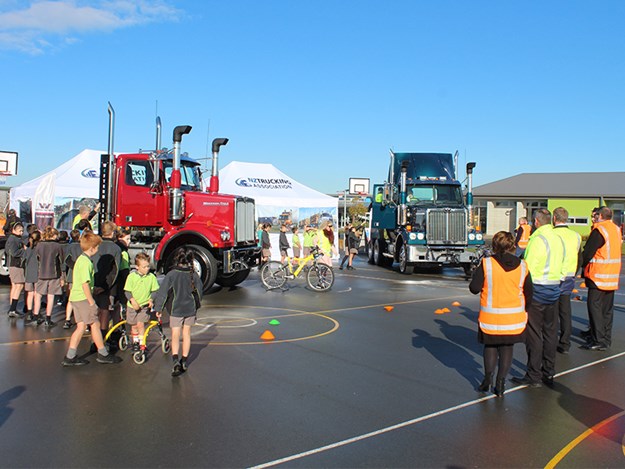 We run several interactive awareness programmes from the truck. Share the Road with Big Trucks Programme is one of them. The Road Safety Truck visits communities and schools with this programme to educate students and communities about safe behaviours around heavy vehicles. The truck is an interactive classroom for participants and the programme uses a range of tools to educate and build road safety awareness: videos, engaging graphics, touchscreen tablets, blind zone demonstrations from the driver's seat, and a take-home workbook. Key messages include:
While you can see the truck, the truck driver may not see you
While you think you might have time to get across the road, the truck is travelling faster than you think
Trucks take a long time to stop, so never try to beat them
Trucks are much bigger and heavier than cars, so give them extra space on the road
Participants leave inspired by the Road Safety Truck visit and are impressed by the interactive way in which the programme was presented to them.
The learning continues, as each participant is given a workbook full of road safety information and fun games. This is supported by social media and a dedicated website, roadsafetytruck.co.nz, which also includes links to the NZTA road safety educational portal.
The Healthy Truck Driver Programme targets transport companies and is designed to give information about the symptoms and causes of common truck driver health issues, such as fatigue, sleep disorders, mental health, diet, exercise, and driver training. To prevent truck crashes and rollovers, we need to raise awareness about the underlying causes of crashes and try to improve the driver's health and wellbeing.
Fatigue—the silent killer. Fatigue is named as a contributing factor in most truck crashes. Truck drivers drive with fatigue because they do not fully understand the symptoms or have any idea how to mitigate them. It talks about the circadian biological clock. The programme highlights the symptoms and refers to The Heathy Truck Driver booklet for more information. The booklet has helpful tips on how to avoid fatigue and explains that the only cure for fatigue is sleep.
Sleep disorders - How you sleep is rarely talked about. Sleep disorders such as sleep apnoea are commonly undiagnosed because truck drivers do not often get checked by health professionals. The programme illustrates symptoms of common sleep disorders and explains the importance of getting properly diagnosed. The information booklet provides tips on how to better prepare for sleep.
Mental health - Suicide and depression are subjects that aren't often discussed. The programme encourages participants to reach out to one another and ask for help when needed. The booklet contains links to health professionals and call centres that they can use to talk through their problems. It also highlights the warning signs of depression and how to look out for their mates. The programme reinforces that you're never alone.
Diet - Truck drivers have limited food choices when they are on the road due to limited places that have enough parking space for a truck. The programme talks about making healthier food choices and encourages them to prepare their own snacks. It also includes ideas for meals that they can pre-prepare and talks about the risk of poor diet leading to high blood pressure and diabetes and includes information about what a healthy level should be.  
Exercise - The exercise section focuses on stretching and injury prevention. Resistance bands are given to participants. The programme shows the drivers how these bands are used for strengthening exercises on the go, including during their breaks.
Upskilling and driver training - The programme encourages drivers to upskill. No one can know everything. Advising them to encourage their company to include driver assessment as part of their health and safety plan.
To date, more than 39,000 participants have been through the Road Safety Truck programmes. The programmes are bright, exciting, and informative with information and resources that are designed to be shared. They are suitable for a wide range of audiences from pre-school to the elderly. The demand for bookings is proof that the issues we raise are important for a significant number of road users. We do not attempt to teach people how to drive, and we certainly do not promote that all truck drivers are perfect.
We strongly promote creating awareness and knowledge about large trucks and what they are capable of. The flip side of this is we're engaging with trucking companies to adopt the programmes and make it part of their company culture.
When a truck and another road user encounter each other, the outcome can be catastrophic. The loss of a human life and the ongoing effects on a family coping with death and or injury can be insurmountable. The huge cost to society is escalating as serious accidents involving trucks and other road users seem to be an almost daily occurrence.
If you would like more information about the Road Safety Truck or would like to make a booking for a visit, please visit roadsafetytruck.co.nz.
If you or your business would like to be involved with the Road Safety Truck initiative as a volunteer or as a supporter, please contact David Boyce at NZ Trucking Association on 0800 338 338 or dave.boyce@nztruckingassn.co.nz.
Keep up to date in the industry by signing up to Deals on Wheels' free newsletter or liking us on Facebook.