Cover Story: Mack Trident 2017
---
Road construction projects along Wellington's northern corridor are keeping a bulk cartage contractor's Mack Trident fully loaded
Clive Taylor's driver, Andy Maynard, is currently carting loads of volcanic rock from Ohakune/Waiouru to the Transmission Gully project.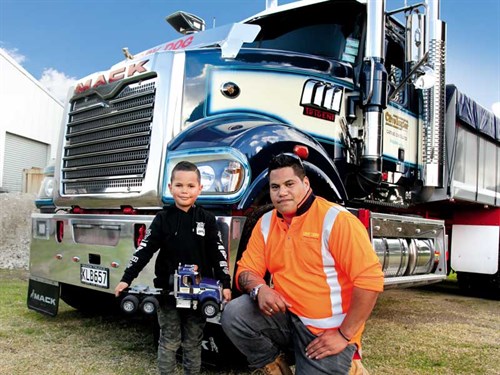 "We've got a big order for rock and are running between doing that and carting dune sand to a quarry in Mangaweka for concrete plants," Andy says.
"We backload to make the trip worthwhile. In the last two weeks, I've been doing two trips a day to Taihape. Over the last six weeks, the Mack has done 40,000km, and it's going brilliantly."
A versatile unit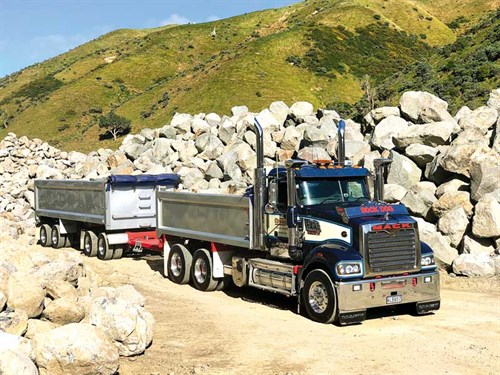 The Mack has a 535 Volvo engine with Mack running gear and mDRIVE automated manual, 12-speed transmission. The dual tipper trailers have sub frames, so either steel or alloy bins can be added.
"The Hardox-moulded steel bins are able to handle the big rocks and all the banging around they receive in transit. For other work (sand, aggregate, road chip, lime), we use the lighter alloy ones. The steel bins handle whatever is chucked at them, whereas the alloys don't. Having the choice of two lots of bins for different terrains and loads makes for a versatile unit," Andy says. 
Clive bought the Mack Trident 18 months ago, and it's doing everything he envisaged it would. But then, he's a Mack man through and through, so he doesn't need any convincing.
Andy's happy with its performance, too. "You can't fault the Macks. I've driven other brands but this is a whole other ball game.
"I like the comfort and everything about it. It has all the late model aftermarket gear on board; everything is within reach, especially with automatic. When you do 14-hour days, it makes the job a lot easier."
Going off-road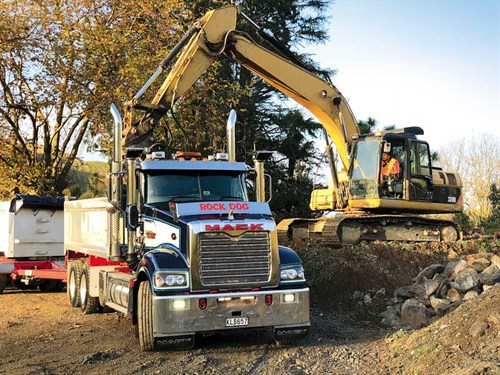 Andy says the Mack performs well on off-road, too. "We go into farms to load rock and it handles it all," he says. "On big hills, it sometimes bogs down a bit but the mDRIVE can be adjusted accordingly. It has a Volvo MP8 HP535 engine with a 12-speed auto in behind.
The new Macks now have mDRIVE gearboxes and are proving to be excellent. On the hills, it goes at a steady pace and it's good to have the extra horsepower there when you need it."
The roads around the Taihape/Waiouru region are challenging, especially in winter, and to prepare for that, the Mack has new Pirelli tyres.
"We try to improve the way it handles up there in snow and frost and always adjust to the conditions," Andy says.
In for the long haul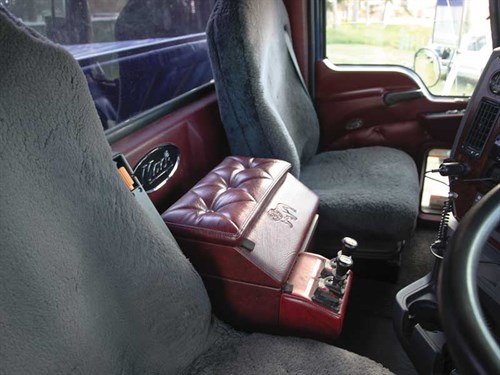 Andy is rapt to be driving such a fantastic rig and takes great pride in its appearance. It won Best Presented Truck at the Tui Brewery Truck show in Mangatainoka in 2018 and Best Mack in 2017. It recently gave rides for charity in the Big Rigs for Child Cancer in Palmerston North and helped raise $15,000.
Andy and his family live in Foxton, which makes a good base for running between Taihape and the Kapiti Coast. He's been driving for nine years and has been with Clive for three years. Before that, he was at JB's in Levin for six years.
As well as having all classes of licenses, he has his wheels tracks and roller licences, too, so is able to jump into the transporter when needed.
"We run a fleet of transporters and heavy haulage bottom dumpers right through to the bulk division. We always have a variety of things on; it's not just one particular task we are trying to achieve," he says.
Andy's partner Carrie and son Bradley (five) enjoy hopping into the Mack and coming along for the ride, while daughters Natasha (11) and Hayley (13) are happy to help polish the Mack up from time to time.
Booming business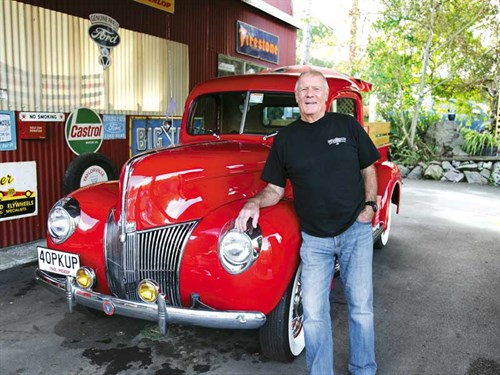 Clive has lived at Raumati Beach, where his transport business is based, all his life. Taylorville, as his American-style ranch is called, was his truck headquarters. However, as more people have moved into the neighbourhood, he had to find a larger place to store his fleet, so 20 years ago, he bought the former council yard in Ruahine Street.
Three major roading projects—Transmission Gully, McKays to Peka Peka, and Peka Peka to Otaki—have boosted business.
"Before this started, a few years ago, we were down to one driver. We were plodding away with bits and pieces but now we've grown with the roadworks. We've bought more gear—we now have nine Macks and one Volvo water tanker—and more staff," Clive says.
Clive started his transport business 40 years ago. "I borrowed $5000 from my mother and bought an Albion tip truck with a Leyland 400 motor. We did mostly tipping and transport work, carting aggregate to Powells, which is now Allied Concrete, for kerbing and channelling work.
"Then I bought a new Mack R and we did a contract on the Wellington port reclamation, filling in the harbour where the container terminal is now. We grew gradually from there and have bought Macks ever since."
Clive says he likes Mack trucks because "the company has been good to deal with. They've really looked after us over the years, so we've just carried on with them".
"We still mostly do tip work, plus we have a lot of transporting gear: diggers, rollers, and pavers. We cart sand around the Wellington area. It goes into concrete work as well as parks, reserves, and golf clubs and gets blended into topsoil. We're also carting reinforcing steel for Fletcher Reinforcing in Levin."
Clive says he ought to have retired but somehow always has a project on. The latest is an old container that's been converted into a rustic cabin, using recycled timber.
"I get my ideas when I wake up about 4am. I always like something on the go, whether it's at work or here. I'm still driving but it's mainly piloting work—when we have a wide load to move and the guys need me to fill in."
His eldest son Darren (who is a spray painter by trade) now runs the business. "He works flat tack every day, all day until Christmas and then has a week off. He does everything: maintenance, tyres, fixing, the lot," Clive says. He must be a chip off the old block! 
Mack Trident 2017 Specifications
Volvo MP8 HP535 engine
Transport trailers and body made from Hardox steel from Sweden
Axle forward configuration for tipper operation
Popular for long-haul and heavy construction sectors
Mack mDRIVE
The mDRIVE has 12 forward and four reverse speeds and is available in direct drive or overdrive. It has a torque capacity of 1920lb.ft and a dry weight of 615 pounds (approx. 278.95kg).
mDRIVE AMT gives customers up to 1.5% improved fuel efficiency, better driveability, and enhanced driver satisfaction by automating gear shifting while improving safety.
The driver interacts with mDRIVE through a dash-mounted control pad containing manual input and hold shift buttons, with an integral display indicating the current gear. Source: macktrucks.com.au
Keep up to date in the industry by signing up to Deals on Wheels' free newsletter or liking us on Facebook.