Business profile: New Zealand Coach Services
---
DOW visits Malcolm Little in Wellington to find out more about his business, NZ Coach Services
Back in April this year, I was covering the NZ Super Truck Racing Series for the magazine and I got chatting with father and son racing team members, Malcolm and Alex Little, who invited me (or maybe I invited myself) down to see them in Wellington.
So I took a trip out to see the boys at Malcolm's yard at Taita, Lower Hutt, and upon arriving, I was confronted with a sea of buses in NZ Coach Services white and blue livery. Now, the intention of my visit was to get the inside running on their two-truck racing operation (p144), but there was yet another story staring me right in the eye, one that looked like it was a huge public transport operation.
It turns out, the operation is more than a bus company that operates around 40 buses and coaches of varying sizes. It's also a body building and bus repair shop that caters for outside client's work as well.
The NZ Coach Services business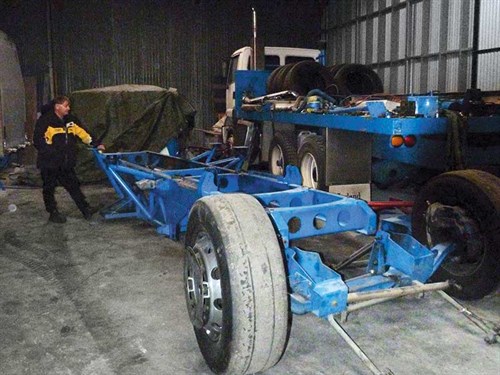 NZ Coach Services carries out its own repairs and, in many cases, builds its own bus bodies from the chassis up and has achieved a five-star operator rating for its safety standards with the NZ Transport Agency.
At the time of my visit, there was a metro bus body being built on an Alexander-Dennis chassis that Malcolm had purchased in a completely burnt-out state. The bus is still some months from completion.
While on a guided tour of the huge workshop, I spotted an ex-London double-decker bus with its front panels being repaired.
"What happened to that," I asked. "Hit a duck," Malcolm replied.
My first thought was: "How in hell could a duck do so much damage to a bus?"
Obviously, I wasn't thinking outside the square then because the 'duck' the bus had hit was one of those amphibious ducks (DUKW) you see around tourist areas. Now that started to make sense.
The NZ Coach Services fleet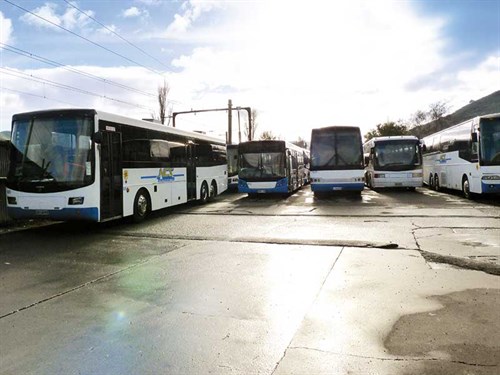 If you can think of a bus or coach configuration in any shape or size, then NZ Coach Services has a vehicle to suit your needs. It has also recently entered two brand-new 50-seat King Long deluxe touring coaches into service.
The King Long coach bodies are built in China and are powered by 390hp Cummins ISC Euro five engine and are fitted with Thermo-King air-conditioning systems.
This size of coach is mainly used for 'away charters', as they have a large luggage capacity and are luxuriously comfortable to travel in. The NZ Coach Services also has a fleet of three ex-London Transport Leyland Olympian double-deckers for a fun-time private or corporate event.
The company's metro buses typically seat 41 to 53 passengers and are built on mainly MAN or Volvo chassis and bodied with various New Zealand-built bodies. Here are also a few King Long buses. Passengers who are in need of a smaller mode of transport need not despair, as NZ Coach Services has a fleet of Hi Ace 12-seater and Toyota Coaster 21 mini buses as well.
Scope of work

Malcolm says there is hardly ever any shortage of work for the metro fleet, as this segment of his company handles general route work, relief work for times when the rail network is out of action, school work, and airport relief to name a few. He says there is also the odd occasion that his company has had to stand in for the iconic Wellington cable car when it has been out of action for servicing.
Being a bus nut as well as bus and tour coach operator, Malcolm says he's kept a few old-school Leyland Tigers up to a certified standard to cater, I guess, to the likes of old-school magazine writers who are weird enough to be interested in riding in and writing about relics of a bygone era.
Malcolm was pleased to say that the recently concluded Lions Rugby Tour provided his company with a reasonable amount of work, too. So much so that as these words are being written, he's away from home driving the tour coach—a 50-seat Volvo—for the Lions' choir (I didn't even know the Lions team had a choir).
At any given time, the company can have up to six buses operating in the South Island and it's interesting to note that the NZ Coach Services fleet travels approximately 2.7 million kilometres each year.
For more information, call 0800 634 572 or e-mail nzcoach@xtra.co.nz.
Keep up to date in the industry by signing up to Deals on Wheels' free newsletter or liking us on Facebook.