Business profile: Dunn Contracting
---
DOW talks to Sam Dunn about his business Dunn Contacting based in Kumeu to know more about his contracting and trucking business
Sam Dunn's philosophy of 'doing the best job we can' has built a large contracting and trucking business in the short space of five years. He and his wife, Karine, share co-directorships of the company, with Sam carrying out the role of operations manager.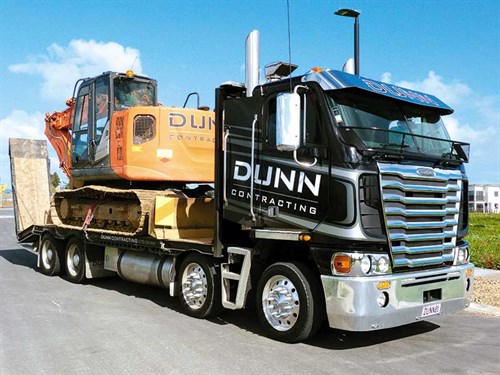 Sam's previous area of expertise was forged in the building industry, having done a stint in the house removal business and later on the tools as a carpenter. However, discussions around the dinner table between the two young entrepreneurs back in 2012–2013 trended towards starting a business that would provide the couple with a decent income and lifestyle for both themselves and their young family.
Being a stickler for good time-management coupled with his ethos of doing a job and doing it properly, it wasn't long before Sam had more work than he could handle with just one truck and digger.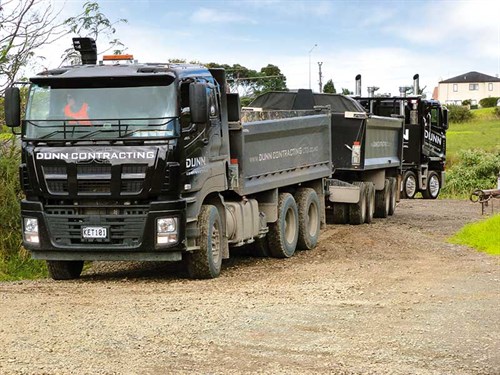 So, a Mitsubishi Shogun FV395 six-wheeler and a 13-tonne Hitachi machine were added to the fleet, joining Sam's initial Mitsi FV430 and a 13.5-tonne Hitachi excavator. These were quickly followed by the purchase of two 13.5-tonne Hitachi excavators, along with a 12-tonne Sumitomo machine.
Dunn Contracting lineup
Fast-forward to 2017 and Dunn Contracting employs around 35 staff and has an impressive lineup of company vehicles ranging from truck and trailer units, diggers from 1.7 to 13.5 tonnes, 11 utility vehicles, and light trucks.
While the Dunn Contracting truck fleet mainly consists of Mitsubishi rigs, recent additions, however, include a 2008 eight-wheel Freightliner Argosy, powered by a 520hp Detroit and a 400 Isuzu, and a 460 Isuzu, both with road ranger transmissions and running steel suspension.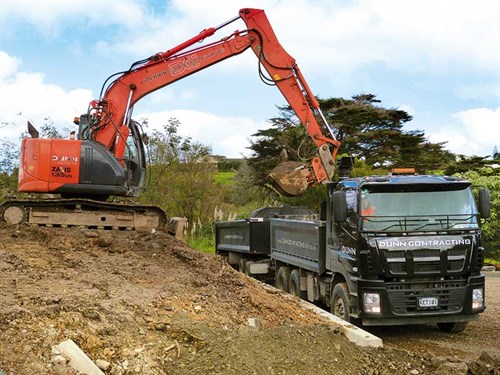 Sam says if there had have been two Isuzu 460 trucks available at the time, he would've preferred that both had the more powerful 460 powerplant, but he needed to put two more trucks on the road to cope with an influx of extra work. So he figured that 60hp less was a better option than only getting one extra truck instead of two. The two Isuzu trucks have proven to be exceptionally reliable so a further order has been placed for another 460hp unit.
Sam and Karine's team of mechanical engineers not only look after the Dunn Contracting fleet but are also kept busy doing outwork from their mechanical workshop behind their office in Kumeu.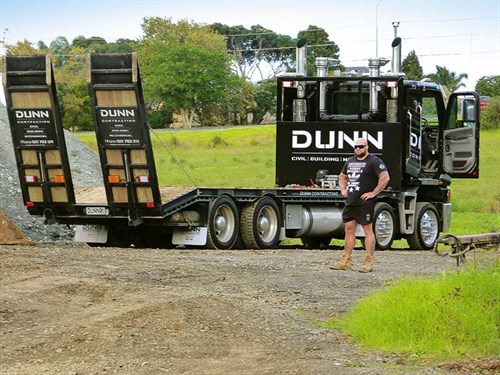 Sam told DOW that because Dunn Contracting Limited encompasses a building company, which has the capability of carrying out its own earthworks and landscaping, not to mention its own aggregates supply, there's hardly ever a shortage of work even when his customers' work is quiet.
He says the company incorporates a demolition division as well as an engineering division. Since it's based in a part of Auckland where small farm holdings are popular, he says there is a growing demand for horse arenas and natural ponds, both of which are a part of the business that is keeping his operators busy in recent times.
Dunn Contracting Ltd prides itself in having an experienced team of expert operators capable of handling any job available for a full contract work or by-the-hour charge-out and of operating to the highest environmental and safety standards.
It's fair to say that there wouldn't be too many businesses of any kind that have grown as quickly as Dunn Contracting Ltd has, starting with one truck and an excavator in 2013 and having a fleet of approximately 35 trucks, trailers, machines, and utes a mere four years later.
When asked the perennial question as to if he ever has any problems finding good staff to operate such a large fleet of trucks and machinery, the response was as short as it was simple.
With a merry twinkle in his eye, Sam says, "People just seem to want to come and work for us."
Not a bad response in anybody's language!
Keep up to date in the industry by signing up to Deals on Wheels' free newsletter or liking us on Facebook.