NZ Road Transport Hall of Fame 2016
---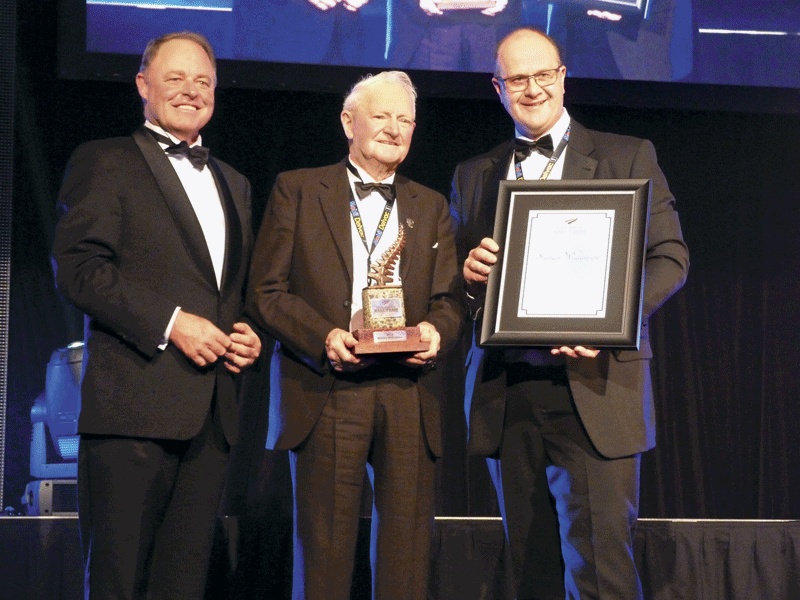 Associate Transport Minister Craig Foss, Inductee Stan Williamson and HWR Director Scott O'Donnell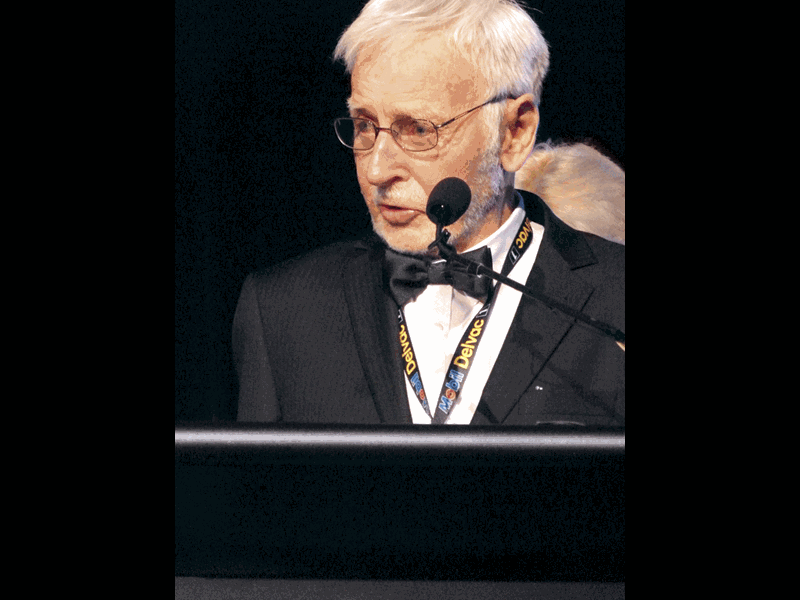 Inductee Bert Watchorn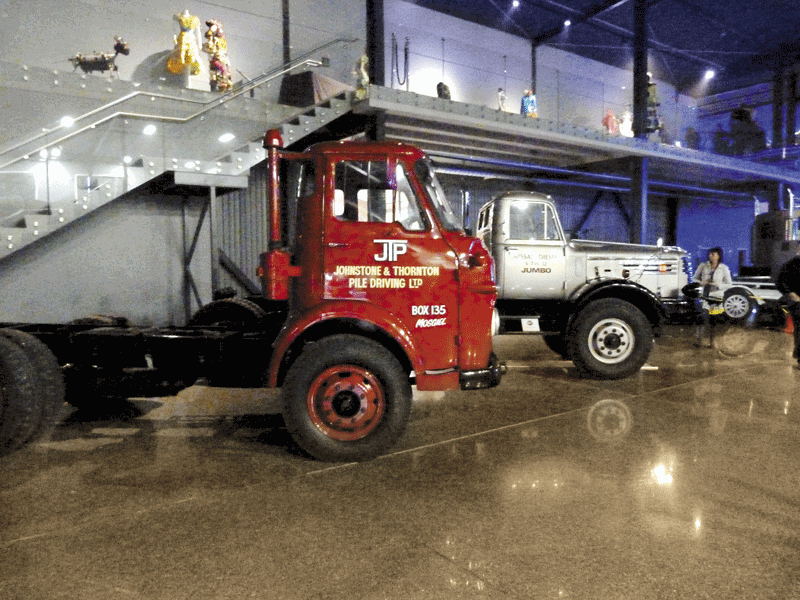 A sampling of the trucks on display at Bill RichardsonTransport World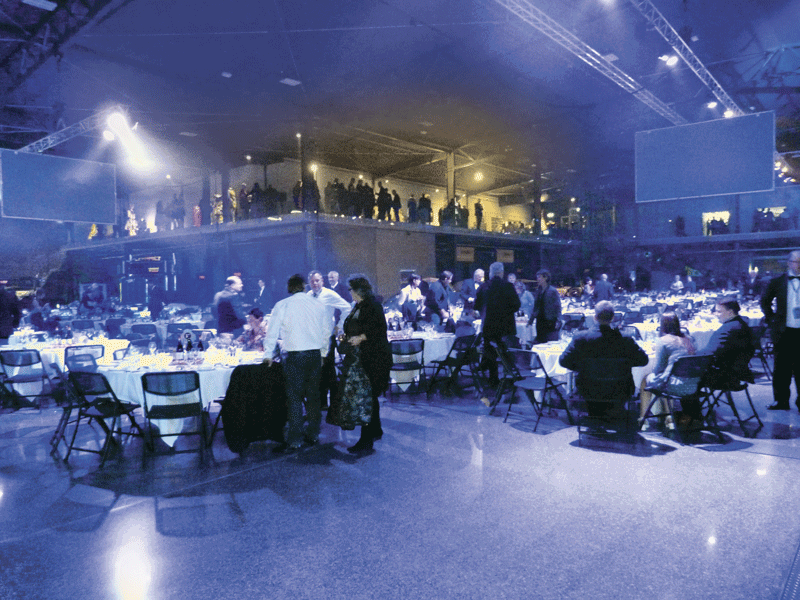 Guests arriving at Bill Richardson Transport World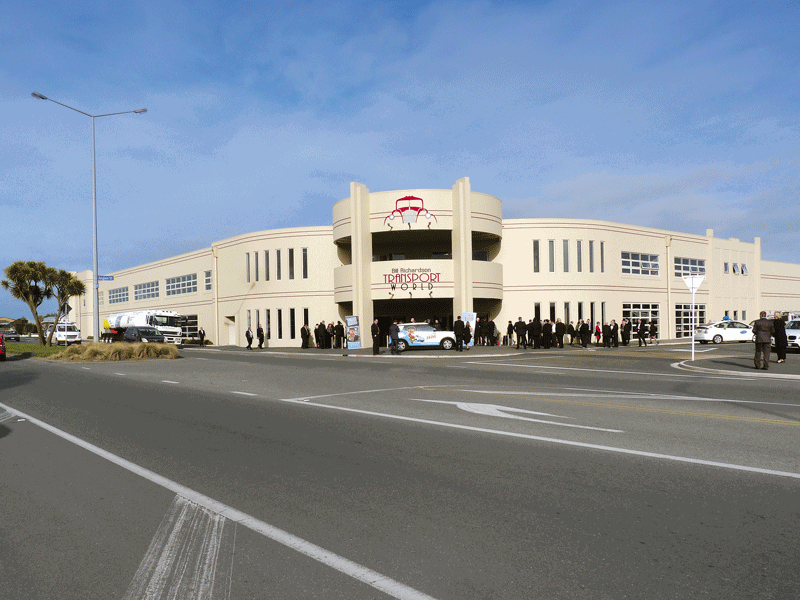 The events hall is capable of seating around 600 guests

The brainchild of HW Richardson Group (HWR) directors Scott and Jocelyn O'Donnell, the New Zealand Road Transport Hall of Fame has grown to become an event worthy of international recognition
The inaugural event held in 2012 at what was then known as the Bill Richardson Truck Museum, was attended by around 450 paying guests, involved in and associated with the road transport industry. Now into its fifth year, the event was attended by more than 570 guests who travelled from as far afield as Australia and was held at the rebranded Bill Richardson Transport World.
]Built on the same site as the previous museum with its road frontage on Tay Street in Invercargill, Bill Richardson Transport World is not only New Zealand's preeminent transport museum but it also incorporates a world-class function facility, a café, and a superbly-stocked souvenir shop.
The entire facility is creatively themed to reflect its motoring heritage, right down to the use of facsimiles of oil drums and mechanic's tool chests in the restrooms as hand basins.
The name of the café is clever as well, as it has a name synonymous with motoring. It is called 'The Grille'.
New Zealand Road Transport Hall of Fame
Each year, up to eight individuals are inducted into the NZ Road Transport Hall of Fame, chosen from nominees presented by each Regional Road Transport Association and individuals who had been previously considered but not selected. These individuals might also be the ones the selection panel have identified as potentially suitable, who fall into the following four categories: Small operator/owner driver, large operator (50+ trucks), suppliers/supporters of the industry, along with those who have provided major input into RTAs.
The selection panel currently consists of Scott O'Donnell (Director, NZ Road Transport Hall of Fame), Graham Sheldrake (President NZRTA), and Warren Hamilton (NZRTA Representative).
The 2016 event
As has been the case since its inception, the 2016 event was presided over by Queenstown radio personality Ferg, ably assisted by his auctioneer buddy Brendan (Turbo Tonsils) Quill. The cheeky duo have an innate ability to keep the audience on its toes with witty repartee, along with a specific art of extracting the greatest amount of money for auctioned items both large and small, including an item that seems to have become a standard—a sack of potatoes.
How winners of this item, who have travelled to Invercargill by airplane, get his or her prize home is anybody's guess.
Despite the degree of levity incorporated into the auction, a serious sum of money was raised—approximately $15,000—all of which goes to ProActive Driver Training Trust, a charity that provides free driver training to secondary school students and is greatly supported by HWR Group.
Other entertainment was provided by that well-known raconteur, His Worship the Mayor of Invercargill Tim Shadbolt, who shared a hilarious, true story of bureaucracy-gone-mad.
The story, unfortunately, is too long for inclusion in this article, but suffice to say, Mayor Tim had the audience in hysterics.
Local caterers MASH once again produced a superb dinner, serving guests with a choice of a meat or fish dish and a selection of tasty desserts, all of which were served with the precision of a military manoeuvre.
This year, six members of the road transport fraternity were inducted into the New Zealand Road Transport Hall of Fame, their awards presented by HWR director Scott O'Donnell and Associate Minister of Transport Craig Foss.
2016 inductees
Stan Williamson—Taranaki/Bay of Plenty
Semi-retired at the age of 90, Stan formed Maketu Contractors Ltd in 1953. His company expanded within the usual ups and downs of the transport industry, and he built a successful business before selling the last of his fleet to Rotorua Forest Haulage Ltd.
During this time, he was heavily involved with the Road Transport Association, and in 1983, he was made a Life Member of No. 2 Central Executive and a Life Member of RTA Region 2, and a Life Member of the NZRTA in 1993.
Writer's note: Stan presented himself at the awards in a manner befitting a person 25 years his junior, with his youthfulness being a topic of conversation among the audience long after he had left the stage
Paul Balneaves—Southland
In 1974, Paul joined the IRD, which eventually took him to London. He was still employed by the IRD when his father gave him a small shareholding in the family transport business.
In 1980, he moved back to Southland, and four years later, circumstances meant he had to step up to the challenge of running the company. Purchases of a number of companies in Invercargill and Dunedin followed, and the name changed to Commercial Vehicle Centre Ltd.
Other purchases were made and in 1996, Log Marketing NZ was successfully established. Under his leadership, the business has grown from a 33 truck fleet in 1980 to a 125 truck fleet in 2015. He has contributed as President of Region 5 of the Road Transport Association, the President of Southland branch, and as Road Transport Association Conference Chairman.
Mervyn Solly—Collingwood, Nelson
At the age of 15, Mervyn became a driver for his father's business. At the age of 23, he became the manager. In the 1980s, he began growing the business, and later he began Sea Tow Ltd with more purchases to follow, including TNL Group Ltd's Golden Bay rural operation in Takaka. Today, the business has spread throughout New Zealand. He took a small, local five-truck business to a 100-truck national business while keeping the local focus the company began with.
He is a member of the Road Transport Association and the Contractors Federation.
Don Wright—Northland/Auckland
Mate Franicevich helped Don get an apprenticeship as a mechanic at International Harvester Co. in Auckland when he was just 15 years old. He then took an opportunity as a Kenworth dealer for Dalhoff and King before moving on and selling Komatsu machines and Nissan trucks in Auckland.
In 1973, he bought a Commer TS3 with a friend and used it to cart phosphate. In 1974, he sold the Commer and bought a Valiant ute, contracting to NZ Steel. When they changed their transport methods, he saw it as an opportunity and overcame adversity to become the biggest Scania dealer of the day. That was the beginning of his business Trucks & Trailers Ltd, which now employs more than 90 staff over three branches. He remains today as director of Trucks and Trailers Ltd and Heavy Trucks Ltd.
Derek Dumbar—Southland/Otago/Bay of Plenty
Originally from Invercargill, Derek joined Europa Oil (NZ) in Dunedin as marketing officer after attending the University of Otago.
In 1976, he became office manager and operations manager for Taieri Carrying Company in Mosgiel. When the company purchased Maramara Products Limited, he moved to Tauranga as general manager, a position he still holds today.
He has led a number of initiatives and held many positions over the years.
He is a life member of both the No 2 Region Road Transport Association and the Road Transport Forum NZ.
Bert Watchorn—Bay of Plenty
At the age of 17, Bert started driving a GMC logger for his older brother, hauling logs. After time in Australia, he and his family arrived back in New Zealand, settling near Paeroa where he got a job with a transport operator named Gilbert Sarjant.
In 1953, he bought a small transport company, and in 1963, he and five other operators formed Te Puke Transport, eventually taking over the total shareholding. In the early 1980s, he bought two logging trucks with contracts. This was to change his direction again.
The stock cartage was sold on and the logging side of the business grew with still a fair amount of general freight until he sold the business.
The Road Transport Association NZ has recently honoured this inductee after 63 years, with a Life Membership.
The latest inductees join the inaugural inductees from 2012:
Bill Richardson, Sir Robert Owens, Jim Barker, John Emmerson, Lachie Griffen, Neil Clarke, Ron Carpenter and Tony Friedlander
The 2013, 2014, and 2015 inductees:
George Wallis, Jim Ramsay, Sir Russell Pettigrew, Bert Godfrey, George Tyler, Cyril Mahon, Les MacKenzie, John Anderson, Mike Lambert, Melven (Rowdy) Aitken, Les Cleveland and Bernie MacDonald, Bob Burnett, Dave Potter, Neil Reid and Ralph Munn.
Sponsors of the NZ Road Transport Hall of Fame:
Allied Lubricants Mobil Delvac 1, Mack Trucks, Volvo, Renault, Truck Stops, Gough Group—Gough TWL and Gough Transpecs, Mobil Oil NZ, Coretex, VTNZ, Bandag, EECA, Wynn Williams Lawyers, NZI Lumley and Transport & General Engineers (Transport Trailers).
Planning is already underway for the 2017 NZ Road Transport Hall of Fame event, which will be held on Friday, 29 September 2017.
Keep up to date in the industry by signing up to Deals on Wheels' free newsletter or liking us on Facebook.