Test: Volvo ECR50D
---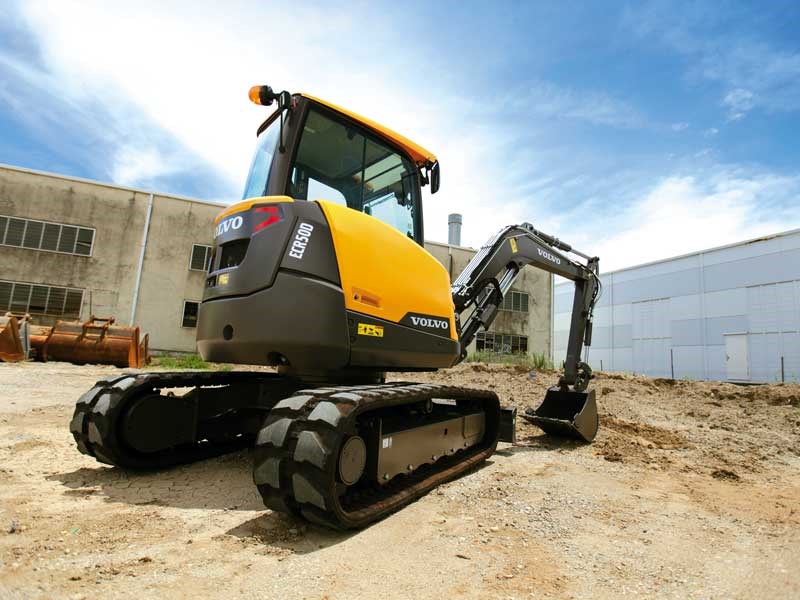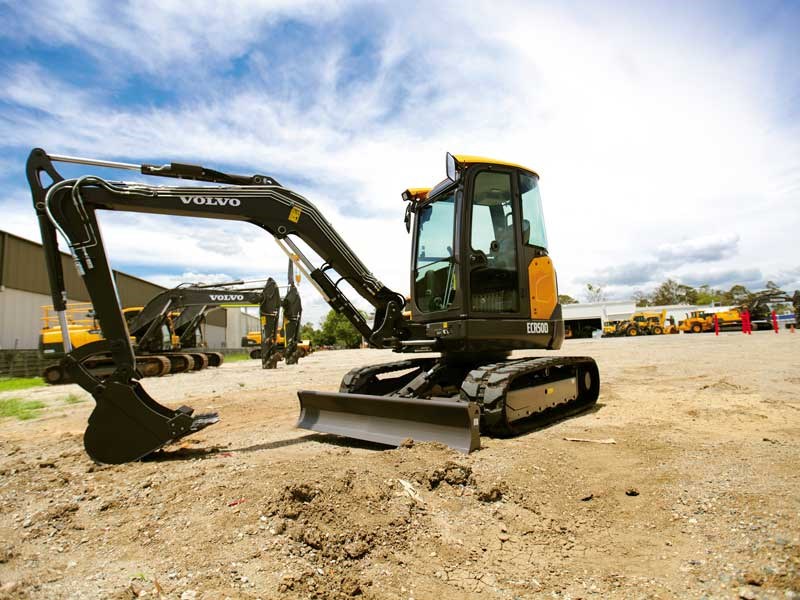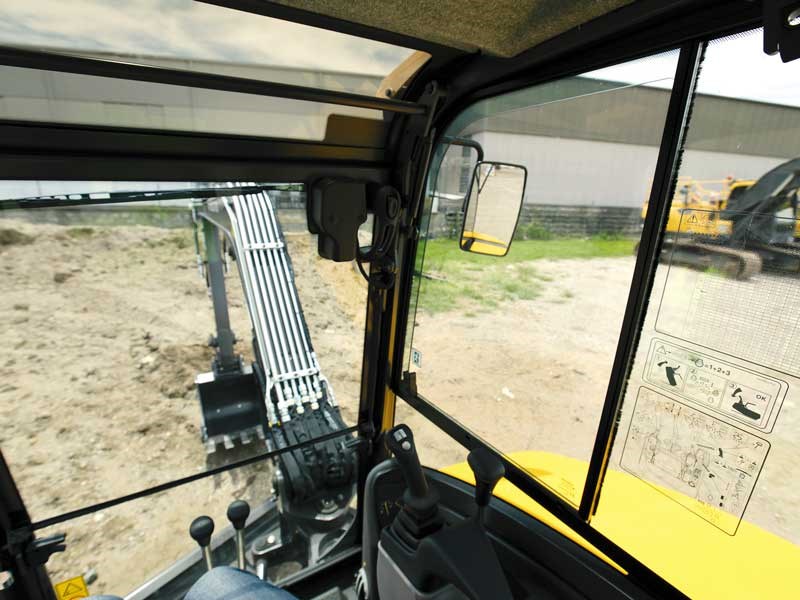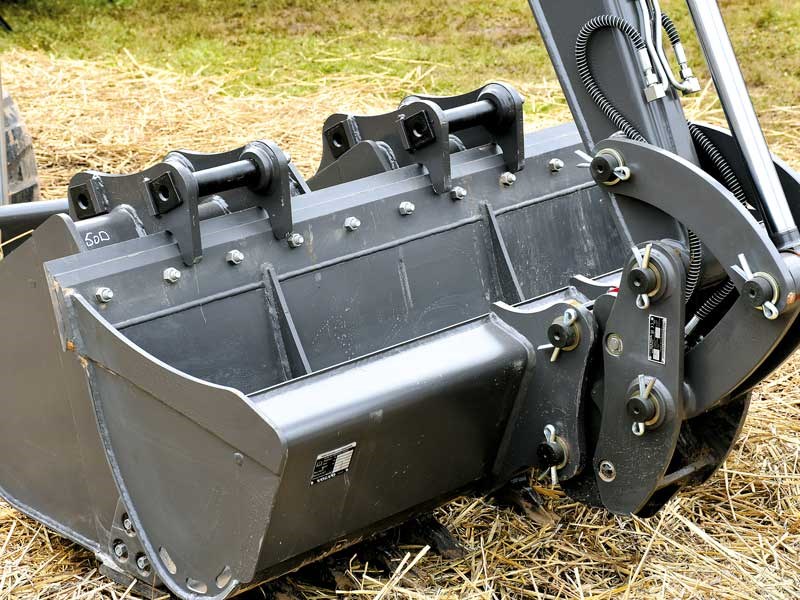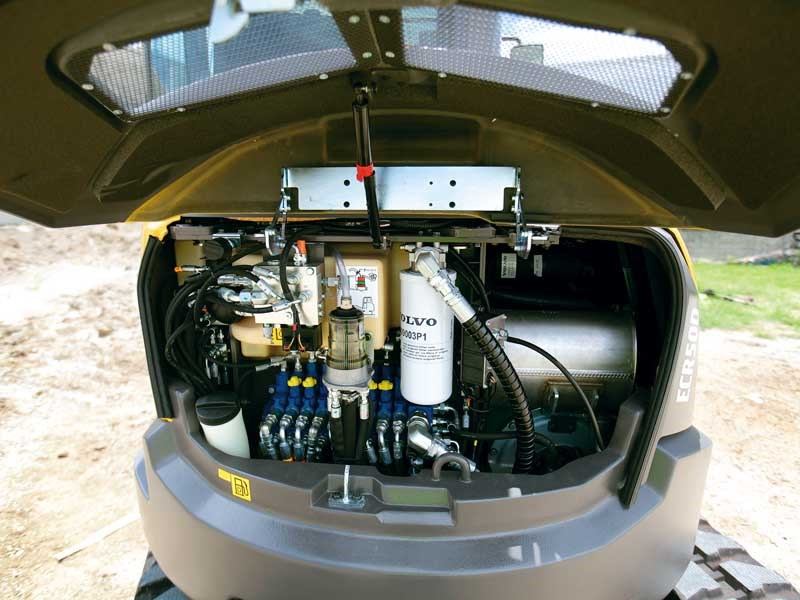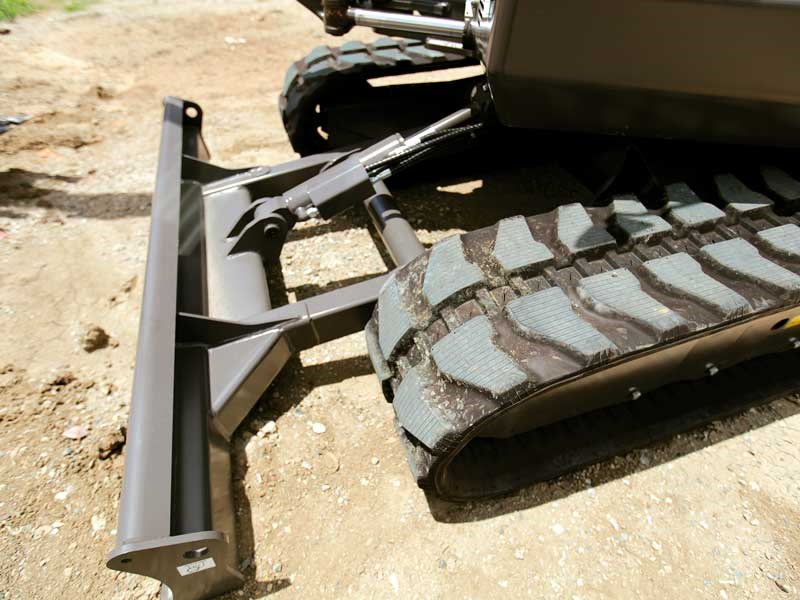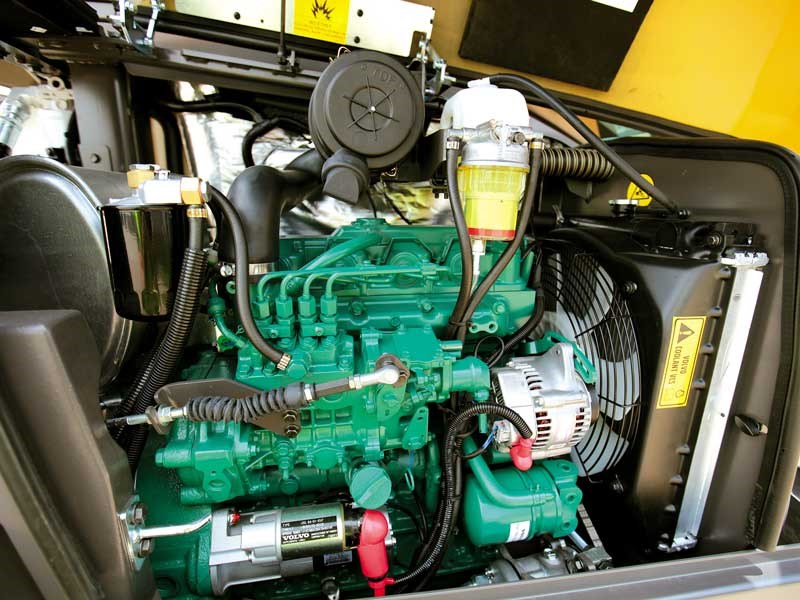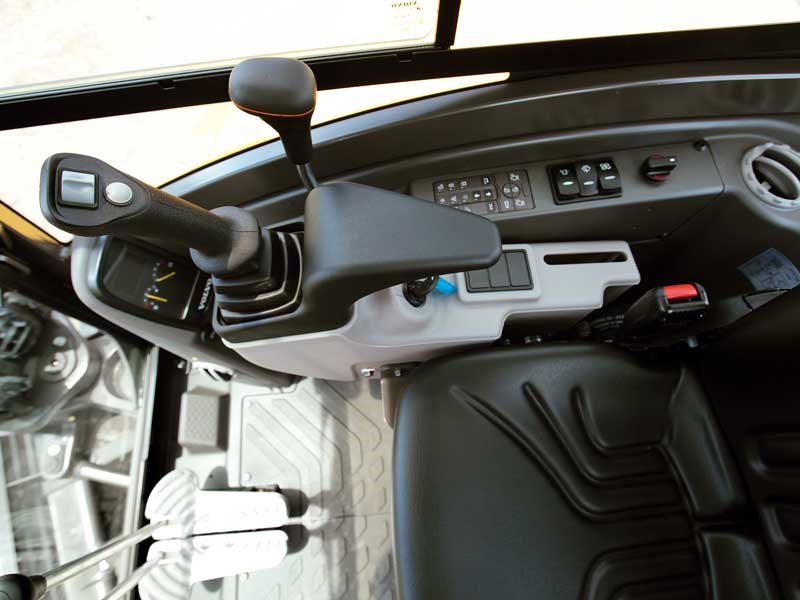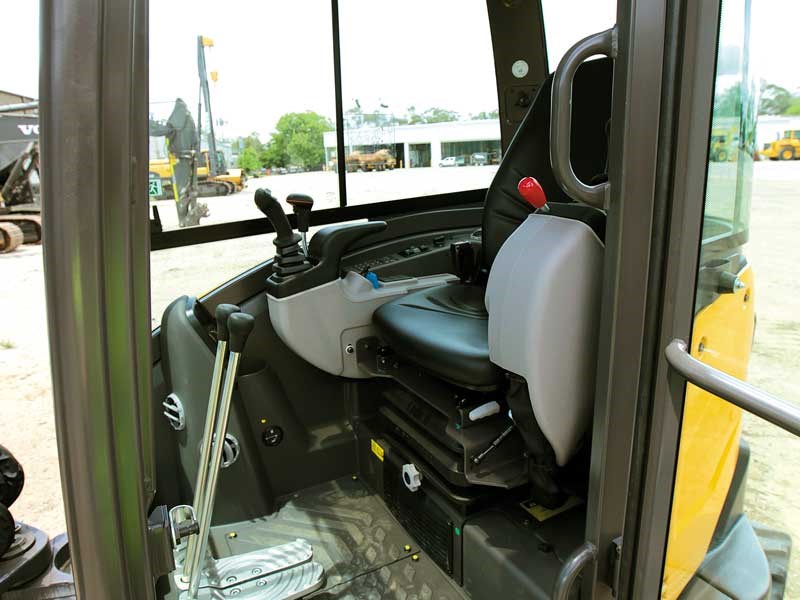 DOW checks out the Volvo ECR50D reduced-swing excavator and finds it to be an all-round, well-balanced machine
With roots stemming back more than 180 years, Volvo has built an impressive reputation when it comes to reliability, performance, and innovation, with countless hours and dollars dedicated over the years to research and development.
I recently had the opportunity to see what Volvo has been blowing some of its budget on over the past few years when I got to test the latest offering in the company's new D series compact excavator range—a five-tonne ECR50D reduced-swing model located at CJD Equipment in Brisbane's Acacia Ridge.
While having a quick look through the product brochure that I received on-site, the first points of interest (probably because it's on the first page) were the claims 'Big on power' and 'Designed to deliver superior digging performance, high lifting capabilities and leading breakout and tearout forces'.
These are pretty bold statements to make and meant the machine had a lot to live up to in our test.
Walk-around
The boom looks to be well constructed, with easy access to all grease points situated on one side of the machine. These points apparently only need to be serviced at least every 50 hours, which should please a lot of operators out there, as you'd only have to grease your machine once or twice a week.
The ECR50D comes with a set of buckets that feature simple but clever inserts that allow you to pick up your GP and trenching buckets with the cutting edge of your cleaning (mud) bucket for easy transportation.  An array of attachments designed and manufactured by Volvo are also available to suit each particular machine. The company says that this, along with adjustable auxiliary hydraulic flow rate controls, helps to maximise performance and durability.
Engine
There's a 2.6-litre, four-cylinder Volvo D2.6A engine on board that produces 31.2kW (41.8hp) at 2200rpm.
The engine positioned on the side of the machine allows more room around the motor to place serviceable items and sight glasses, all of which are within easy reach from ground level.
Tracks
The track frame looks to be well constructed with a pretty generous-looking clearance underneath and a slight angle on top to help alleviate dirt build-up.
Personally, I like to see a bit more angle to help alleviate this problem, but it only takes a few minutes to clean your tracks out if you get into the habit of doing it at the end of each day (just think of the time you're saving not greasing so much).
Hydraulics
The load-sensing hydraulic system apparently adjusts according to machine workload, delivering more power when needed.
The hydraulic tank, filter, and valve bank are found inside the rear door of the machine. The large hydraulic sight glass not only makes it easier to check the oil level but also makes it easier to detect contaminants before they can harm the machine.
These machines come complete with neatly constructed quick-hitch piping, auxiliary piping for tilt buckets and the like, and larger auxiliary piping for rock breakers, etc.
Flow rates can be adjusted by the operator via a keypad located in the cab.
In the cab
The Volvo ECR50D excavator's cab structure is ROPS1, TOPS, and FOPS rated with two headlights on the roof. The climb inside is made fairly easy with well-placed handles and a generous doorway into the operator's workstation.
The suspension seat is adjustable backwards and forwards and has three-level adjustment up and down with a manual dial for the operator weight rating. Although I could adjust the seat into the right position to comfortably use the control levers, I was unable to adjust the seat and control levers together in order to optimise the legroom for my six-foot frame. I have to have the seat slightly forward (who knows? Maybe I've just got short arms for my height).
Anyway, Volvo has relocated the auxiliary controls from foot pedals into the control levers, which affords more floor space and gives more legroom.
Controls
The control levers feel comfortable to hold with proportional thumb-operated switches on each. One controls the boom pivot and auxiliary attachments and allows the operator to control the amount of flow. Armrests positioned under the operator's forearms add to operational comfort.
Other than three switches that control the flashing light, window washer, and climate control fan speed, the majority of the machine's functions are operated via a keypad located on the driver's right-hand side.
As well as controlling lights, wipers, auto idle and so on, the keypad is also used to control hydraulic flow rates and adjust engine revs. From here, you can also select ECO mode, which is claimed to be 10% more fuel efficient.
Security codes can be programmed into the keypad to stop any unwanted use from unauthorised operators. We all hate that feeling when a machine has been left on site and, when you return, it has been moved, half a tank of diesel has disappeared, and there are fresh new scratches—and nobody saw a thing or knew anything about it!
Visibility
The all-round vision from the driver's seat is excellent, with a large amount of glass providing almost unobstructed viewing around the whole machine with minimal pillar blockage.
The front window is easily lifted and stowed into the roof with the help of gas struts, and a small window on the top front of the cab allows for better viewing while craning or digging up high.
Climate control
It was an overcast, reasonably humid 31 degrees on the day of our test, so I started the machine and turned the fan up and the temperature down to cool the cab before I started digging. After a couple of minutes I entered the cab and thought, "This is a bit s#*t!" It didn't feel like it was blowing cold air at all.
But after a little investigation, I found that I also had to switch the air-con on via the keypad, which had me feeling quite clever (not) at the time. That's what happens when you don't look at the pictures properly.
Anyway, the cab started to quickly cool down and maintain a comfortable environment throughout the course of the trial.
On the job
The test area at CJD Equipment's Acacia Ridge yard consists of a small stockpile of spoil used for digger and loader demonstrations. The stockpile was not
large enough to test the Volvo ECR50D excavator's climbing abilities, but it was good enough for me to judge its performance and operator comfort.
After cranking it up and finally sorting out my air-conditioning dilemma, I closed the door and found it to be a nice, quiet working environment.
This was quickly interrupted once I started to play around with the stereo system. With a few tweaks on the bass and treble, I managed to get what I thought was a surprisingly good sound. That always helps me through my day!
The cab feels spacious to sit in for a compact radius machine, probably helped by the amount of glass. This means the visibility from the operator's seat is the best that I have encountered on any machine of this size to date. First up, I thought I would try out the automatic two-speed tracks with the help of the dozer blade. In high gear, the machine moves along at a pretty good 4.9km/h, which would get you around any site easily and swiftly. I dropped the blade in and had to load it up considerably in order to engage the automatic kick-down into low gear. This had the machine travelling at 3km/h and able to push the full blade of dirt with relative ease.
I proceeded to dig into the pile of spoil, which the machine cut through with ease.
On encountering some damp spoil, I loaded the bucket with as much as I could fit in and put the arm out at full stretch, swinging around and moving up and down in order to test stability.
Overall it seemed quite good. The excavator felt stable over the front and rear of the tracks but less so over the sides, as can be expected. I didn't experience much difference in machine performance when I hit harder digging conditions in the virgin soil that lay beneath the stockpiled spoil.
I then tried a bit of precision final trim work. Even at full revs, a flat cut was able to be performed at a good pace and with ease and no jerky bucket movements.
In ECO mode, which cuts the revs back slightly, I struggled to find any difference in the ECR50D's overall digging performance and cycle times. The visibility to the dozer blade is good and, as I mentioned earlier, the machine does not have any trouble pushing a full blade of dirt.
Volvo has rounded the bottom of the blade in order to achieve a better finish while back blading with the float setting on.
I can hear the gasps of horror already from all those old-school operators out there who see back blading as sacrilege. Truth is there are a vast amount of operators that probably use this practice on a daily basis, so it makes sense that a machine manufacturer should do something about improving the design.
The bottom line
Volvo works on the premise that better operator comfort equates to better productivity, so it has delivered a more spacious workstation for the ECR50D excavator with excellent visibility and safety features. The ergonomically positioned controls and adjustable seat meant I was able to get myself into a pretty good operating position where I felt I could put in a good day's work without too much discomfort.
The climate control managed to keep the cab at a comfortable temperature (once I sorted my s#*t out), considering the amount of glass on the cab and the 30-plus degree day outside at the time of our test.
Not many people would argue about the reliability of Volvo engines. These ones have been matched with a state-of-the-art hydraulic system in order to deliver excellent performance and fuel efficiency while also delivering excellent breakout force, response, and smoothness of operation. This all equates to faster cycle times. At the end of the day, we are here to move dirt as fast and as cheap as possible.
The machine felt very good to operate with excellent speed, bulking and breakout ability (just like the brochure said), as well as precision performance and stability making for an all-round well-balanced unit.
Factory auxiliary piping with adjustable flow rates are also a bonus, saving the cost of having it done aftermarket. And as for 50-hour greasing intervals and extended service intervals, who the hell wouldn't like that? More time making money and less time spent on maintenance.
This model is currently not available in New Zealand
Keep up to date in the industry by signing up to Deals on Wheels' free newsletter or liking us on Facebook.