Bobcat E50 excavator review
---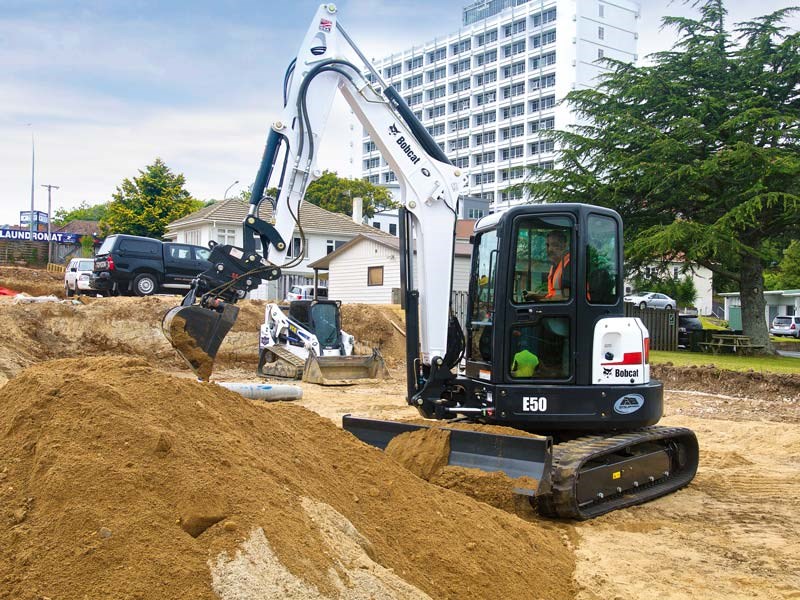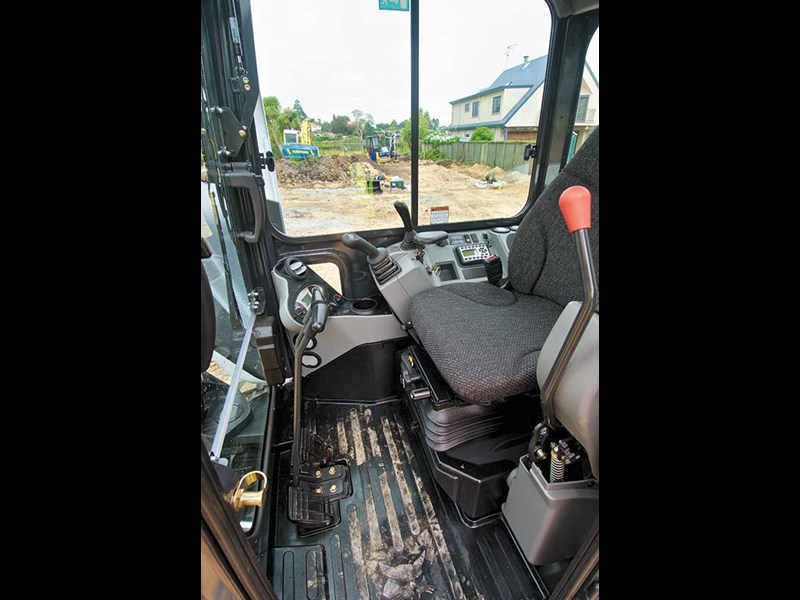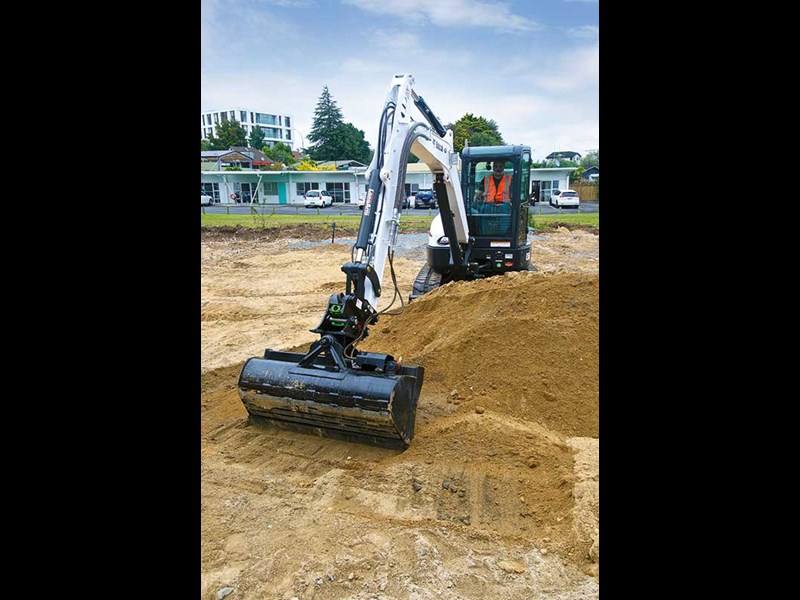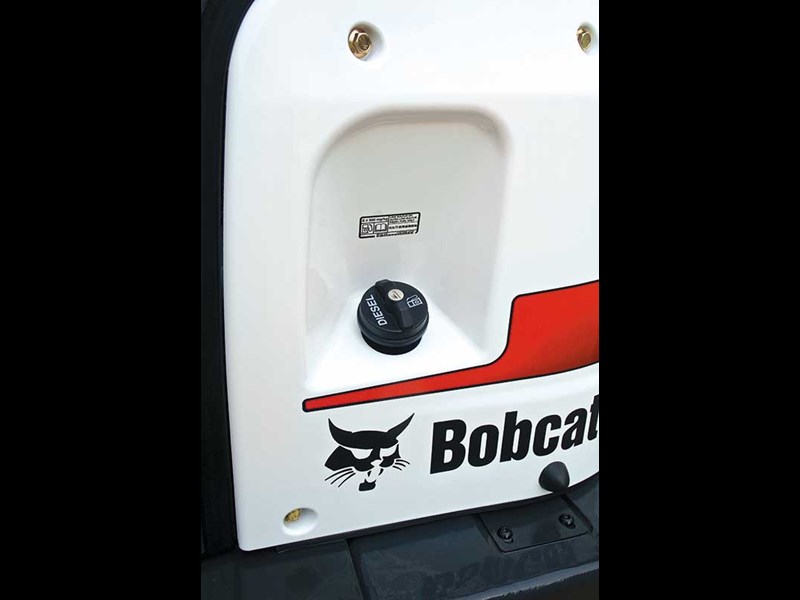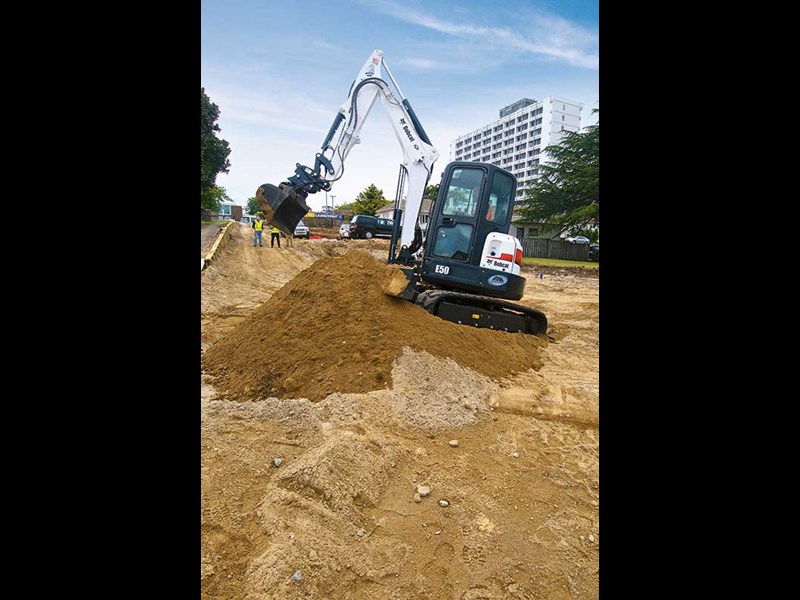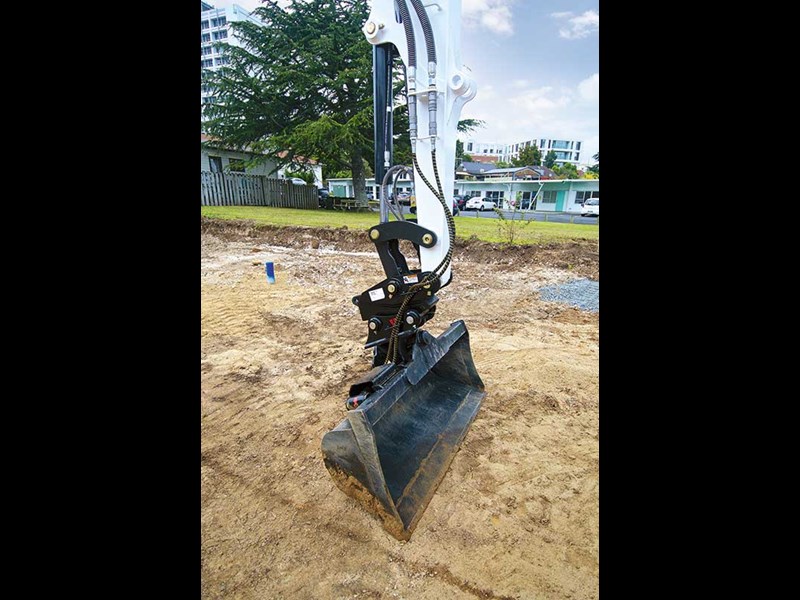 The Ed headed to Hamilton and climbed aboard a Bobcat E50 excavator. Here's what he had to say.
So, putting my cards on the table, I will openly admit to always looking forward to operating Bobcat machines. For me, Bobcat Company seems to take what they do seriously. That's not to say manufacturers of other brands aren't serious about what they do, because we all know that everyone in this game is deadly serious. I guess what I'm getting at is that to me, Bobcat seems to do things with a bit of class.
The Bobcat E50
While the Bobcat E50 excavator has been around for a couple of years now, some of its innovations are still ahead of a number of competitors and, for the most part, while they are not overly groundbreaking on their own, when combined together, the sum total presents a very attractive package.
Weighing in at a bit over 5000kgs, the E50 excavator stands out on a construction site thanks to the traditional Bobcat black, white and orange livery. The machine, as supplied to New Zealand customers by distributors AB Equipment, comes fitted with a long arm that gives a maximum reach at ground level of 6300mm. That added arm length also gives an extra 200mm dump height of 4100mm over the standard arm version.
While, dimension-wise, the E50 is not a completely zero-tail swing machine, its designers have tried to make it as compact as possible. The wide cab door folds back within the side counterweight, and the ram for the boom offset is centrally located as opposed to some other brands, which mostly have the ram on the right-hand-side of the boom. This means that the ram does not protrude outside the E50's outer body dimensions when operating in an offset position; reducing the chance of damage when working in confined spaces.
Engine
The 37.1kW (49.8hp) power plant features an ultra-low particulate combustion chamber instead of a diesel particulate filter. My understanding is, that by using a specially designed combustion chamber Tier 4, emissions can be attained without the need for a diesel particulate filter. Accessibility around the engine is probably the best I can remember for a machine of this type; with the hood folding up to expose a large part of the engine bay. Everything that is necessary for daily checks are easy to get to, as well as things like the starter, alternator and belts, which we all know will need replacing at some stage during the machine's life.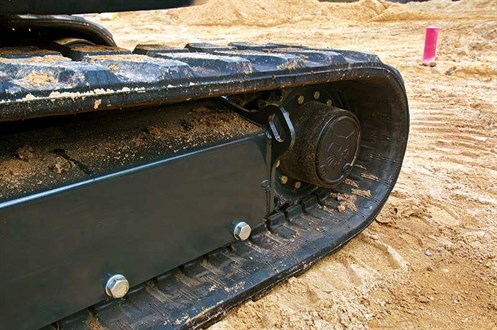 Serviceability
In a similar fashion to the engine cover, a side hood opens forward to almost fully expose the hydraulic bank and cooling area. Here, again, attention-to-detail shows up with Bobcat trying its best to eliminate bends from the hydraulic hose fittings. The cooling radiators are hinged and can be easily cleaned by removing a securing hand bolt. Located in this area is also the battery which looks a little lonely sitting in an area all by itself, but ideally situated for ease of access.
Another excellent touch is the audible alarm that sounds when the fuel level approaches the full mark. This is ideal, especially for those smaller operators that fill their machines using fuel drums or a tow-tanker.
Cab
Seated inside, the operator has a decent amount of room to conduct their business. With the auxiliary floor controls moved to toggle switches on the joysticks and the travel pedals having the ability to fold in half, quite a lot of room is available to place the steel-capped size 10s.
All the bell-and-whistle controls are located on the right-hand-side of the operator and as per normal with most top-of-the-line brands these days, air conditioning and the usual operating modes come as standard in the Bobcat E50.
Sitting between the main display and joystick, Bobcat has thoughtfully placed a small window to enable a low view of the front right track. Another nice little touch located beneath the seat is the in-cab pattern selector so different operators can change the joystick controls to their preferred style.
The top two-thirds of the main window has a simple easy-to-use latching mechanism. To increase vision, there is no steel bar that usually sits atop the lower piece of glass on some brands. I'm not too sure about the removal of this as that bar was always a good place to rest one's foot when operating for extended periods, or waiting for someone to complete a task before kicking the machine back into action.
Undercarriage
Four tie-down points help secure the machine for transportation. Two are located on the undercarriage and one on each side of the blade. The undercarriage is designed to reduce the amount of dirt caking up between the tracks and on top of the frame. As far as I am aware, no manufacturer has designed something yet that allows dirt to fully remove itself from the undercarriage, but anything that contributes to less hand digging is alright in my books.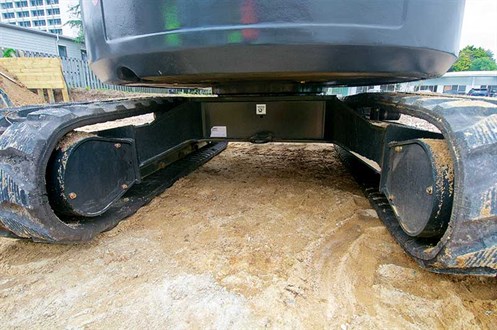 Bobcat E50 put to the test
Thanks to Piennar Piso from Vision Complete Earthworks (VCE), we were given a nice site alongside the Waikato River to give the Bobcat E50 a run. You may remember him from an issue we produced about 12 months ago, when VCE received the millionth Bobcat machine produced by the company.
I'm pretty sure you are all aware that due to us not wanting to hold up production on working jobs, we generally give ourselves a time limit to be in and out by. Our host was very generous by sweeping his arm across the site and telling us to dig wherever we wanted. Noticing that pretty much everything had been cut to level, I decided to work on a stockpile of sand that was crying out for a bit of attention.
When trying excavators out, I always like to see how well the designers have placed things so that they are where I instinctively reach. So after giving the controls a very quick scan-over, I like to start using the machine as quickly as possible. Once operating, I then start to have a play with the different operating modes and adjust things to suit what I am working on.
As expected, in this instance the E50 did not disappoint. There are different adjustment settings to really tweak things to pretty much everyone's operating style, and this I got correct after finding the hydraulics were running a bit too quickly on the tilt-bucket for my liking. The joystick-based toggle switches were superior to foot controls in my opinion as a thumb is way easier to use than a leg when carrying out precision work.
Power-wise, the machine did very well, even taking into account the fairly easy task that was being carried out. Blading the material was near effortless and as long as the machine had traction, it would keep pushing. I am told that an angle blade is available as an optional extra and would be something that I would definitely consider fitting if I was an owner/operator or had a top employee that I wanted to keep on my books.
I was especially impressed with the balance of the machine and, even when working the E50 in an unusual position, found that it was a lot more stable than expected.
The verdict
In short, the Bobcat E50 lived up to what I've come to expect from this brand. Its design was well-thought-out and, as I mentioned earlier, all the little things come together to provide a top package.
Sure, there may be brands that as more cost-competitive, but I believe you are not only buying the reputation of the Bobcat brand here, you are also buying the expertise that has kept it at the top of its game for a long time.
For the latest news and reviews, subscribe to Deals On Wheels magazine here.
Keep up to date in the industry by signing up to Deals on Wheels' free newsletter or liking us on Facebook.