Sunward SWE 60B excavator review
---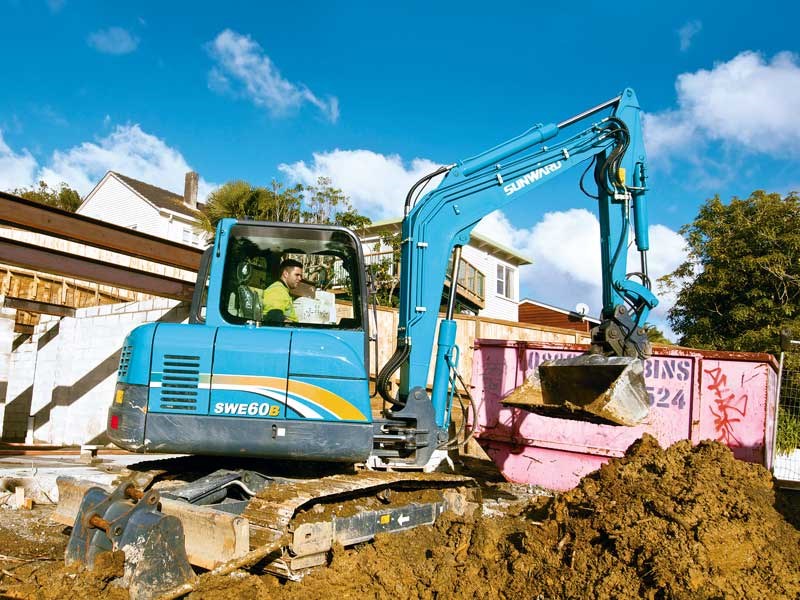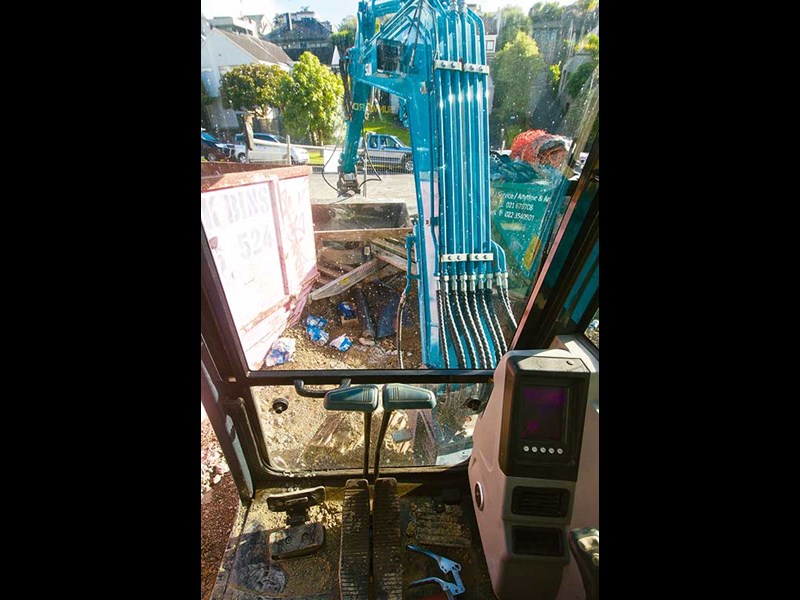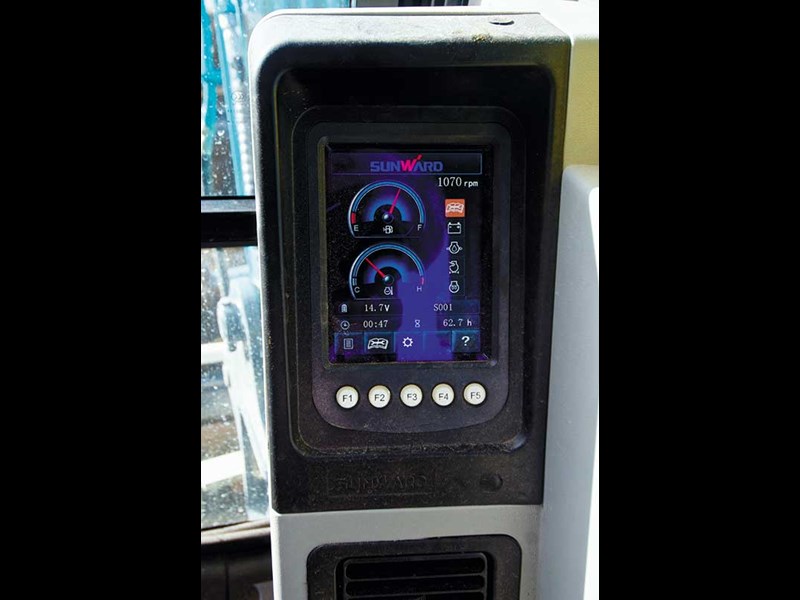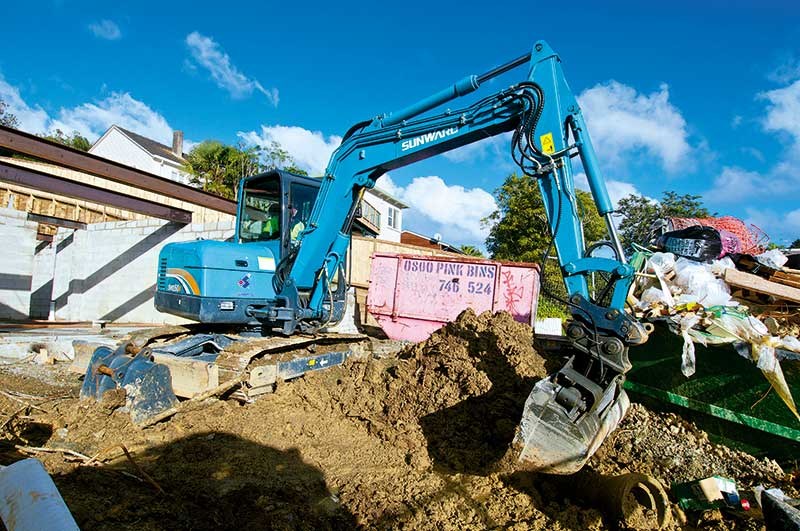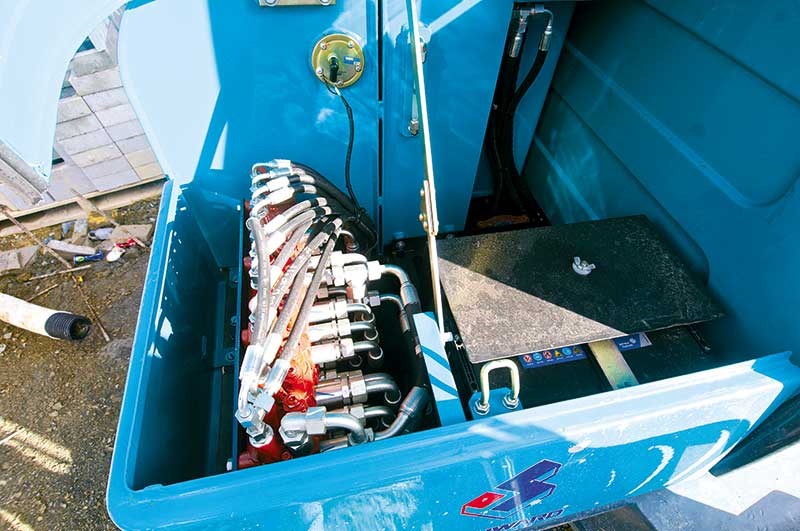 Mention that something is made in China and certain phrases can come to mind. So when The Ed asked me to go test out a new model of Sunward excavator, I was enthused to put this theory to the test.
I headed out in the rain to a building site in the Auckland suburb of Orakei to test out the new Sunward SWE 60B, six-tonne excavator. Twenty minutes from the destination, my enthusiasm picked up as the sun decided to grace us with its presence. Although that quickly faded as I arrived at the site to find the said machine in an area with barely enough room to swing a cat in and no earthworks required, not even a stockpile to 'play' with.
Running me through the specs of the machine was Anthony Smith of Endraulic Equipment Limited, who distributes Sunward nationwide.
Under the covers
Opening up the back cover, which is automatically held up by two gas struts, revealed a tidy and simple engine bay with obvious thought going into parts placement, with ease of access to all your standard daily check items and also the standard filters. The windscreen washer tank was also located here instead of it being in the cab like some machines.
Lifting up the side cover unveiled another tidy area with radiator and hydraulic ports which, again, were all very accessible too. Its also worth mentioning here that the engine in this machine is a Yanmar 4TNV94L which provides 33.7kW/2100rpm.
Moving to the front of the machine, first thing I noticed was the placement of flood lamps, which were in-built in the bottom of the cab with guard protection over them, minimising any risk of getting damaged. I would like to see how well they light up the work area.
Looking halfway down the dipper arm, I notice a grease point, which feeds up to the connection with the boom, and in turn means greasing of this difficult area can be done at ground level. It's another little thing that has been thought about and could save you that extra five seconds stretching the arm out every time you grease the machine.
Moving along to the boom, Anthony points out the two auxiliary lines that can run that tilt bucket and thumb if required. This is a factory-standard option and is good to see that they are keeping up with competitors on things like this.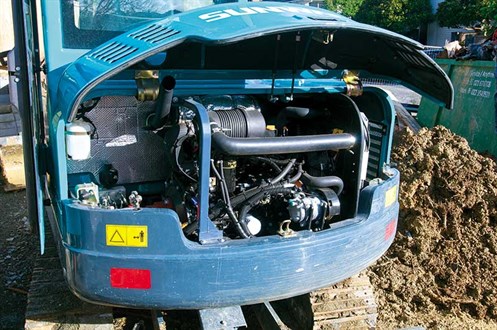 The cab
Stepping up into the cab, I note that the side window is a single pane of glass and has no openings, yet the door has a sliding window on it – something that would greatly annoy me over time, but I guess not the end of the world considering it has factory standard air conditioning.
Everything else seems to be pretty standard inside including the digital monitor, which shows they are keeping pace with modern technology.
A small scrape
As mentioned, with nothing requiring excavation and no stockpile around, it was decided that some 'light' scraping could be done to clean up an area around a skip bin where a proposed driveway would eventually go. With the arm fully extended out, I pull back on the sticks to test the smoothness of the hydraulics and could not find any faults with it, which is to be expected as these machines are fitted with KYB hydraulics.
Slewing around is made a little bit easier on this restricted site as although this is not a zero-tailed machine, it is an 'urban tail' machine and therefore its counterweight does not stick out as far as conventional excavators while at the same time does not feel under-balanced like some zero-tailed machines do. That extra balance could help those who do a lot of drilling.
Swinging the boom on this machine is made slightly complicated, as you have to hold down the toggle switch on the joystick, which diverts flow from your main auxiliary line to the boom swing, so you can then use the auxiliary pedal to swing it left or right. This is something that although could be frustrating at the start, would be something that you would get used to over time – hopefully.
Also, operating the hydraulic quick-hitch is interesting as it is not a flick of a switch like most of us are used to – instead a hidden button on top of the blade lever. This then morphs into the hitch lever. Seems odd that they would not have anything marking this button and I did wonder if it could accidently be activated while blading.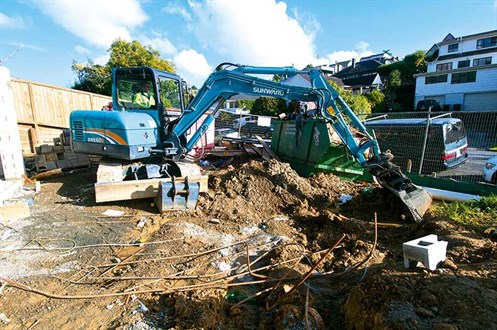 The verdict
Although not being able to put this machine through it paces and testing to its full potential, I walked away with a different mindset about Chinese-made machines. True, like any country there are the good and bad, but in this case it was a positive experience.
With the modest price tag, along with Sunward's three-year/3000-hour warranty, it's understandable why more and more reputable companies are adding these machines to their fleets and why it is becoming common place to see this brand on worksites throughout New Zealand. Like the old saying goes: Don't knock it till you've tried it.
Pros
Service filters etc all easily accessible.
Grease point on top of boom accessible from ground without having to manoeuvre excavator arm.
Two auxiliary lines come as standard.
Price tag.
Cons
Side window does not open.
Boom swing not very functional.
Hidden button on top of blade lever.
Read the full article in issue #262 of Deals on Wheels magazine. Subscribe here.
Keep up to date in the industry by signing up to Deals on Wheels' free newsletter or liking us on Facebook.