Test: Palazzani PL1105
---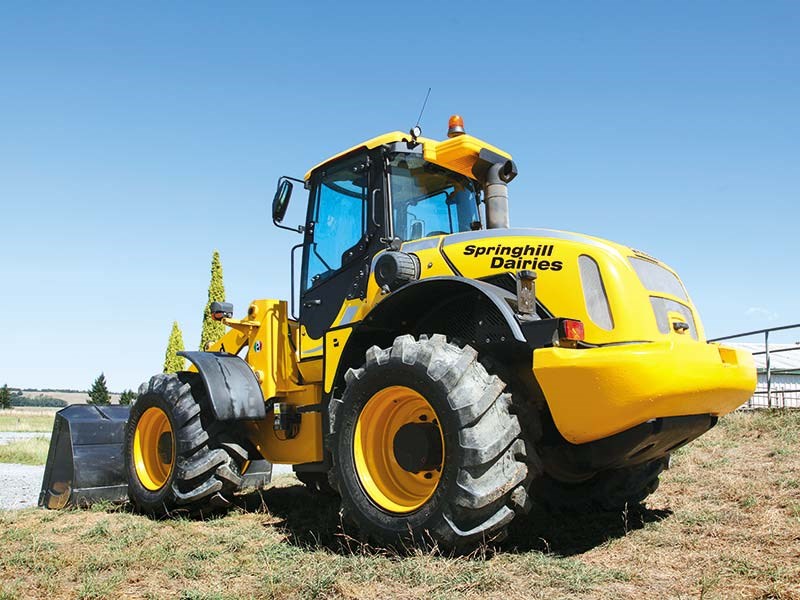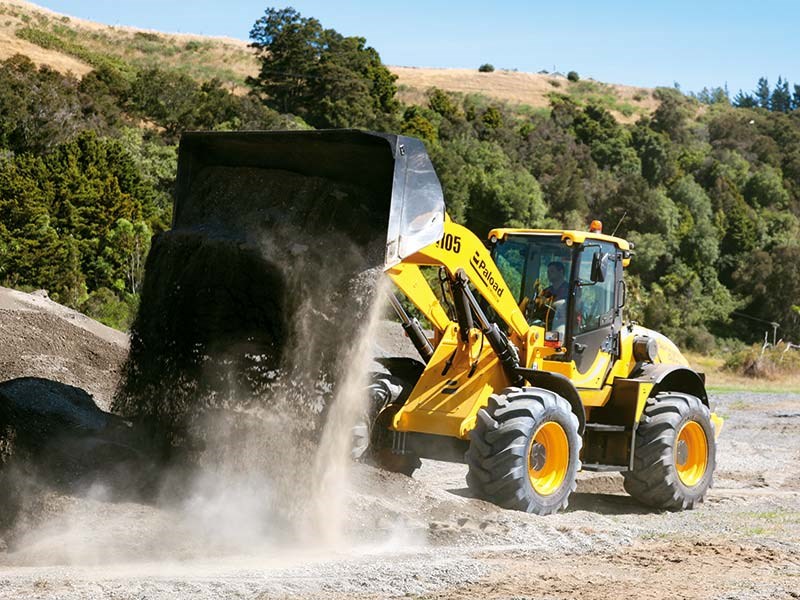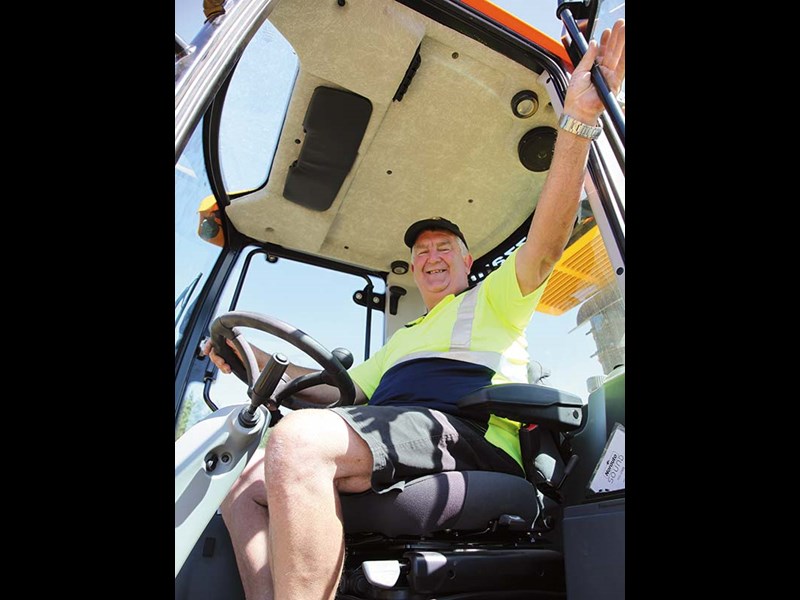 Test driver Glenn Bartlett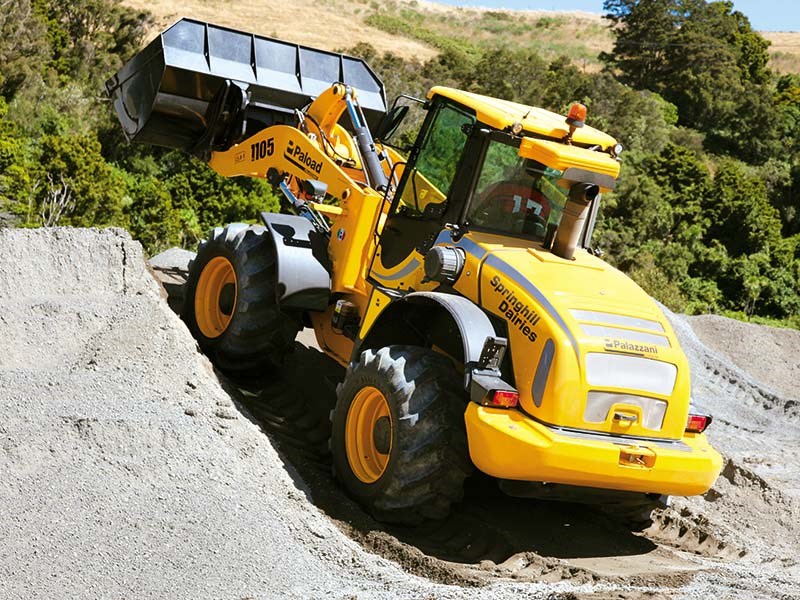 Combining smart Italian design with precision engineering and versatility, the Palazzani loader won't fail to please operators. DOW took it for a test run on a Hawke's Bay dairy farm.
Give a man who loves machinery the chance to test drive a new Italian loader in some small mountains of shingle, and he'll be as happy as a pig in mud.
Because I'm no driver of heavy machinery, I took Glenn Bartlett aka 'the test driver' (TD) out to have a play with a Palazzani Loader PL 1105, recently purchased by dairy farmer, Paul Franklin of Springhill Dairies.
The brand-spanking-new Palazzani loader stands out from the other machinery in the dairy yard like a shiny yellow Tonka toy. But this is no mere show pony. In the month he's had it, Franklin has already put it through its paces and loaded 2000 tonnes of shingle with it.
He explains, "I am building a storage dam – it's a pretty exciting project. We needed to take a considerable amount of gravel from the river to the dam to put a gravel drainage blanket on the bottom."
Moving large quantities of silage daily is the main use for a loader on his two 550-hectare dairy farms where 3000 cows are milked each day. In the past, Franklin always used an old Hitachi LX80 loader. When he bought the neighbouring dairy farm they were using a tractor with a front-end loader. "This was a wreck. It wasn't designed for it," he says.
Therefore, Franklin wanted a true agricultural loader; something not too heavy – 15 tonnes was "too large" and 10 tonnes was "too small." At 12 tonnes, he declared the Palazzani "just right. A loader like this can still do a serious amount of work".
He purchased the Palazzani from Landex in Auckland. Right price and the fact that he has always liked Italian gear ("They are great engineers.") cinched the deal. "It's always a bit of a risk buying an unknown, but it's got a JCB engine so it's not that foreign and it has Spicer axles, another common brand."
Palazzani PL1105 cab
Having no central dashboard means there is plenty of space in the cab which's good for well-built Kiwi lads. The seating position is comfortable, arm rests fold down and the controls are all on one joystick right where you need them to be so you are not reaching forward or back.
The skylight window allows extra visibility, especially when loader is at full height and the regulating steering wheel has several adjustment positions. The console to the right of this has settings for float control, air conditioning fans, handbrakes and lighting. The other thing the TD liked was the low amount of noise levels – no need for ear muffs.
Features
Many readers would be interested to know:
It's an all-terrain loader so you can go off a hard surface onto a soft one – you can't do that with all loaders. On the dairy farm, Franklin needs the machine to be a versatile workhorse, so it fits his criteria perfectly.
Hydraulic reversing fan so if your radiator blocks up you can reverse it to blow it back out. This is good when you are doing maize and it blocks the radiator coils. It's a fast and efficient function and saves having to do it manually.
The hydrostatic transmission has a full automatic mode or can be locked in the lower gears for harder work.
Auto bucket leveling and it has a hydraulic float control setting for the bucket, this allows the bucket to float along the surface thus taking the pressure of the hydraulics.
The machine has a special over width bucket to match the wide tyre option Franklin chose. Auto grease system is a bonus – this saves on maintenance.
The verdict
The TD says: "The Palazzani is built for comfort. It's ideal for an operator who is going to spend 12 to 14 hours a day in it, in hot conditions and still get out at the end of the day and feel refreshed and not worn out.
"Compared to other loaders I have driven, it's like going from a Morris Minor to a Ferrari. I'd rate it up there with top end brands."
Many readers would be interested that you can also buy this machine with twin extending booms to give a pin height of 5100mm.
"It's a good all –round, all- terrain, front-end loader as well as being robust and stylish," concludes the TD.
"It's pretty smooth on the eye; an Italian masterpiece," says Franklin. Most importantly, he has used it extensively in the last month and is a very happy customer.
Pros
High tail clearance: particularly good if you are rolling silage or doing quarry work.
Looks classy and is comfortable to work in.
Cab visibility.
Multi function radiator: intercooler, radiator and hydraulic air cooler – makes it more efficient to allow machine to run at 100% capacity.
Because it's a pivot steer loader it's able to turn around in a fairly confined area.
Economic to run.
It's got a very good quick hitch system: changing attachments is all done via a switch.
Cons
Could have a longer gas strut to enable wider cab door opening.
Nice wide step but you can only use half of it due to this.
Could do with extra sidelights for night work (though an attachment for this is available).
See the full test in issue #258 of Deals on Wheels magazine. Subscribe here.
Keep up to date in the industry by signing up to Deals on Wheels' free newsletter or liking us on Facebook.