Active AL938LE loader review
---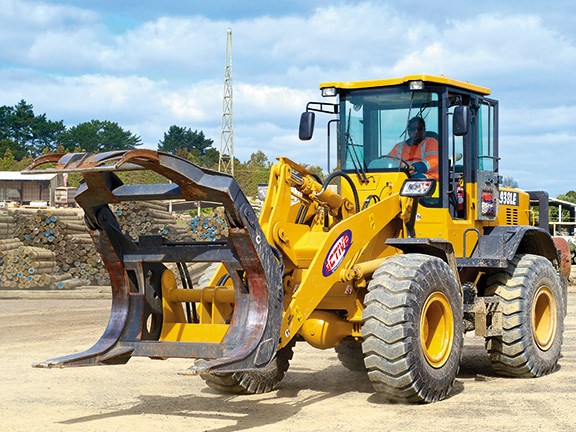 The Active AL938LE features an extended loading frame.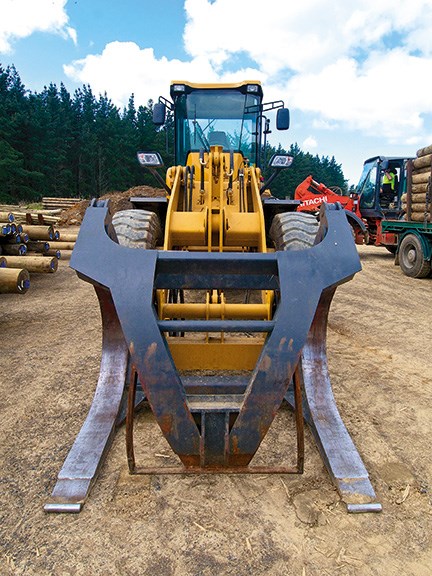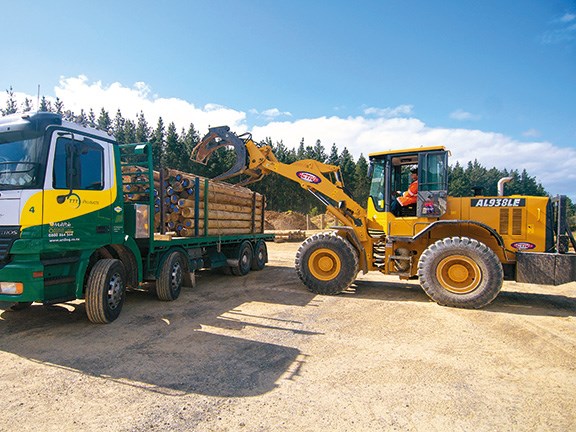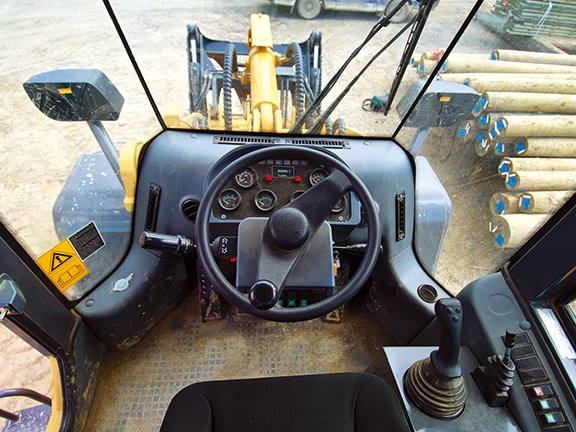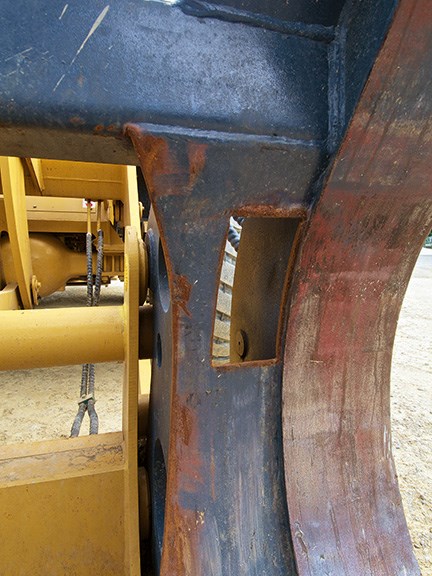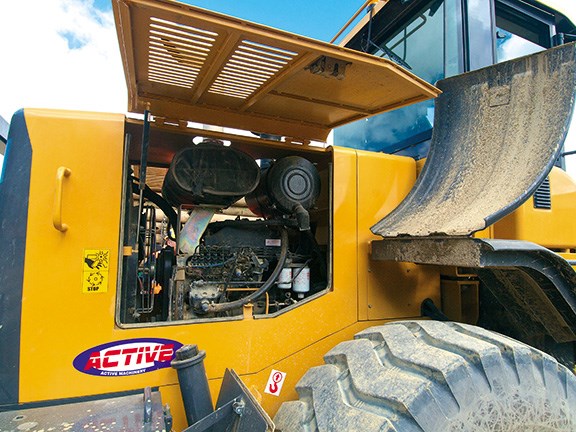 The engine is a Cummins 6BTA5.9-C150 rated at 111kW.

Affordable, reliable machinery is every contractor's dream. The Ed sees if the Active AL938LE loader stacks up.
"How much?" I said as my jaw dropped slightly.
"Seventy-eight thousand plus GST," Blair Sargison repeated back to me. "And that includes air-con, pallet forks and hydraulic quick-hitch".
"And all that for seventy-eight grand?" I said just to make sure I heard him correctly.
"Not a bad price eh?" he smiled. No. Not too bad at all, I thought.
Actually that's an abbreviated version of what he said. If I continued with the list of 'standard' extras he mentioned, there wouldn't be room here for much else.
This discussion we were having related to the 13-tonne Active wheel loader that is distributed in New Zealand by Sargison's company, Endraulic Equipment Limited.
Apparently, an amusing story surrounds the rise of this brand, and revolves around a falling-out between two Chinese business owners. As I understand it, one friend had a company that supplied hydraulic cylinders. His mate owned a wheel loader manufacturing company, but started purchasing cylinders from another supplier.
When news of this surfaced, Mr 'cylinder-supplier', decided to take the dragon head-on and started to manufacture wheel loaders himself. When you consider that approximately 60,000 loaders a year are produced in China, I bet the relationship quickly became a bit strained, to put it mildly.
Check out this video of the Active AL938LE loader in action.
Anyway, back to the story.
Located on the southern outskirts of the Auckland region is the township of Tuakau. Situated on a 50 acre site just out of town, is the long-established business of TTT Products Limited. Their core business revolves around the treatment of timber and poles.
As one would expect, handling these products makes up a substantial part of its workload, and as such, the business has a number of different branded wheel loaders in operation at any one time. Not too long ago, it decided to invest in an Active AL938LE wheel loader from Endraulic.
They must have been happy with their decision, as it was followed pretty quickly by a second 13-tonne unit. Six weeks into its working life, we had turned up on TTT Products door step to see how the machine was going.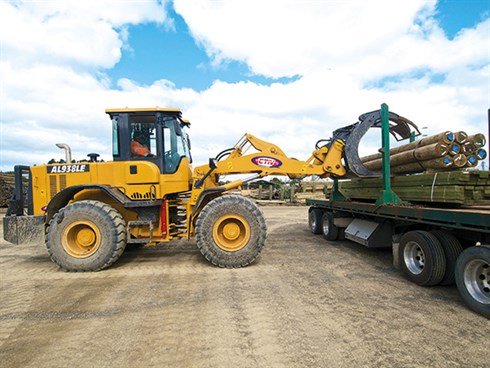 Engine
Providing a maximum torque of 580nM, the AL938E loader is powered by a Cummins 6BTA5.9-C150 turbocharged six-cylinder engine. Output is rated at 111kW (150hp) at 2400rpm and the engine is backed by a Cummins worldwide two-year/2000-hour warranty.
Transmission
The electronic powershift transmission works via a gear-driven hydraulic pump. It has four forward speeds (max 35kph) and three reverse speeds (max 26kph).
Bucket system
A single lever operates the bucket system. Lifting time with a maximum rated load is 5.3 seconds, with a dump time of one second. Lowering it when empty will take just 2.9 seconds.
A fully-powered third-valve system comes standard with the AL938LE, as does a 2.2 cubic metre bucket, pallet forks and a hydraulic quick-hitch (as previously mentioned).
Giving the machine a run
In preparation for our visit, TTT thoughtfully had an area ready for us to use. Even though I reckon I'm not too shabby on a wheel loader, it didn't take long to make a decision to stand off and call for someone who uses the machinery all the time. Enter, Lincoln 'Pooch' Hira.
A once long-time employee of TTT, Hira recently returned to the business after an extended stint overseas. Lining him up with what we wanted to achieve for the DOW readers, he was only too happy to help us out.
TTT Products had invested an extra $10,600 and fitted a hydraulic log-grapple. It wasn't long before Hira was giving us a professional demonstration of the AL938LE, and its capability with the grapple attachment.
First job requiring completion was the loading of poles onto a truck. As one would expect, this can be a tricky job at the best of times, and it takes a bit of cooperation between the truck driver and loader operator to correctly position the poles.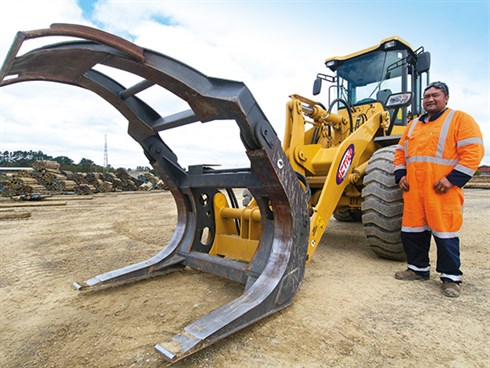 Watching Hira take care of this made me appreciate the extended load frame that gives the machine a maximum dump height of 4750mm when the grapple is rolled back.
That taken care of, it was then a matter of loading more poles onto a parked trailer that was going to be collected later. Again the AL938LE tackled this job in what looked like a straightforward fashion, and (to me) it sounded like the hydraulic gear-driven pump coped very well with the weight it was lifting.
There was a bit of juggling involved, with the poles being placed on top of sawn timber, but thankfully an experienced operator at the controls meant that it was a damage-free process.
The cab
During a quick break I caught up with Hira to get his opinion on operator comfort.
"It's not a bad machine eh mate. Pretty much everything you would find on any other machine is here," he says.
One comment he made related to the height of the dash, that it was a little bit high for his liking. I can understand what he is saying, especially when doing precision work such as picking up poles and logs. I do think it should be ok when the machine is being used with the bucket however.
Comfort-wise, the integrated air conditioning, air suspension seat, and obligatory sound system should all help contribute to a decent day's work.
Word from the 'Pooch'
Back to work, Hira continued to move and stack more poles before eventually bringing the Active AL938LE to a standstill.
This gave me the opportunity to get some final thoughts from him. Power-wise, he thought the machine handles the work well, and small visibility problem aside, the machine afforded a good level of operator comfort. By all accounts, Pooch thinks that his employers have made a sensible decision.
The verdict
I tend to agree with Hira. If I was looking to upgrade a wheel loader, it would be very difficult to look past the economic and production benefits of something like the Active AL938LE. With its cost being similar to a second-hand machine, one of these wheel loaders would definitely be on my 'to see' list.
For the latest reviews, subscribe to our Deals On Wheels magazine here.
Keep up to date in the industry by signing up to Deals on Wheels' free newsletter or liking us on Facebook.