Komatsu releases Dash 8 wheel loaders
---
Komatsu has released two new Dash 8 wheel loaders—the WA270-8 and WA320-8 in the Oceania market
Both models are powered with Tier 4-compliant low emission engine technology and Komatsu says delivers improved fuel efficiency, higher productivity, and reduced owning and operating costs.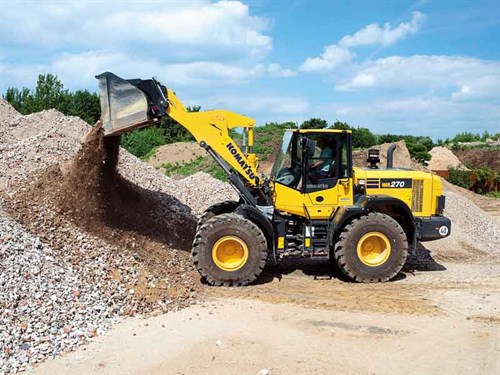 The WA270-8 (replaces the WA250PZ-6) is powered by a Komatsu SAA6D107E-3 engine rated at 111kW and offers bucket sizes from 1.9–2.7 cubic metres, while the WA320-8 (replaces the WA320PZ-6) is powered by a Komatsu SAA6D107E-3 rated at 123kW and has bucket capacities ranging from 2.3–3.2 cubic metres.
Both loaders feature Komatsu's fourth-generation hydrostatic drive transmission system as well as its versatile parallel Z-bar (PZ) linkage system, which they say combines high breakout forces with parallel lift throughout the lifting cycle.
In releasing the Dash 8 versions of these two loaders, Richard Feehely, Komatsu Australia's national business manager quarries, says they have gone straight from their Dash 6 variants, skipping the Dash 7 upgrades that included interim Tier 4-compliant engines.
"These latest wheel loaders incorporate all the new technology developments introduced in both the Dash 7 and Dash 8 upgrades, including improved performance and safety, reduced fuel consumption, superior operator ergonomics, and significantly enhanced maintainability," Richard says.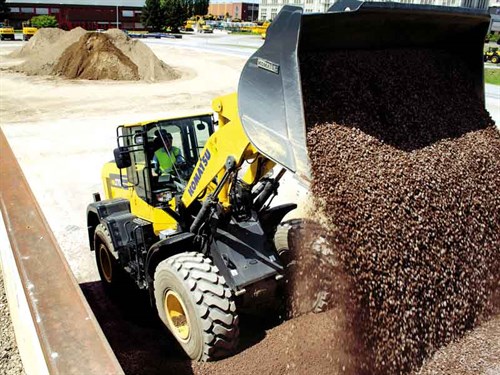 Both loaders have increased straight and full-turn static tipping loads for improved productivity and safety; the WA270-8 has a full turn static tipping load of 8930kg (2.3 cubic metres capacity GP pin-on bucket) and the WA320-8 has a full turn STL of 9780kg (2.8 cubic metres capacity GP pin-on bucket).
"These higher performance capabilities, combined with fuel efficiency improvements of up to 13% from our Tier 4 final engine technology, mean these new loaders deliver significantly lower costs per metre of material moved than their predecessors," Richard says.
New cab designs on the Dash 8 loaders provide operators with improved comfort and visibility, along with reduced noise levels, further assisting in increased productivity.
"The combination of production and performance improvements, lower fuel consumption, easier maintenance, and Komatsu's outstanding product support offerings make these among the lowest cost-per-metre loaders available in their class," Richard says.
Keep up to date in the industry by signing up to Deals on Wheels' free newsletter or liking us on Facebook.