Duck shooter digs himself into deep trouble…
---
Trying to dig a duck pond in a protected coastal marine area saw a duck shooter come close to being prosecuted by the Waikato Regional Council.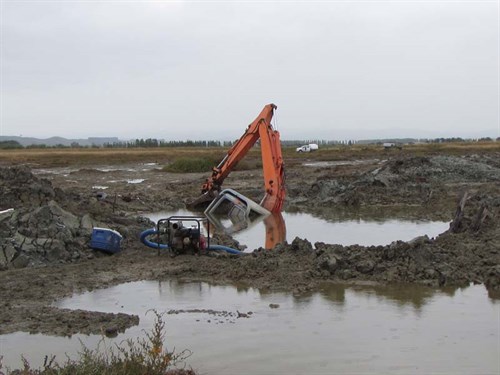 The local man used a borrowed digger to illegally excavate a pond next to his maimai near Waitakaruru in the southern Firth of Thames in February of this year. The area is part of an internationally significant wetland that extends along the shoreline between Miranda and Thames and is also one of New Zealand's three most important coastal stretches for shorebirds.
Waikato Regional Council began investigating the incident after receiving a complaint that a digger had become stuck in the wetland. When council officers first arrived they found the machine nearly fully submerged in a large hole surrounded by piles of excavated marine mud.
The man tried to claim that he was using the digger only to remove leftover building materials from his maimai but the investigation found that he was digging a pond for the up-coming duck shooting season. The offending and resulting damage to the environment was compounded by the man then organising other heavy machines and equipment to be brought and used on site to help extract the stuck digger.
"We are very fortunate to have such an exceptional wetland in our region. Being listed as a Ramsar site recognises the need to provide additional protection to the area and its diverse bird, plant and fish life," said council investigations manager Patrick Lynch.
"Human activity is the biggest threat to any wetland and people simply cannot go in there with 20 tonne diggers destroying habitats." These sentiments were endorsed by the Department of Conservation.
On this occasion the man's actions resulted in the council issuing him two formal warnings. The council found it concerning that this case followed a similar incident north of Waitakaruru in 2013 when a farmer also received a formal warning for digging a duck pond.
"There is certainly scope for some activity in the wetland. However, before considering entering with any vehicles or machinery people really need to know what restrictions are in place first," said Mr Lynch.
Information can be obtained by contacting Waikato Regional Council on 0800 800 401 or the Department of Conservation on 0800 DOC HOT (0800 362 468).
Our attached picture shows the digger stuck in the hole. It has since been retrieved.
Keep up to date in the industry by signing up to Deals on Wheels' free newsletter or liking us on Facebook.