Construction jobs increasing, salaries steady
---
Employment levels, business confidence and workloads are all increasing in New Zealand's construction industry – but salaries for most roles remain steady, according to the 2015 Hays Construction/NZIOB Salary Guide.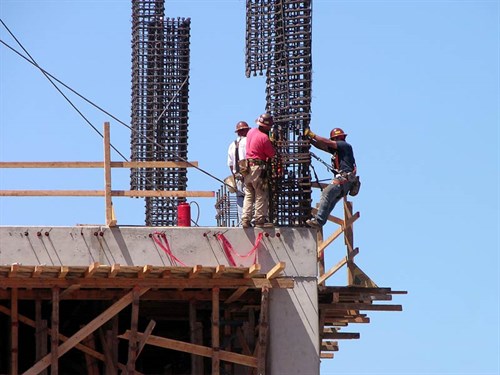 Produced by Hays Construction and the New Zealand Institute of Building (NZIOB), the guide explores current recruiting trends and lists typical salaries for construction professionals in 12 locations across New Zealand. It compares salaries by location, project size, construction type and annual turnover.
It found that salaries remained reasonably static overall, with only a few exceptions. These included Project Managers and Senior PM's/Project Directors working on the highest value projects, who saw their typical salary increase from $140,000 to $150,000 and $160,000 to $180,000 respectively (for those on $50m+ projects).
Another exception was for Intermediate and Senior Estimators. For example Intermediate Estimators working on $50m+ projects saw their typical salary increase from $80,000 to $90,000, while typical salaries rose for Senior Estimators on $15 - 50m projects from $125,000 to $140,000.
In terms of sectors the most significant salary increases, of between five and 15 per cent, have been seen in the areas of fit-out/refurbishment and residential, closely followed by commercial construction.
The guide also found that:
84 per cent of construction employers said business activity increased over the past 12 months.
84 per cent also expect the general economic outlook to strengthen over the coming 6 to 12 months.
74 per cent of workers typically work 40 to 49 hour weeks, but one in four (25 per cent) work 50 to 59 hours.
87 per cent of management staff are men – which is up from 81 per cent last year.
63 per cent of organisations use contract staff for management positions – up from 58 per cent last year.
79 per cent of organisations use contract staff for labour positions – down from 85 per cent last year which shows that employers are more willing to invest in permanent hires.
52 per cent say their use of contract staff will increase over the next 12 months – also down from 57 per cent last year.
40 per cent of staff remain with an organisation for 3 to 5 years, while 36 per cent stay for 6 to 10 years.
Mobile phones, a vehicle and bonuses are the most common benefits offered.
76 per cent of employers report difficulty recruiting Estimators, making them the hardest professionals to recruit. This is closely followed by Quantity Surveyors and Senior Managers (both on 75 per cent), Project Managers (68 per cent), Site Managers (64 per cent), Forepersons (57 per cent), Leading Hands (45 per cent), Architects (44 per cent) and Engineers (41 per cent).
At the other end of the scale, Cadets/Entry-level candidates are the easiest to recruit, with only 13 per cent of employers reporting any difficulty recruiting at this level.
Commenting on the findings, Hays Construction senior manager David Cleet said: "If 2014 was a 'rock star' year, it's fair to say that 2015 is proving to be its encore. 2015 has so far delivered on the promises made in previous years, with a sustained period of construction activity underpinning the economy and leading to increased employment levels, business confidence and planned and current workloads.
"Despite the impact of the Canterbury rebuild, Auckland dominates building and construction activity thanks to residential activity. Population growth, migration, favourable interest rates and the existing shortage of housing supply in addition to an increased number of high value commercial developments are all driving this trend.
"In Christchurch the rebuild continues with commercial and residential at the forefront and anchor projects fuelling demand – despite delays.
"Wellington is on the verge of a significant increase in activity, with a range of large commercial developments due to commence in addition to seismic upgrades.
"Looking to the year ahead, we expect that construction will remain the biggest growth area for employment. Hiring intentions will continue to rise, and it is hoped that record migration and near record numbers of returning New Zealanders will help ease the skills shortage."
Malcolm Fleming, acting CEO of the New Zealand Institute of Building added: "The construction industry is experiencing heady times at present, particularly in Auckland and Christchurch. With high demand for skilled staff, a guideline document for salary levels provides a valuable resource for both employers and employees in setting income expectations.
"The level of salary that a staff member receives is of course only one attribute that makes for an engaged employee. The benefit of having the 2015 Hays Construction/NZIOB Salary Guide to hand is that the monetary component of an employee's remuneration package can be easily covered off. Focus can then be given to the non-monetary attributes that differentiate those companies that stand out as being great places to work."
For the latest news and reviews, subscribe to Deals On Wheels magazine here.
Keep up to date in the industry by signing up to Deals on Wheels' free newsletter or liking us on Facebook.