Business profile: Ignition Firewood
---
From starting with just a chainsaw to building a one-stop-shop business boasting an impressive fleet of machinery, Auckland-based Ignition Firewood's Carlos Ter Huurne has come a long way
Deals on Wheels dropped in on managing director Carlos Ter Huurne at his Great South Road operation, south of Auckland to see how Ignition Firewood processes its raw wood.
Walking into the yard office, it's apparent Carlos and his team don't just appreciate wood for its innate ability to produce heat, but it also appears that they enjoy surrounding themselves with various species of timber as an art form too.
Gracing the front entrance of the building are two impressive carvings by artist Uenuku Hawira; walk further inside and you approach a shiny epoxy-finished counter-top, hued from swamp kauri, which Carlos commissioned Mark Godso of Bombay (Auckland) firm, Munky Business to complete. There are other functional works of art, all with a connection to wood, but more about that later in the story.
The early days
Carlos says he started out in the firewood business as a 16-year-old on his father's small farm where there was a stand of pine trees just waiting to be felled. While his original plan for a career wasn't centred around the firewood supply business, Carlos found it was a great way in the interim to make a few dollars to fund the Bachelor of Commerce degree he emerged with from Auckland University in 2020.
It's apparent that the 30-year-old has come a long way since those early days of working with a worn-out 'Husky' (Husqvarna) chainsaw he purchased for $200 to start his venture 14 years ago.
Carlos laughs as he recalls how it wasn't a particularly auspicious way in which to begin a new business, as the very first time he went to start the chainsaw, the pull-start mechanism broke.
Trucks in the fleet
Fast forward to 2022 and the enterprising businessman no longer owns just one chainsaw; he has dozens of them, along with a fleet of four Fuso delivery trucks (each with a capacity of six cubic metres), which were all purchased from Keith Andrews Fuso in Wiri.
Ignition Firewood's fleet of purpose-built narrow-cab Fuso delivery trucks is designed to be able to fit into reasonably small delivery sites, in most cases being able to tip the load in a convenient position.
An impressive-looking R620 Scania self-loading truck and trailer unit also graces the fleet. Carlos says he mostly drives the mainstay of the fleet, as it's the unit that is used to collect the constant supply of logs required to stock the operation.
Essential machinery
There's also a line-up of CAT, Hitachi, and Giant loaders and machinery in different configurations in the fleet. While the CAT machines deal with the heavy lifting side of the operation, such as handling the unprocessed logs, the smaller Hitachi and Giant machinery move the firewood once it's been processed.
The Giant V600 is fitted with a rotator attachment, allowing the operator to empty the cages without needing to dismount the loader. Although it might not be the most pristine-looking machine in his fleet, one piece of kit Carlos is particularly fond of is his trusty old Bobcat S130.
He says it's a machine he's had from the beginning, one that he describes as being "bulletproof" and has a multitude of uses because of its 4-in-I bucket. Carlos reckons it's been used in every aspect of yard use — from skidding and loading logs to cutting levels for the latest hardstand — and it's still going strong.
Pezzolato TB1200 firewood processor
While the previously-mentioned inventory is impressive in itself, Ignition Firewood's piece de resistance is an equally impressively-named Pezzolato TB1200 firewood processor that's not only the biggest processor in New Zealand but it's also currently the largest one in use in the Southern Hemisphere, according to Carlos.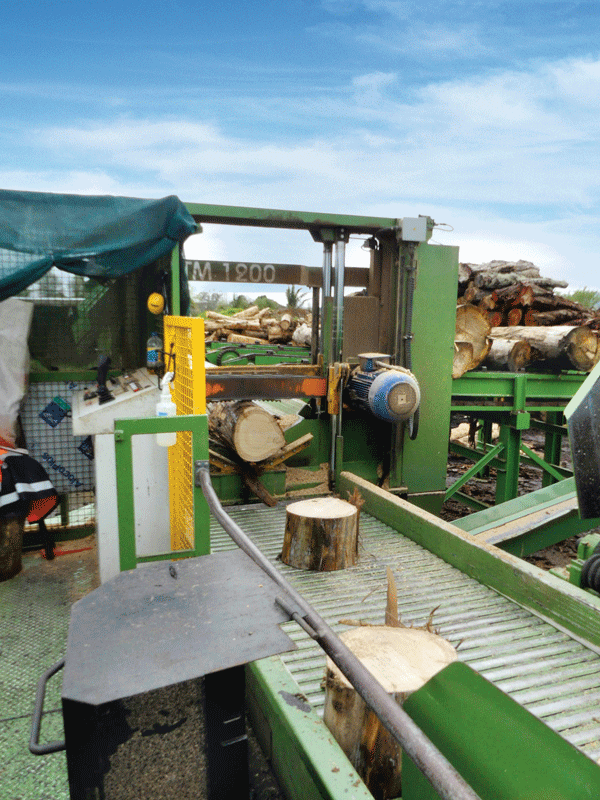 The machine processes logs of up to nine metres in length and 1.2 metres in diameter, with a capability of outputting 40 cubic metres per hour, although, he says that his team typically work it at around half that rate.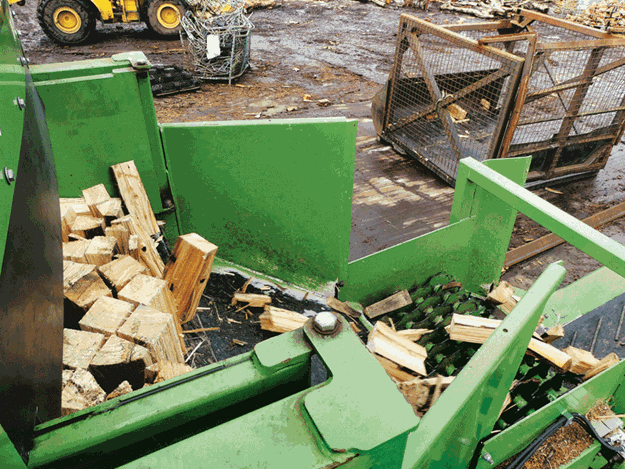 Oddly enough, Carlos says that this is the only piece of machine he owns that he hasn't learnt to operate to date, citing that his guys, like Robbie Ellery, do a perfectly good job of operating it without his intervention.
The firewood product range
Although radiata pine is perhaps the most widely used wood for heating purposes in New Zealand, it's but one of the species sold by Ignition Firewood. Manuka, Puriri, Blue gum, and Pohutukawa also feature on the list of choices people can make in order to heat their houses.
A blend of soft and hard timbers that the company markets as a product it calls 'Hotmix' has proven to be popular with its customers, as it provides a good balance of initial ease of lighting and the production of more-intense heat, along with slower burning once the fire has had time to warm up.
Returnable wood rack
I did say earlier that there was more to come about the company's in-house engineer who aside from fixing things that break around the yard has an artistic eye as well — a skill he puts to good use to fabricate artwork that also has functionality.
When he's not busy repairing machinery or manufacturing an Ignition Firewood speciality, the returnable and refundable wood rack, Craig Wintle likes to turn his hand to fabricating bespoke metal wood racks that are not only interesting to look at but also store small amounts of wood within easy reach of the fireplace.
Craig is obviously a handy person to have in the business, as he's the man who along with Carlos designed and built the speciality bins for the Fuso delivery trucks. The bins are fitted with internal, pinned gates, which allow for separation of the load into a maximum of three different types of wood or even to facilitate separate deliveries.
Ignition Firewood truly is a one-stop-shop when it comes to keeping toasty in the depths of winter, and of course, with the warmer months ahead, now is the ideal time to prepare for the next season.
For more details, call 0800 WOOD NOW (0800 966 366) or e-mail sales@ignitionfirewood.co.nz.
Find new and used excavators for sale in NZ
Keep up to date in the industry by signing up to Deals on Wheels' free newsletter or liking us on Facebook.