Contractor profile: TBT Earthworks
---
TBT Earthworks are using innovative equipment and attachments in their Christchurch-based contracting business
While TBT Earthworks is undoubtably a family affair – writ large in the company's name once you know the inside joke – the help and assistance of local machinery and attachment suppliers are also vitally important to this Christchurch firm.
"We pride ourselves on supporting Kiwi-made and local suppliers wherever we can," says TBT Earthworks' Trent O'Neill. "We have a very loyal customer base for what we do, so it's only fair we pass on that loyalty to really great local engineering firms and machinery suppliers where we can."
Firmly family focused, TBT Earthworks ('TBT' standing for siblings Trent and Bianca O'Neill, and dad Terry – although it's a bit of an ongoing family joke as to whether it's really Trent or Terry who comes first in the name above the door) has been several years in the making, with the full roster of O'Neills' onboard for the last seven years.
The trio have all worked together before though, for a Christchurch demolition company. In fact, Deals On Wheels readers with good memories may remember Bianca, then 24, being profiled as part of a series on female construction machinery operators in these pages way back in 2014 (DOW251 Oct2014).
Today, TBT Earthworks counts among its roster of clients heavyweights such as Signature Homes and Wide Span Sheds, for whom the Christchurch company has completed site prep work throughout Canterbury for the past four years.
Alongside this contracted work, TBT also undertakes all manner of house pad site prep, driveway and retaining wall construction and general landscaping work as well.
"We're always hustling for work; I think that's in our nature," laughs Trent. "But we are fortunate to have a big forward order book of private work, backed with some great partnerships with local builders. We might be in the central city one day, up to Kaikoura the next, then down to Ashburton for something else. There is definitely plenty on."
When Deals On Wheels catches up with the TBT team, Terry is currently working on a challenging site out at Lyttelton, constructing a retaining wall.
Spread across four terraced levels on clay, Terry needs to install six-metre poles that go three metres into the ground.
"Just to make things more interesting, it's a pretty tight site too. I only have 2.7m clearance to work within. But our 5.5-tonne Kubota is great for the job," says Terry.
He says the TBT Earthworks Kubota KX057-4 mixes a solid, compact machine body with plenty of grunt for the conditions. Like the Kubota, the firm's Cat 307.5 CR mini excavator, which is onsite at a house pad job at Hororata inland from the city today, is kitted out with a full 360° tiltrotator buckets manufactured by Steelwrist and distributed in New Zealand by Synergy Equipment.
"Our tiltrotator is really good," says Trent. "It gives us real flexibility and allow us to be quite nimble with the diggers, especially when we are working on smaller sites. We also secure swimming pool dig-out jobs on a regular basis and the tiltrotator comes into its own for those projects.
I believe the two Synergy Equipment buckets we own are the only ones currently in Christchurch, so this sort of clever engineering is giving us a bit of a competitive edge."
The Cat 307.5 Next Gen series is also fitted with an iDig 2D machine automation system, providing Trent with extra accuracy regardless of the task at hand. The house pad site at Hororata is where another of TBT's machine fleet comes into its own.
Attached to a versatile Cat 259D3 skid steer ("We hired one and loved it, so ended up buying this one and its brilliant," says Trent) is the company's New Zealand-made Sharpgrade G116 precision grader blade.
"I reckon the Sharpgrade can't be beat," Trent continues. "It's a really efficient set-up to use and, depending on the size of the job, it effectively allows us to complete a house pad in a day.
It just makes everything tidier, allowing us to windrow material to the left or right, forwards or back, out to almost three metres. Combined with the manoeuvrability of the skid steer, the set-up is a really good combo for us, and we get heaps of use out of it."
Sharpgrade says the G116 is the world's first reversible grader blade with front and rear blades and hydraulic side wings. Like a full-size grader, the Sharpgrade delivers a six-way offset blade paired with hydraulic side wings that swivel forwards or backwards and are designed to cut and trim.
Another attachment Trent is fond of deploying when he can is a Lloyd Rotastar screening bucket, supplied through MSC. Trent says Lloyd buckets offer up great performance and durability regardless of the material being processed.
TBT purchased the screening bucket to screen topsoil for sale and Trent affirms it has proven to be a great investment, delivering quality screened product at a throughput rate that suits the company's demands.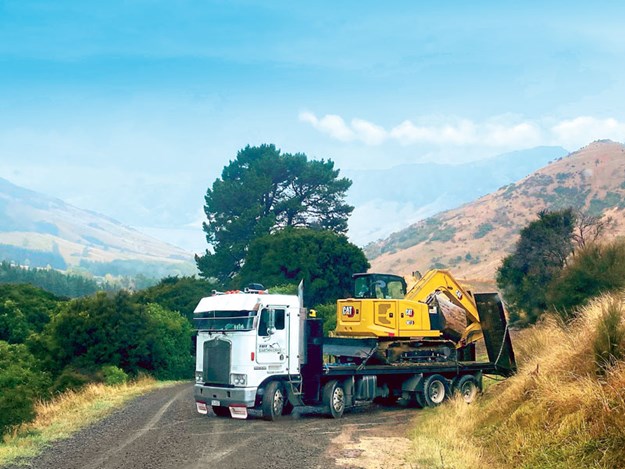 "We rely on all our gear of course – and choose it wisely when it comes time to buy – but we also rely on each other as a team," Trent continues. "Terry is 69 years of age and could still out-shovel anyone I know.
Bianca is super talented and has industry experience galore. We've got good relationships with local suppliers too. "Even I have had to diversify my skill set a bit, learn how to build a website, and do some of the marketing stuff.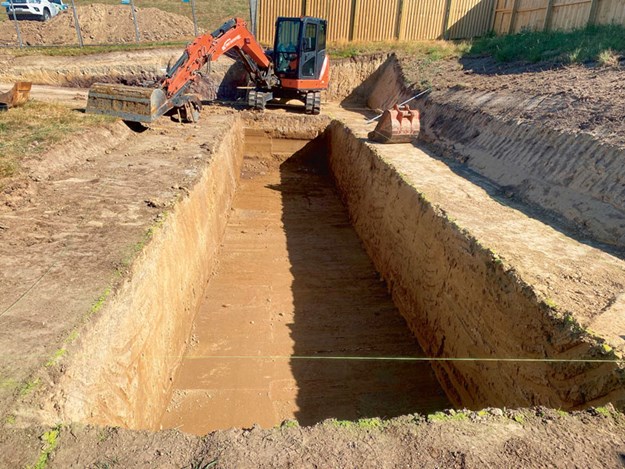 We pride ourselves on what TBT as a company does for our clients, but its good working as a family unit too: we all pitch in to get the work done. It's work we are proud of and are looking forward to continuing with in the years ahead."
Find new and used heavy machinery for sale in NZ
Keep up to date in the industry by signing up to Deals on Wheels' free newsletter or liking us on Facebook.