Special feature: Pristine Projects
---
Deals on Wheels catches up with a Northland company that has taken delivery of New Zealand's first XCMG mini excavator
The Far North of New Zealand is a long way from the mining, drilling, and quarrying industries of South Africa, but it's where Pristine Projects Ltd company owners Dwayne and Tahnee Pauley decided to stake their claim alongside a tight team of professional contractors.
We caught up with Dwayne and his crew on a job site at Tokerau Beach a couple of weeks after the business had taken delivery of New Zealand's first XCMG mini excavator, supplied by AdvanceQuip. We'll get into that shortly, but let's first find out a bit more about the owners of Pristine Projects and the reasons they needed more equipment.
New arrivals
Arriving with his wife Tahnee in the country in 2014, Dwayne got his start working in an orchard before stepping across to infrastructure work primarily in drilling and cable jointing.
This led to subcontract work with hired machinery, and once residency was granted, Dwayne and Tahnee were able to finance equipment and put a permanent business strategy in place.
"We applied for finance to purchase our first machine but was told it would have to be put on hold until residency was granted. As luck would have it, a couple of hours later, we got official confirmation from immigration, so were able to tell the finance company they could go ahead and process the finance application, which was subsequently approved," says Dwayne.
Established in Northland
Since that first lot of finance, Pristine Projects has firmly established themselves as a business of repute that carries out a variety of work across the northern part of the country from a base in Kerikeri. Dwayne says, "With an experienced team and quality equipment, it allows us to tackle pretty much anything and work confidently with customers from the private and commercial sector.
"Our machinery consists of excavators, both traditional and hydro; we also have directional drills and other machinery that gives us a broad scope of capability. This is where the new XCMG excavator will fit in well and having the first one in the country makes it even better."
The latest job
The latest project involves the installation of additional services in an area where many services are already underground and property frontages are long-established. Add to this the need for cultural sensitivity and respect when working in areas of importance to local iwi, and it's easy to see that it wouldn't take a lot to go wrong before awkward questions start being asked.
"We ensure property owners and our on-site cultural monitor knows what we're doing and the likelihood of any impact to daily life," says J-Lee Bosch, who is Dwayne's siteworks manager and brother-in-law.
"Our guys are awesome; I'm always blown away by the quality they deliver," Dwayne adds.
"Having family connections in the business helps, as we know how each other thinks, and it's good support. Tahnee looks after the accounting side of things."
Haititaimarangai Marae cultural monitor Nina Raharuhi adds, "Dwayne and his team have a strong work ethic; they follow strict health and safety protocols, run a very tidy operation, and are respectful to everyone they deal with," says
Up the ante
With around six months of solid work ahead of them, a decision was made to up the ante and purchase a machine that could excavate at pace and support the two underground drill rigs when needed. Another consideration was finding one with a zero-tail swing configuration for working in tight spots when required.
"We prefer to drill under established property frontages or under driveways, but we have an issue here with varying ground conditions," says J-Lee. "There are a lot of areas where we will randomly hit rock or sandstone. It's in situations like this we need an excavator with capability, and the ones we had originally allocated to this job did not have that, which is why Dwayne went for the XCMG."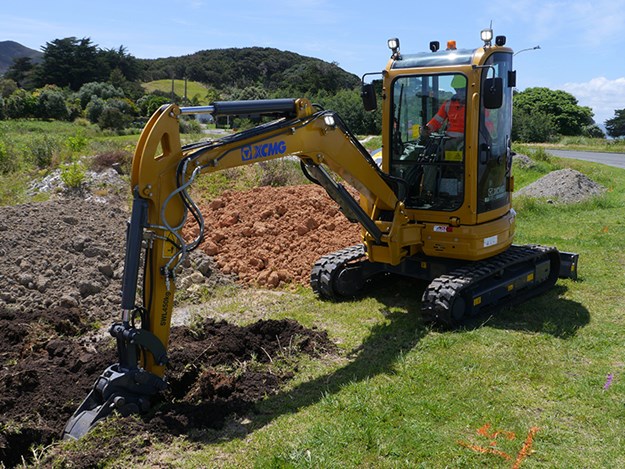 It has been around three weeks since the delivery of the XCMG XE35U and there's an air of positivity for the new arrival. Tipping the scales at 4200kg, the Yanmar-powered excavator was put straight into work under the care of operator Kani-John Nahu and on the day we visited, he was focused on completing a piece of trench that was soon to have cabling installed and then backfilled before moving onto the next section.
With no obstacles in the way until he reaches the end of his run, work is a cinch and the 18.2kW (24.7hp) Yanmar-powered machine makes quick progress through what looks to be peat-like subsoil.
The tropical weather of Northland is making itself known, and Kani-John is no doubt pleased that the air-conditioning is keeping things cool in the cab.
"The aircon is real nice, and I even have Bluetooth (connectivity) in the cab to talk to the boss or listen to music," says Kani-John. "It's a nice machine to use, with good power."
The power of the XCMG XE35U gets put to good use shortly after we speak, as Kani-John makes short work of blading a stockpile of previously tipped spoil aside.
"Look at that," says Dwayne. "Our other machines would run out of power when doing that.
This is what we got this XCMG excavator for—to work hard and not run out of energy."
It's good to see that Pristine Projects have purchased a machine that appears well-suited to their workload and company ethos.
"We haven't had any issues with the machine since we got it; I'm very pleased with AdvanceQuip," says Dwayne.
For more information, visit advancequip.co.nz.
Find new and used heavy machinery for sale in NZ
Keep up to date in the industry by signing up to Deals on Wheels' free newsletter or liking us on Facebook.