Porter Press Extra: Porter Hire adds Hyundai HX firepower
---
Porter Hire has deployed a large fleet of the highly-anticipated Hyundai HX range of crawler excavators into its national hire fleet
Now available to the New Zealand civil construction and earthmoving sector for flexible short- and long-term rental, the Hyundai HX range pushes operator connectivity, comfort, and safety to an entirely new level of excellence in the heavy machinery market.
Hyundai HX145CR, Hyundai HX220L, and Hyundai HX235LCR excavators are now available for hire, with two Hyundai HX235LCRs already on-site with a significant roading contractor customer.
Porter Hire national hire manager, Scott Briggs, says new and existing hire customers will be impressed with the level of standard safety and technology specification available in the new machines.
"The HX series machines represent a big leap forward for Hyundai. Essentially, almost every aspect of the machines has been updated and the improvements to the suite of technology onboard are significant," says Scott.
"The advances in technology—and specifically technology that improves operator safety—have been big drivers of customer interest since the Hyundai HX series launched here. The flexibility of Porter Hire's rental programmes means customers in all sorts of disciplines can now benefit from this technology too."
Scott says that several hire customers have specifically requested Hyundai HX series machines, citing their advanced safety systems, durability, and operating efficiencies as key motivators to move to the next generation excavators.
"Keeping up with new technology is important for our hire customers; we're very pleased to be able to deliver on the request for the very latest options in this regard."
There are big advances in the engineering, design, and operating durability of Hyundai HX series models. But the most immediately recognisable changes have taken place in the cab, which offers up 13% more space over the previous cab design and features an all-new instrument cluster with a redesigned widescreen display that matches the look and operational feel of a modern smartphone device.
Hyundai has also thoroughly overhauled the heating and ventilation systems in HX series machines, with new vents that direct airflow throughout the cabin in a much more efficient manner in both the depths of winter and the heights of summer. Similar behind-the-scenes efforts have gone into ensuring the cab boasts lower noise and vibration levels than in past model generations.
There is also more safety technology onboard the Hyundai HX crawler excavator range than ever before: technology designed to assist both the person behind the controls, as well as those working around the machine.
Hyundai's state-of-the-art Advanced Around View Monitoring (AAVM) camera system has every corner covered, providing the operator with a secure field of vision right around the machine, thanks to multiple cameras. No less than nine views are available, including a clever 3D 'bird's eye' view, which shows the machine and its immediate surroundings from above in real-time.
Also, Hyundai's Intelligent Moving Object Detection system—another new addition for HX series excavators—will sound an alarm to let the operator know when a person or object is detected within their range of operation, up to five metres away.
"Over and above these great features from Hyundai, Porter Hire customers will also have the option of being able to select impressive extra technology in the form of Topcon X53i 3D GPS machine control systems," continues Scott.
"This really does give our customers the latest combination of technology that will allow their teams to work smarter and more efficiently."
Topcon's world-class 3D GPS software effectively eliminates over-excavation and rework by tracking every bucket movement in real-time, ensuring target grades are reached precisely.
Using a bright and clear touchscreen in the cab, the excavator operator can dig to design accurately every time, regardless of whether they are in a trench, on the flat or shaping more complex designs.
Convenient fingertip button controls on the joysticks provide instant access to automatic grade depth and bucket angle assistance, meaning more efficiency and productivity in the field.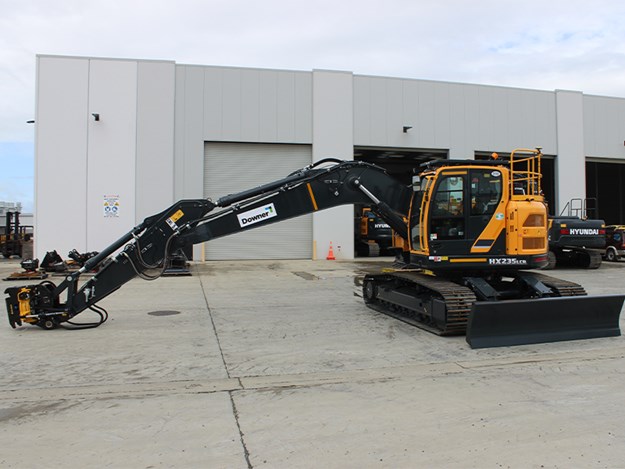 Jamie Nelson, machine control specialist with Synergy Positioning Systems, which distributes Topcon machine control and surveying equipment in New Zealand, says Porter Hire customers will be able to benefit from a comprehensive machine control package that also offers flexibility.
"We can provide full systems or prepare excavators with the cabling to eventually adopt Topcon machine control. The beauty of this is that the machines can be capable and ready to go when on-hire or have the X53i head unit removed when off-hire. This flexibility will also come into its own seasonally," says Jamie.
"We see parallels between the support we can provide Topcon customers up and down the country and the support Porter Hire offers its clients. They are very well known for being able to assist regardless of where their customers are based, and we feel the same with the back-up we offer contractors utilising our leading technology as well."
Jamie says Synergy Positioning also supply all the set-up and training services a Porter Hire customer might require in order to get the best out of Topcon machine control.
"The technology really is world-class, and it gives contractors in any segment such a massive efficiency and accuracy advantage. We're looking forward to showcasing what it can do for Porter Hire customers throughout the country."
Under the maintenance covers of the Hyundai HX145CR, Hyundai HX220L, and Hyundai HX235LCR excavators, hire customers can also expect even better fuel efficiency from the Cummins-developed turbo diesel engines that are a feature of the entire range.
The manufacturer's new Variable Power Control system minimises equipment input and output control signals to improve fuel efficiency, using a three-stage power setting (Power, Standard, and Eco) to find the perfect balance between the highest performance and the most efficient fuel burn rate in any operating environment.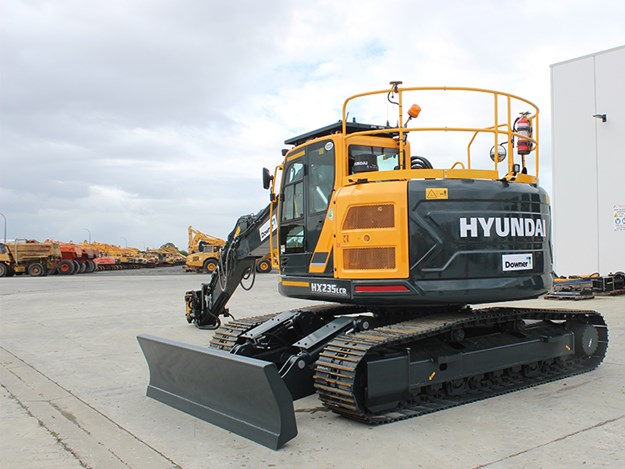 Variable Power Control offers up a seven percent improvement in​​ fuel efficiency when loading, a five percent improvement when levelling and an overall combined eight percent improvement across daily usage than customers will have experienced with the previous generation of Hyundai crawler excavator.
The Hyundai HX series also features a new, durable cooling system with increased airflow, and improved lubricity of connecting parts between the machine and attachments using wear-resistant long-life pins, bushes, and polymer shins. These are all designed to lengthen front-line service life for components and build on the already hard-wearing reputation
Hyundai machinery enjoys in every corner of the country.
"It's great to see our new Hyundai HX series machines heading out to hire customers and we are certainly looking forward to placing plenty more in the months ahead," concludes Scott.
"The ability for companies in almost any sector of construction to quickly tool up with the very latest in machine technology is right here, right now."
Find new and used machinery for sale in NZ
Keep up to date in the industry by signing up to Deals on Wheels' free newsletter or liking us on Facebook.