Contractor profile: Alex McCleary
---
Deals on Wheels headed to Hamilton in the mighty Waikato and caught up with demolition contractor Alex McCleary of Pro Demolition Limited
For the people who keep across contracting via the juggernaut which is Facebook, then Alex McCleary, or Alex Mc as he is more widely known, will be a familiar name. For those who perhaps wisely stay away from social media and haven't encountered his unique brand of humour, let's just say that Alex is a vocal critic of what he sees as injustices, stupidity or any opportunity to poke fun at the industry.
Whether it be other contractors, equipment suppliers, or industry icons, no one is immune to the Alex Mc wrath when he's on fire. What I find interesting, however, is that more often than not he's on point, and two generations ago, most people wouldn't have batted an eyelid to his sometimes voracious rants, but in the politically correct world we live in today, he can certainly ruffle feathers; oh yes, he's a disrupter in the widest sense of the word.
However, if you take a step back and not let the slightly askew baseball cap, youthful exuberance, and pointed language distract your concentration, underneath there's a raw intelligence and passion for his industry of choice, which makes you stand up and take notice.
So, what is the guy all about and more to the point, who is he? I decided we all needed to find out more.
First meet
I first met Alex when he entered the inaugural Mimico Excavator Competition at the Kumeu-held Truck & Machinery Show in 2018. He put in a top effort despite operating small machinery outside his comfort zone, coming somewhere near mid-pack if I recall correctly.
What I do remember is he told me his reasons for being there was to support the industry and connect with other like-minded people, which I thought was commendable.
So, as his phone number had been keyed into my phone for a while, it was a fairly easy process to organise a time to catch up at a site on his current home turf of Hamilton.
It was here another perfectly good residential home had just fallen to one of Alex's excavators, making way for a gaggle of new home units to soon be shoehorned in.
Like a lot of busy contractors short on time, it wasn't until near the end of the day that we finally got to meet up in person, but once you have his attention, his focus is fully on the job at hand.
Early days
Alex grew up in a non-contracting industry family, being born in Auckland before spending 10 years in Taranaki, leaving there at 18 years old. He talks positively about his youth and his school years where he says he was assessed in the top two percent in New Zealand and Australia in English.
"I had a great upbringing and enjoyed school until my parents pulled some strings and got me into a strict Catholic school as a non-Catholic. The formality didn't go all that well; I lasted about two-and-a-half years before being asked to leave and was done school totally before my 15th birthday.
"I probably could have moved onto something academic, but I didn't fit the system, didn't want to wear a suit, just wanted to be around diggers.
"Growing up in the glory days of MTV, Bam Magera, and Tony Hawk, I was heavily influenced by them and just wanted be out there, live that life and have a bunch of fun."
Once untied from the shackles of establishment, Alex worked for an engineering company, automotive parts, online retail and even a brief stint in a bowling alley ("it was pretty hilarious") before eventually crossing over to earthmoving as an operator, then into demolition.
Demo time
"I was about 24 when I got into demolition, which was at the other end of the spectrum from my Dad, who was a builder," he says.
It was in Hamilton that Alex picked up his demo skills, working for three years for a local company, and one could say, it's where his real schooling began.
"There are times when I feel a bit sorry for my old boss, I'm a terrible employee and just had to do things my own way," he says.
"Pity those who try and tell me how to do it, but in the end, I was doing everything from beginning to end, so thought it best that I just go and do it on my own."
Independent life
Independence had always been high on Alex's list of life goals, and in a move that many contractors see with keen staff, he purchased a second-hand skid steer loader and set up in competition to his former boss.
"The skid steer was a dog and I'm still not impressed with the company that sold it to me, but as Tony Beets—from the Gold Rush TV show­—says, lessons cost money and good ones cost lots," he says.
Alex also figured a truck was needed to haul the skid steer, so with minimal funding he purchased an old fire engine thinking it could be made into a flatdeck.
"Of course, back then I didn't realise the need for certifications or anything, so ended up just driving it round as a functional fire truck instead of my car. That was pretty fun."
Firmly established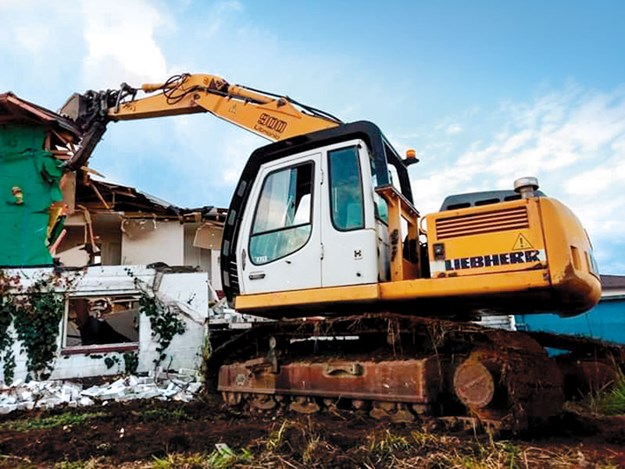 The first excavator was a Kato, which Alex points out was a Japanese-made model, although, these days he seems to be firmly in the Liebherr camp.
"The one I've got here on this job is in need of a bit of a birthday now but she's a gem and actually has low hours for a Liebherr at 5800; they regularly do 20,000+. I like the weight distribution and power; they have a real presence and solidness to them."
The trucking side of things has taken off in the last year, with five rigs in the fleet currently and a strong penchant for Isuzus.
"I guess probably the thing I'm most proud of is that I've built up this business on my own, my way. Other people strut around like kings, then you find out the bank of mum and dad have paid for everything or its financed through the roof, which is great until the work dries up."
With a solid line-up of jobs to be completed by January, the Pro Demolition crew will have their work cut out for them, although like magicians, they seem to be in a lot of different places at once.
"I think most people just focus on what I'm doing here in front of them, not what's over there out of the limelight. I've always got other things on the go and trying to stay one step ahead," Alex says.
A lot of people see Alex as controversial and perhaps he is, but you really have to admire someone who calls things as they see them and marches to the beat of their own drum. 
Find new and used machinery for sale in NZ
Keep up to date in the industry by signing up to Deals on Wheels' free newsletter or liking us on Facebook.