The hunting logger
---
Back in the days, it wasn't uncommon for loggers to often hunt in the forests they were working in
How times have changed with what we can and cannot do inside the forests we work in.
Back in 1973, when first venturing into the logging industry, it was not unusual to see a rifle under the seat of the work wagon. Logging Kaingaroa Forest of trees planted through the 1930s had left deer and pigs pretty much in an untouched habitat and recreational hunters and loggers would be out most weekends looking for meat for the freezer.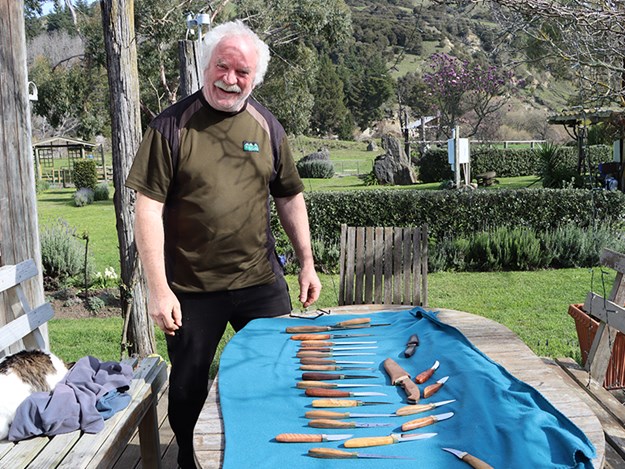 With animal numbers in Kaingaroa quite high, it was not uncommon to see deer when going to and from work. I recall logging truck driver Ross Douglas arriving at our skid one morning for his Napier load and in the process dropping a deer carcass on the gang bus that he had knocked over on the way in.
The Hiace with a gun rack
After scoring a contract with Pan Pac in 1979 and buying a second-hand Toyota Hi-Ace nicknamed the 'Licorice'—because of its paint job in ex-Nihill Bridgeman Croad transport colours of white blue and orange—my first job was to install a gun rack behind the front seats, with the rack in plain view.
The contract with Pan Pac was logging ponderosa, stunted little 50-year-old trees with mass branches and no fancy de-limbers on-site. Speaking of work sites, nothing was ever taken or touched by anyone. When finishing work for the day, we left chainsaws on-site and just picked up and carried on the next morning. There was even the odd machine left idling all night, to the surprise of the operator when he arrived.
Working off the Western Boundary road off the Napier-Taupo Highway, it was not unusual to see deer on the way to work. If we were ahead of time, a detour to the block was always on the cards and a few deer were loaded into the back of the van.
Back then, the forest was still administered by the Government Forest Service and most of these guys were hunters. The bush boss at 60/8 was Dave Brett and his 2IC Ray Doherty, the father of triathlete Bevan Docherty. They were hunters and if news got back to them that you had tipped a deer over, they wanted to know where.
Changes started with the sell-offs
Imagine that in today's world. Logging hunters enjoyed this freedom until the Labour Party took power in 1986 and started selling off all state-owned assets.
With the ownership change of our forest to private entities and the Health and Safety Act of 1993, forest owners closed their gates for fear of prosecution should someone in their forest hurt themselves when either hunting or getting firewood.
People's fear of guns and gangs gained prevalence around the country and changing gun laws made it more difficult for logging hunters to gain access to old hunting grounds.
A pig hunters club in the Tokoroa region managed to negotiate with the forest owners to hunt their forest on weekend, although, with certain restrictions. It was a good result and even to this day, driving through their forest on State Highway One, you can see many utes with dog crates on the back, parked up on the side of the road, with people out on a hunt.
Custom knives
My logging venture started with a C7 Tree Farmer and a 303 rifle, but where do you go if you're looking for a quality hunting knife of a custom fit for your hunting rifle?
While logging a block in the late '90s in the Southern Pureora's Waituhi block for Rayonier Forestry, a huge amount of salvage native timber was recovered and taken home. Word got out to some of New Zealand skilled knife makers looking for that special piece of wood for their knife handles.
That was how I met extraordinary talented Kiwi Steve Wheeler from the Esk Valley in the Hawke's Bay, who has a passion for the outdoors and an intricate mind that's forever looking to create a special piece.
Steve has been around the traps, police force, army territorials, diver, hunter, and now an author, with a passion for invention. His skill set is not surprising considering his upbringing.
He was born in Christchurch in 1957 to a marine engineer, boat designer, builder, and photographer. His mother was a talented singer until a car accident destroyed her voice box; she was also a talented palette knife oil painter.
The family moved to Westshore, Napier where Steve spent as much time as he could, when not at school, in his father's boat building and maintenance business.
What I find amazing when visiting 'Wheels' is that nothing seems to change but his hair colour. His workshop to me is like looking for a rare pine needle in a forest, with shelves stacked high with wood. To me, it looks like junk for miles, but to him, it's a shed full of treasures that only he knows how to find.
If you're looking for a special piece of jewellery, Steve will design it for you, or if you want a special knife for pig hunting or custom-made rifle stock, then you need to see this guy. It will be unique; the only one like it. I've had Wheeler knives in my kitchen for more than 25 years and they've never let me down.   
Like a huge number of talented Kiwis, they are hidden away and sometimes it's just by chance that we find them. So, if you're ever going past Esk Valley, make this a 'must-do' on your to-do list
For more information on Steve's knives and custom work, contact 027 295 4111.
Find new and used heavy machinery equipment for sale NZ
Keep up to date in the industry by signing up to Deals on Wheels' free newsletter or liking us on Facebook.