Product feature: Bell F-Series Tele Logger
---
The F Series 225F HP Tele Logger has strived to improve on safety and ergonomics as well as key components
Over the years, Bell Equipment has gained a reputation for building strong reliable machines such as their ADTs. They have also succeeded in relaying that reputation into their F-Series Tele Logger.
Generations of manufacturing at Bell has brought about a tele logger that the company says is like no other. The F Series 225F HP Tele Logger has strived to improve on safety and ergonomics as well as key components such as lower cost per hour solution and strong reliable machines. All this while still in keeping with their core design element of simplicity.
First developed by Irvine Bell in the early 1960s, the Tri-Wheel design is a concept based on the motion of how a person would be walking and picking up the logs. This concept has paved the way for the 225F Tele Logger while undergoing subtle improvements through its evolution.
By transitioning from an air-cooled to a water-cooled, 57kW (76hp), turbocharged, four-cylinder engine, the machine emits lower operating noise levels and a cooler operating temperature. The Yanmar water-cooled engine also has a lower fuel burn and lower running costs to really maximise production efficiency.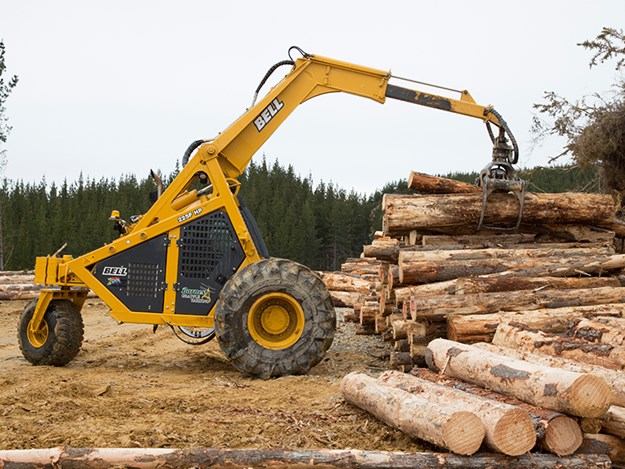 The 225F Tele Logger is also equipped with a pilot operator self-neutralising transmission, which helps for ease of operation and operator safety. There's also a spring-applied hydraulically release (SAHR) brake as a fail-safe which reduces any brake-related safety risks.
"Unlike previous models, the F-series frame is both ROPS and FOPS certified and being triangular means the force is distributed evenly for durability," says the Bell Equipment product manager for CablePrice, Anton Snyman.
"Rear-view vision has also been a problem with similar machines in the past, which is why Bell has made it standard in the F-series Tele Loggers to have a reversing camera. This makes it even faster for fleeting timber. It can also work in smaller and tighter spaces because of its unique turning being almost able to work within its own turning circle," says Anton.
The simplicity of the design also integrates the hydraulic tank into the frame seamlessly, as well as giving a larger and brighter cab with enhanced instrumentation. Other ergonomics features include better entry and return points for operators, more headroom, and an adjustable suspension seat.
Although many have pursued the Bell Tri-Wheel design, none of them quite tally up to understanding the essence and philosophy of this machine, the manufacturer says. And now with the new improvements, Bell continues to lead the way in enhanced operator productivity and safety.    
For more on the Bell Tele Logger, contact your local CablePrice Equipment sales specialist or visit cableprice.co.nz. 
Keep up to date in the industry by signing up to Deals on Wheels' free newsletter or liking us on Facebook.