Porter Press Extra: Rosewarne Logging Ltd
---
Terex's TA300 ADTs prove their worth wherever they're deployed—even in the hills of Northland, and even if the 'Dump' part of 'Articulated Dump Truck' no longer applies
The sight of a big white, black, and red Terex TA300 ADT (Articulated Dump Truck) working hard on a roading construction project, in a quarry, or at a mine site probably isn't one that'll result in too many double-takes.
But a Terex TA300 ADT working on a forestry skid site? That's certainly not something you see every day. Hang around Rosewarne Logging Ltd's operations for long enough, however, and you might end up seeing two.
The well-known Northland logging contractor, helmed by Colin and Shirley Rosewarne, has recently taken delivery from distributor Porter Equipment of a brand-new Terex TA300 with a difference.
Modified to the company's unique specifications, the 370hp five-cylinder dumper arrived on-site missing a significant piece of bodywork: namely, its big 17.5 cubic metre capacity tip body.
In place instead of the tip body are bespoke logging bolsters paired with a heavy-duty headboard, transforming the ADT into a log carrier. The new configuration means the Terex can haul pine logs of up to 7.8 metres long in a two-stage load-out before the logs are loaded onto logging trucks.
It's performing short runs at present, but as the crew of eight work their way through this block near Pipiwai over the next few years, the load-out work and the distances required will see the ADT used further afield.
Operator comfort
Driver Robert 'Gnomey' Saunders was at the wheel during my visit and, although it's still pretty much box-fresh with only a month's worth of mud on its tyres, Gnomey is thoroughly pleased with the new truck.
"It's a really good truck and everything is automatic. It's easy to drive and very comfortable to be in, too," he says. Terex understands that operators are often in the cab for long stretches at a time.
Especially evident in the latest (10th) generation Terex ADTs is the Scottish manufacturer's efforts to reduce fatigue and lessen wear and tear, not only on the trucks themselves but also on those that drive them.
To that end, Gnomey's Terex TA300 features fully independent front suspension—the double wishbone design coupled with four hydraulic dampers/coil over springs. At the rear—and despite this particular Terex carrying a very different load during its working day—each axle remains coupled to the frame by three rubber-bushed links with lateral restraint by a transverse link. 
The load on the rear axles is equalised by pivoting inter-axle balance beams, although, careful loading by the Rosewarne crew ensures relatively consistent load weights on the truck's frame for every run.
Regardless of the load, though, the Terex TA300 remains perfectly calibrated with the correct balance of power and gearing for productive drive to the wheels, which are wrapped in 750/65 off-highway all-terrain tyres.
Hydrostatic power steering (four turns lock-to-lock) and an air-suspended driver's seat make things more comfortable in the cab regardless of the terrain, with simple push button controls taking care of most functions. A bright, high-resolution monitor in the cab provides the view from the rear-facing camera mounted at axle height and gives the operator eyes all around the truck as well.
Strong and reliable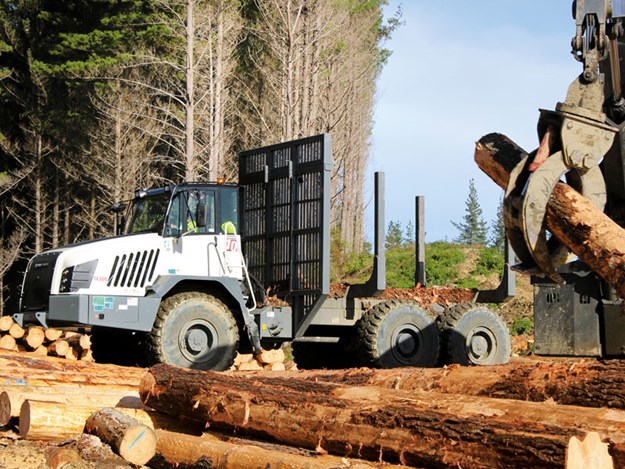 Proof that the Terex is the right tool for this particular job comes from the fact that it's actually the second Terex ADT that Rosewarne Logging Ltd has configured in this way. The original plan was to replace the older machine with this newer example, yet the amount of work on for the company saw them take possession of the brand-new Terex TA300 and retain the other on the fleet as well.
Crew supervisor, Richard Connolly (better known by all as Buddah), explains that the company's other Terex differs from this new one, however.
"The other truck was a second-hand unit we purchased. We actually cut the chassis of that one and stretched it out to take longer logs," he says.
"Due to everything ramping up here and the time constraints we were under, we wanted to get the new Terex in as quickly as possible, so we didn't have time to cut and extend it like the older truck.
"They're strong and reliable trucks and we know from our experience with the other second-hand unit that we'll get a good run out of this new Terex. Porter Equipment supplies us with other machines for our fleet, such as our Madill 124 swing yarders and 3800 Processor Base, so we know them and the back-up service they provide for us out here; they're good to deal with."
Porter Equipment territory manager, Paul Gorrie, says that Terex has been making rigid dump trucks for more than 60 years and are the second-oldest manufacturer of ADTs in the world.
"Terex trucks are very practical in so many different applications around the world and in many of the world's toughest environments, too. So, it's no wonder even down here in New Zealand they are the 'go-to' for many different companies doing many different things," he says.
"We're immensely proud to support Rosewarne Logging Ltd and we've been building on a strong relationship with them for some time now. We wish them well with this latest addition to their growing fleet."
Find heavy machinery for sale in NZ
Keep up to date in the industry by signing up to Deals on Wheels' free newsletter or liking us on Facebook.