Terex Ecotec trommels product feature
---
Two models of Ecotec trommels have recently been imported by MSC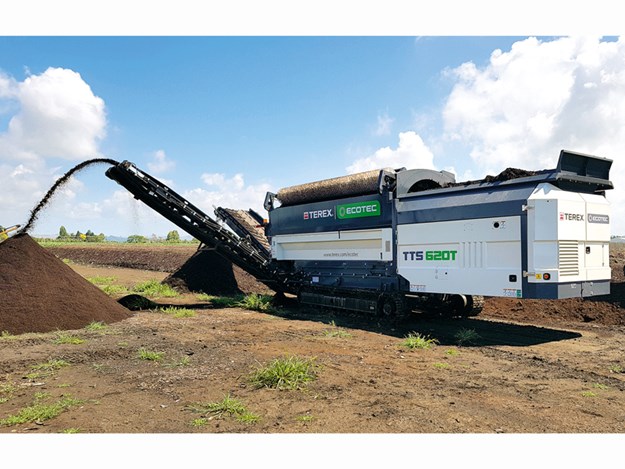 Mobile Screening and Crushing (MSC) have recently imported two models of Terex Ecotec trommels that will soon be delivered to composting sites in New Zealand. Terex Ecotec are renowned as industry leaders in the design and production of equipment for the materials processing market, manufacturing a wide variety of trommels and shredders in a range of sizes. MSC are the exclusive New Zealand agents for the brand.
TTS 620—Tracked Trommel Screen
The New TTS620 trommel incorporates a design that's focused on lower running costs, high production, and a smaller footprint. This is achieved by a Cat C4.4 Tier 3 constant speed engine, powerful hydraulic system, and an intelligent feeder control system. It results in reduced fuel usage, emissions, noise, and a "fantastic rate of production," says Dan Miekle, MSC sales manager.
Intelligent feed control
The machine has an easy-to-use push button start-up system and can be configured to multiple applications at the turn of a dial. The intelligent feed control system continually adjusts the in-feed speed to ensure the product is kept at an optimal rate of screening through the trommel drum.
Swing-out engine and hydraulics
Engine and hydraulic components are side mounted for under-feeder clearance, allowing excess product to fall to the ground, which reduces build-up around the engine bay. The engine can also be completely swung out the side of the machine giving what's said to be unrivalled access to the whole engine and hydraulic system.
"Terex have really focused on maintenance access while designing this machine. It has amazing access to all belts, drum, engine, and hydraulics," says Dan.
Remote control system
The optional remote control system has been added to the machine, allowing for the TTS620 to be moved around the site from the operator's excavator or wheel loader cab while still in operation. Other features of the remote include feeder speed adjustment, feeder stop/start, trommel drum speed adjustment and engine stop. This also allows the operator to windrow product as they work along the raw product pile.
Phoenix 1600—Wheeled Trommel Screen
The Terex Phoenix 1600 trommel was designed with ease of site movements and large stockpile heights in mind. Like the TTS620, it also incorporates a Cat C4.4 Tier 3 constant speed engine, which runs at a low 1500rpm to combat emissions and reduce running costs.
Quarter-circle mesh sections
With a 4900mm (16ft) x 1540mm (5ft) drum, the Phoenix 1600 has high production capability due to the large screening area. It has removable quarter-circle mesh sections inside the drum, allowing for quick screen changes without having to remove the drum.
"This is a feature that sets the Phoenix 1600 trommel's drum apart from a number of other drum designs," says Dan.
5.9-metre high stockpiles
The Phoenix 1600 comes with a radial stockpile conveyor, which can be used to create stockpiles 5.9 metres high and radiates 180 degrees via remote control. This allows the operator to stockpile a significant amount of product without having to move the trommel.
Smooth in-flow of raw material
The remote control also has a feeder stop-start and an engine stop function. The machine also has an intelligent feed control system and a large entry into the drum, designed to ensure a smooth flow of product the will not build-up and jam in the opening.
"A fifth wheel connection, tandem axle bogie, and quick set-up time makes the machine easily transportable from site to site.
"The Phoenix 1600 is also available in a tracked configuration," says Dan.
For more information, visit mobilescreening.co.nz.
Keep up to date in the industry by signing up to Deals on Wheels' free newsletter or liking us on Facebook.