Cover story: Hyundai HL757-9 wheel loader
---
For Ballance Agri-Nutrients, machines have to be specified right to ensure the best possible durability and performance
Underground mining aside, there's possibly fewer environments that create a harsher working life for the average heavy-duty machine than a fertiliser bulk store.
An abrasive environment at the best of times, some Ballance Agri-Nutrients sites might shift a thousand tons of product in a single day, so traditionally, there's a high risk of corrosion for mobile plant, with ample opportunity for paint surfaces, hydraulic lines, and wheel hubs to deteriorate.
Recognising the need to proactively protect machinery at its plants, Ballance formed a nationwide preventative maintenance regime for operators across its 50-plus sites some years ago.
Bred out of necessity, the company recognised that its enormous investment in Hyundai wheel loader grunt had to be looked after.
With more than a hundred wheel loaders on the books, Ballance consulted with Hyundai distributor Porter Group to develop a specification for its machines that addressed all of the challenges of the business.
Maximum performance
The machine spec (more on which in a moment) now acts as something of a template for all Hyundai wheel loaders the company orders.
While the Hyundai HL757-9 on these pages isn't the biggest example of Hyundai wheel loader Ballance runs across its national network (Deals On Wheels covered the arrival of a big Hyundai HL770-9 at the company's main Mount Maunganui distribution plant about five years ago, for example), this recent addition at the Te Awamutu branch in the Waikato is still bigger than the machine it's replacing.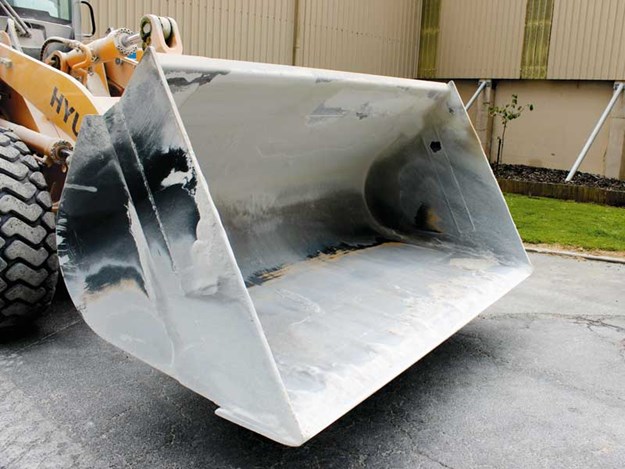 "It's bigger, which means we can load faster, which helps with individual loads as well as speeding things up across a working week," Karl Magon, the machine's main driver, says.
"The store is of a reasonable size, but it still has some tight corners to negotiate depending on which bins you're heading for. The new machine is very smooth to operate inside the store though and there is plenty of visibility."
Operator comfort
Along with Ballance's other Hyundai 'dash 9' wheel loaders (a mix of HL740-9s and HL757-9s are the general-purpose models the company works with), the Te Awamutu depot's new load-shifter features a redesigned cabin that offers Karl more space inside and a wider field of vision.
The front glass is rounded and 17% wider than the previous series machines, which makes a difference inside bulk fert store.
Similarly, big mirrors and the 5.7-inch wide colour LCD screen through which the rear-view camera shows what's behind the machine give Karl extra eyes when moving around the yard.
Another standard feature for every wheel loader heading to a busy Ballance Agri-Nutrients depot are the specialised LED work lights—as handy at combating the haze of the fert bulk store as they are lighting up the pathway ahead outside the building on the particularly grey and stormy afternoon that I visit the Te Awamutu operation.
Helping Karl with that smoothness of operation when loading trucks is the Hyundai HL757-9's variable operating modes.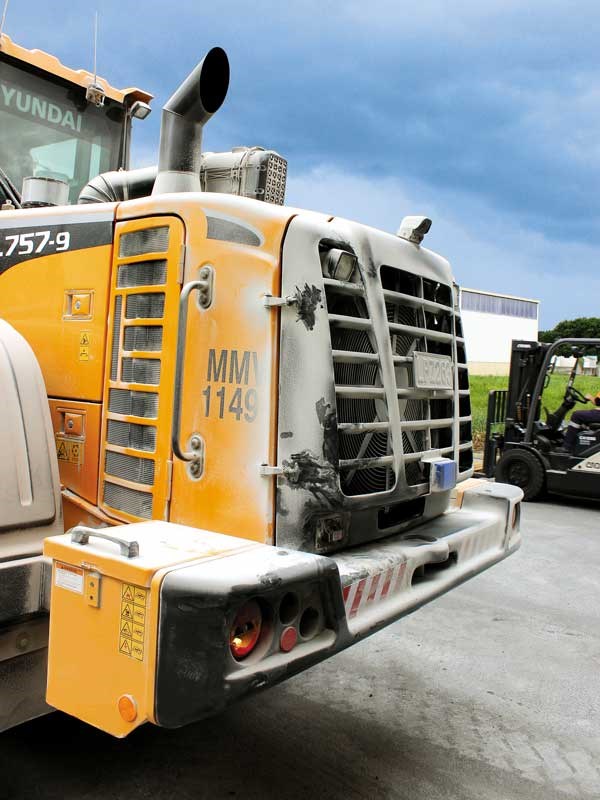 Depending on which activity the machine is undertaking, this multi-mode system (selected through rotary switches for on-the-fly adjustment) gives the operator the most efficient mix of engine power and transmission shift depending on whether light- or heavy-duty loading is required.
Similarly, the 'dash-9' machine's ride control system has a shock absorbing accumulator that cushions the boom, helping with in-cab comfort and helping to reduce material loss.
Client specifications
Speaking of material loss, a further must-have for Ballance Agri-Nutrients' machines are the flat covers on the front wheels. These simple guards, which sit flush with the front hubs, come into their own when the operator drives into the fert pile and pushes up to load.
On larger piles, the front wheels will generally drive into the pile, too. Without covers, the front hubs would fill with the product as the driver reverses out, tracking material across the load bay floor.
Not only do the Ballance-specified wheel covers mitigate a mess across a day's loading activity, but they also help save money over time, with every grain of fertiliser inadvertently spread across the ground between the bins and an awaiting truck representing lost revenue.
Ballance Agri-Nutrients' wheel loader specification even extends to paint treatments on many of its machines. Trialled with the assistance of Porter Equipment, a special Nano Clear paint system has been adopted to combat acids and other contaminants in fertiliser.
Three coats are applied to guards, body panels, and pipework; pretty much every surface except the windows. At the end of a shift, this means the operator can hose the machine down without any worries.
The changes implemented to the wheel loader fleet with the assistance of Porter Equipment means that Ballance no longer needs to rebuild machines after 8000 hours because they've rotted out.
It's a unique aspect to the customer support that Hyundai equipment's trusted New Zealand distributor is already well-regarded for. Protecting the national fleet will add thousands of trouble-free operating hours to the average Hyundai wheel loader for the company.
Some sites are busier than others (the Te Awamutu depot supplies around 55,000 tonnes of fertiliser to regional customers per year), but regardless, a distinct through-line for Ballance Agri-Nutrients needs to be a consistently-performing mobile plant.
"Things can change in a moment around here," Karl says. "One minute there isn't anyone waiting for fertiliser, and then the next, you've got trucks lined up out to the gate. So, it's great to have a new machine like this that is proving very dependable."
Hyundai HL757-9 wheel loader specifications
| | |
| --- | --- |
| Engine | 6-cylinder, turbocharged |
| Gross power | 173hp (129kW)  |
| Fuel tank | 294L  |
| Operating weight | 14,500kg  |
| Bucket capacity | 2.7m3 heaped 2.4m3 struck  |
| Breakout force-bucket | 12,530kg  |
| Wheelbase | 3050mm  |
| Ground clearance | 410mm  |
Keep up to date in the industry by signing up to Deals on Wheels' free newsletter or liking us on Facebook.