Komatsu teardown
---
A multi-truck convoy left Road Metals' Yaldhurst quarry with a Komatsu excavator, bound for the US. We find out more about the well-planned effort that ensured the 200-tonne machine was dismantled in time.
Strange as it may seem in the land of many machines, and thanks to President Donald Trump's stand on climate change, the resurgence of coal and other mining in the US has seen a lot of redundant big gear placed back into operational roles.
And it's not just the US. The mining resurgence has also affected this part of the world, with machinery sellers in Australia reporting an increase in enquiries for 200-tonne backhoes and 100-tonne trucks— a good productive loading/carrying match.
With sources for the big equipment drying up, nets are being cast wider to find suitable equipment, and this is where the New Zealand located 204,120kg PC2000-8 came to a buyer's attention.
South Island-based Global Tractors had the machine advertised and were approached by a buyer from the US who had been tasked with finding a machine of reasonable hours that had been: well-cared for, came with accurate machine history, and hadn't been flogged-out by careless operators.
It then transpired the South Island of New Zealand was where the search for that mining excavator ended, and Global Tractors' father and son duo, Stewart and Marc McSkimming put the deal together.
However, the signing of a sale and purchase agreement was just the beginning of what was a well-planned effort to ensure the 12,000-hour, 200-tonne machine was dismantled in time to meet all the necessary transport and shipping deadlines.
The teardown process
The machine was parked in a Road Metals quarry just out of Christchurch and consideration had to be given that the teardown was not normal to the quarry operations and its health and safety procedures.
"To ensure everything was carried out correctly, we worked with Road Metals and procedures relating to the unusual event were established," Stewart says.
"Apart from abiding by the normal quarry health and safety rules, the other two main points were based around zero tolerance for any fluid spillage and compliance for all personal safety when the cranes were on-site and rigged, as some of the lifts were heavy."
Ensuring the PC2000-8 was efficiently pulled apart was not a unique experience for the experienced machinery business owners, and the local Komatsu dealer put three technicians and an apprentice onto the dismantling project.
"We're quite used to dealing with and exporting larger equipment having done a package for Solid Energy, and recently a Hitachi EX1900, which we tore down in Tauranga and shipped into Hong Kong," Marc says.
"Having the right team around us was a critical part of the operation. For the Hitachi job, we used CablePrice out of Auckland, so it made perfect sense to use Komatsu for
the PC2000-8 in Christchurch.
"We have our own capable mechanics who could have completed this project but it was important not to impact our existing customer base. Also critical was that the machine was dismantled as per the OEM's procedures, so it could be re-assembled easily at the other end."
More than 2200 litres of diesel, 1100 litres of hydraulic oil, engine oil, and coolant had to be removed and disposed of. All hydraulic hoses needed to be capped off with steel caps (a shipping requirement), and some Komatsu service and lifting tooling was required during tear down.
The component lifts required two large cranes, a smaller crane, telehandler, and a crew. For this and the transporting logistics to Lyttelton Port, Global Tractors contracted Blair Keating's Canterbury Cranes.
"It's a reasonably big job to pull these machines apart, but the manufacturer's design process allows for the machine to be fairly easily broken into pieces for transportation to other locations," Marc says.
"So, with everything being able to be separated into modules, it is a reasonably straightforward task to pack the machine. Four, 40-foot flat racks and four, 40-foot high-cube open-top containers were required to house the machine for shipping."
The individual track frames at 24 tonnes each and the counterweight at 26 tonnes went into their own containers.
The boom at 23 tonnes had its own flat rack; the engine pod and stick shared a flat rack at 30 tonnes. The upper structure at 36 tonnes had its own flat rack, while the rest was strategically packed into an open top and onto a flat rack. Of the four flat racks, only one remained in gauge for transporting
"Lashing all the components to Marine Survey requirements is something that Marc and I have become very efficient at," Stewart says. "Planning is required to figure out some of the more difficult loads, like lashing and securing a 26-tonne counterweight into a 40-foot open-top container where container securing points are very poor, however, we haven't had a load move yet.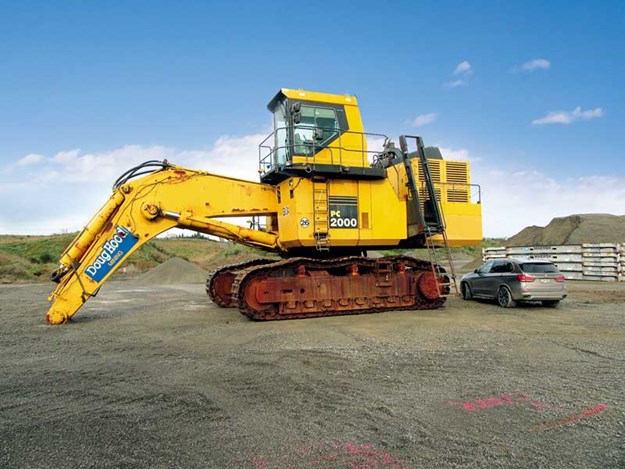 "We used 350 metres of 10mm chain, 84x10mm load binders, 38x3-tonne ratchet straps and numerous pieces of dunnage to keep things from moving."
The Komatsu PC2000-8 left Lyttelton Port on the 12 August 2018, bound for Seattle, then an 1800-mile road trip into North Dakota for reassembly. Once assembled, the machine will be fitted with a new 25 cubic yard bucket and put to work extracting coal.
For more details, visit globaltractors.co.nz.
Keep up to date in the industry by signing up to Deals on Wheels' free newsletter or liking us on Facebook.