Porter Press Extra: Crafar Crouch
---
Crafar Crouch's construction projects demand consistent performance. That's why their two yards feature plenty of Hyundai equipment.
In the verdant, rolling hills of the Marlborough region, you'll find plenty of expertise on tap: expertise in winemaking, expertise in vintage aircraft (Google 'Omaka Aviation Heritage Centre' if you don't know what I'm on about), and there's plenty of expertise in town when it comes to civil construction, too.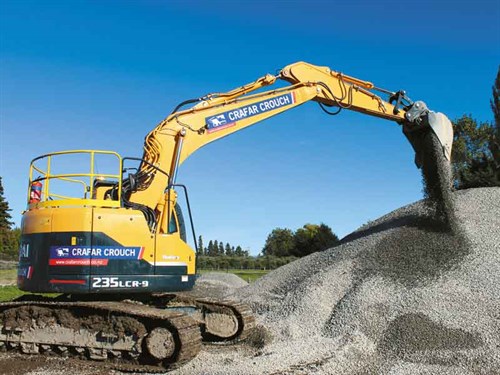 One of the leading proponents of all manner of civil earthworks in Marlborough is Crafar Crouch Construction. This company—a tale of two families, the Crafars and the Crouches—has been involved in the local construction industry for more than 35 years.
Between their two yards in Blenheim and Picton, Crafar Crouch has around a hundred staff on the roster. A primary focus on activities in Marlborough is currently supplemented by more project work down on the West Coast.
With Norm Crafar and John Crouch spearheading the multifaceted operation, construction manager Mike Winkler oversees a large machinery fleet at the Blenheim yard.
With the town expanding at its northern fringes, as groundworks for a large subdivision get under way, there's plenty of opportunities for the construction firm's gear to get the tracks wet.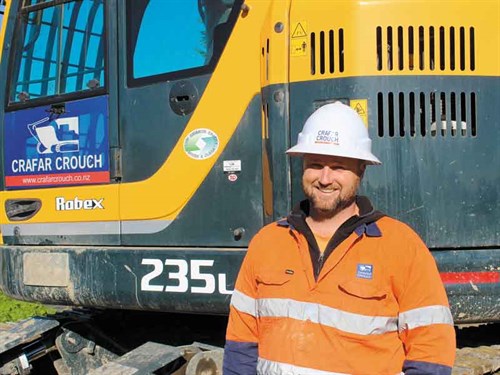 Thankfully, Crafar Crouch Construction has a lengthy roll call of reliable equipment in the yard; much of it supplied by local Hyundai machinery specialist, Porter Equipment.
"We've been a Porter Equipment customer since about 2009, so we've had nearly a decade of experience with Hyundai machinery," Mike says.
"We started with Hyundai wheel loaders first and now have two Hyundai HL780s working at our quarry operation, along with an older 'dash 7' Hyundai model.
Crafar Crouch Hyundai excavator fleet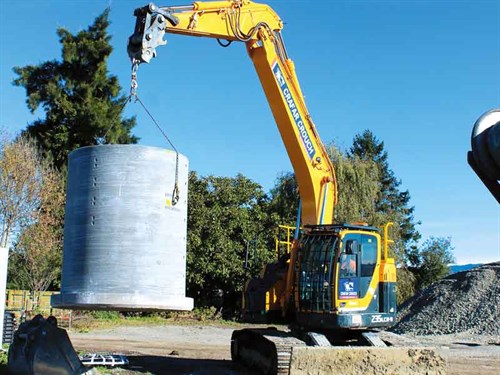 "Our excavator fleet has really grown over the years, too. We now run two Hyundai R235LCR-9s, three R145CR-9s, four R60CR-9s, an R80CR-9, and a little R17Z-9A."
If there's a common theme there (the two 23-tonne Hyundai R235LCR-9s aside), it's a requirement for Crafar Crouch's machinery to offer a good mix of grunt and nimbleness within a small footprint, especially when engaged on project work in tighter urban environments.
With residential and commercial project work such as drainage construction, water reticulation, septic tank installations, retaining wall construction, and general earthmoving forming the company's bread-and-butter work, Mike needs to have gear on-hand that will work efficiently in confined sites and be easily transportable when the need arises.
There are more specialised skills in the Crafar Crouch portfolio, too, of course, such as vineyard development work and wharf construction. The team at the company's satellite Picton branch cover the unique environment of the Marlborough Sounds, so having powerful and reliable, yet reasonably compact machinery that can, if necessary, be barged into remote work locations remains a requirement for these tasks, too.
"The performance across the board of these machines is really good," Mike continues. "We've had no real issues to speak of with any of the machines. The Hyundai R145CR-9s and R235LCR-9s have around 6000 hours on them, so they're definitely workhorses for us.
"It also helps that we get consistently good service from the local Porter Equipment and Porter Mechanical. Service manager Rod Craig at Porter Mechanical is great to deal with.
"He's been looking after our scheduled servicing for years and knows all our machines very well. Reliable diggers are one thing, but if the people that make sure they're sorted for what we need them to do aren't up to the challenge, then that changes everything," he says.
Hyundai R235LCR-9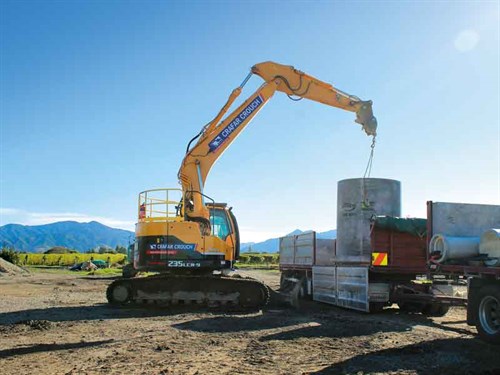 Out on-site at the fledgling Rose Manor subdivision along Old Renwick Road, operator Luke Eden says his Hyundai R235LCR-9 is a smooth performer regardless of what he needs to get done.
The subdivision, which will eventually feature 190 lots, is bare land at present, with preliminary drainage work under way. Large-diameter storm water pipes being delivered on a semi-trailer while we chat present Luke and the Hyundai R235LCR-9 with the opportunity for some heavy-lifting—a task that the machine completes with ease.
"It wasn't even struggling at all lifting that pipe, and that'd be about six tonnes of weight on the end of the stick," says Luke after he's out of the cab and the delivery truck driver is on his way again.
"It was nice and quiet all the way through that manoeuvre, too, if you noticed. The cab is very comfortable to be in, with good outward vision to all parts of the machine. I'd say the single best feature about the machine is that rear-view camera at the back though.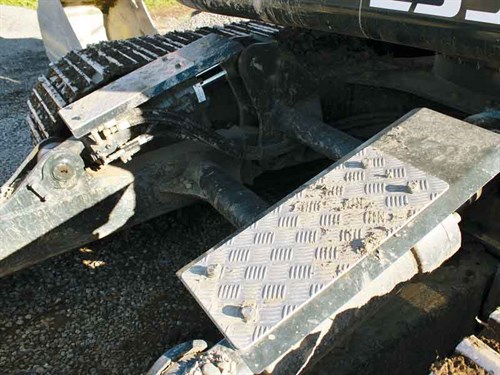 More than just for basic safety, the camera also helps me place the digger exactly where I want it, without there being any risk to infrastructure or other gear around.
"Given how much technology these machines have in them these days, the camera is a pretty basic part of the set-up, but it's crucial to have all the same."
Luke reckons the camera will come into its own as Rose Manor evolves into a busier work site as above-ground construction begins on the first stage.
"The site is set to get busier and busier as we go on, so I absolutely love the 'zero swing' set up of the Hyundai. It means I don't take up as much room when working. We've got big open paddocks here right now but that will change soon," he says.
What won't change for Crafar Crouch is the need to offer a diverse portfolio of specialist tasks. Having the gear to back up the trusted company brand will always remain crucial.
Keep up to date in the industry by signing up to Deals on Wheels' free newsletter or liking us on Facebook.