Product Feature: Ditch Witch NZ
---
Huntly Hire purchased its first Ditch Witch, an RT30 trencher, more than two years ago and since then, has added more products to its line-up
More than two years ago, Ron Maddern and his wife Shelley, who own Huntly Hire, purchased their first Ditch Witch—an RT30.
"He needed a dedicated trencher and that's what he got," Ditch Witch distributor John Grant general manager of ELB Equipment says. "They now own two RT30 trenchers, one SK755, and an SK600 mini skid steer. This puts them at the forefront of hire companies in New Zealand who hire out Ditch Witch equipment."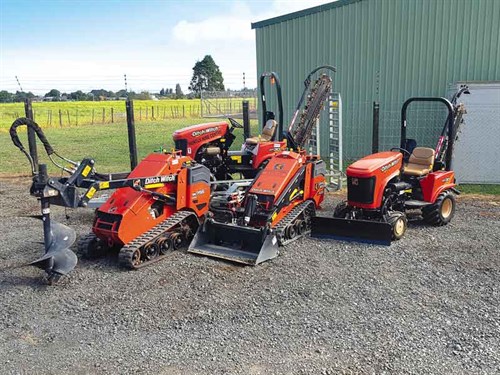 Ron says, "Feedback from our customers suggest that Ditch Witch equipment is user-friendly, is easy to drive, safe, and meets all their expectations. Honestly, if they weren't performing, we wouldn't have them in our fleet.
Another thing that ticks all the boxes is the fact that they fit our trailers, which we purpose build. We know that the RT30 trencher is regularly in use and can go to work on projects anywhere from Hawke's Bay to Warkworth."
The Ditch Witch RT30 is a compact trencher that combines manoeuvrability, low cost, and minimal maintenance with a comfortable operator's station, outstanding performance, and easy to use controls, its manufacturers say.
The Ditch Witch SK600 and SK755 mini excavators are built to perform on any job site, providing greater lift capacity, faster ground speed, and more comfort for the operator.
Ditch Witch says there two things that stand out about their mini skid steers. Firstly, there's the innovative track system that helps provide superior ground clearance. The wide track roller also gives greater stability, longer track life, and easier maintenance.
Secondly, the auxiliary hydraulics with quick-connect attachment fittings gives the operator the benefit of doing multiple tasks on the same job site. The optimised hydraulics help deliver more power and a smoother ride, which leads to greater productivity.
"Ditch Witch is an excellent machine that is backed with great staff, an excellent warranty, and outstanding service," Ron says.
"Shelley and I may not be ELB's biggest customer, but they certainly treat us as if we are. If there are any issues, they deal with them immediately. We couldn't ask for anything more. They are big on service and are excellent on communication. All and all, a great bunch of guys to deal with."
Ditch Witch is distributed throughout New Zealand by ELB Equipment. For further information, call 09 570 8841.
Keep up to date in the industry by signing up to Deals on Wheels' free newsletter or liking us on Facebook.